No Eggs No Milk Homemade Dinner Biscuits #SugarFree #Vegan
Have you ever had one of those days when you are out of everything important but you just can't get to the store? Ever have someone decide at the last minute they want biscuits with their dinner?
Yeah, me too.  This isn't common for me because I make sure I have the things I need on hand. But, it was the weekend. The middle of the day. We decide we wanted rolls with our meal. Quick check in the freezer told me that I did not have any on hand. Ok. I'm ok. We'll just whip some up.
Nope. Not going to happen. We had just used the milk and eggs for breakfast and a dessert we were working on. Oh boy. Dinner was almost done so I decided to see if there was such a thing as a roll or biscuit that did not require eggs or milk.
Oh, please. Oh, please.
I'd like to thank this pin with a recipe made by The Lovely Side for saving my life.
Ok, maybe it wasn't that drastic. But, there is nothing like the feeling of my family wanting something with their meal and I can't provide that for them. I like to think I can make just about anything so I was willing to give anything a try.
So we loaded up the ingredients, mixed it in the bowl and sat there wondering if we had missed something. We made the first batch and they were rather thin and didn't make many.  I was worried they would not taste good, but then I reminded them that they Irish Soda Bread all the time and it's a simple recipe as well. We tasted. We enjoyed. We felt the thin version was great to enjoy with some tea and a bit of jam. But, we wanted biscuits to eat with dinner, not with tea. In all fairness, she didn't mean for her biscuits to be anything more than tea biscuits. 😉
I made another batch. This time I tripled the ingredients.
Bingo!
We had bigger biscuits suitable for dinner food.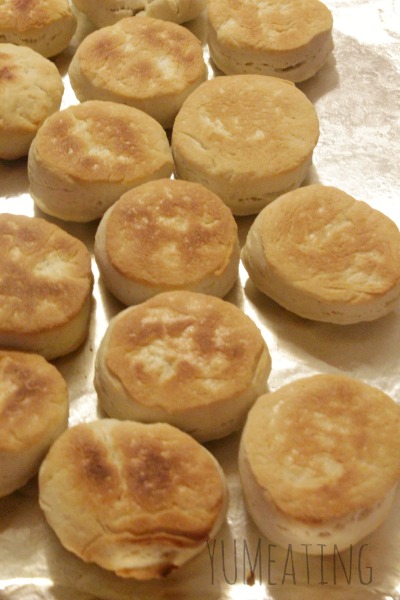 Ingredients:
3 cups flour
4 1/2 tsp baking powder
9 TBSP oil
1 cup water
1 1/2 tsp salt
Directions:
Preheat your oven to 450.
Mix all of the dry ingredients together.
Add the oil and water.
Use your hands to mix again.
Kneed the dough on a floured surface for a minute.
Roll the dough until it is about an inch thick.
Use a biscuit cutter (round cookie cutter works too) to cut out the biscuits.
Place on ungreased baking sheets.
Bake for 8-10 minutes.
Serve warm.
Makes 6-12 depending on your size.