The Great Food Blogger Cookie Swap 2013: Michigan Apple Oatmeal Cookies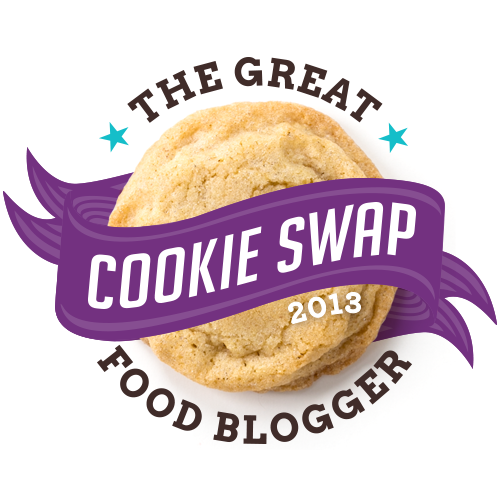 It's here! It's here! The day is finally here!
We've been working on this cookie swap behind the scenes for months now and reveal day is finally here!
The Great Food Blogger Cookie swap is where 1000's of bloggers across the nation gather together to raise money and swap cookies. For a $4 donation to enter we raised over $13,000 for children's cancer research. Pretty awesome, huh?
I sent my cookie recipe to three different bloggers. In return, I received three different cookie batches from three different bloggers. Meaning, it was not an even swap like we do with the Foodie Pen Pal where we swap with each other. It was like Christmas, just a big giant surprise!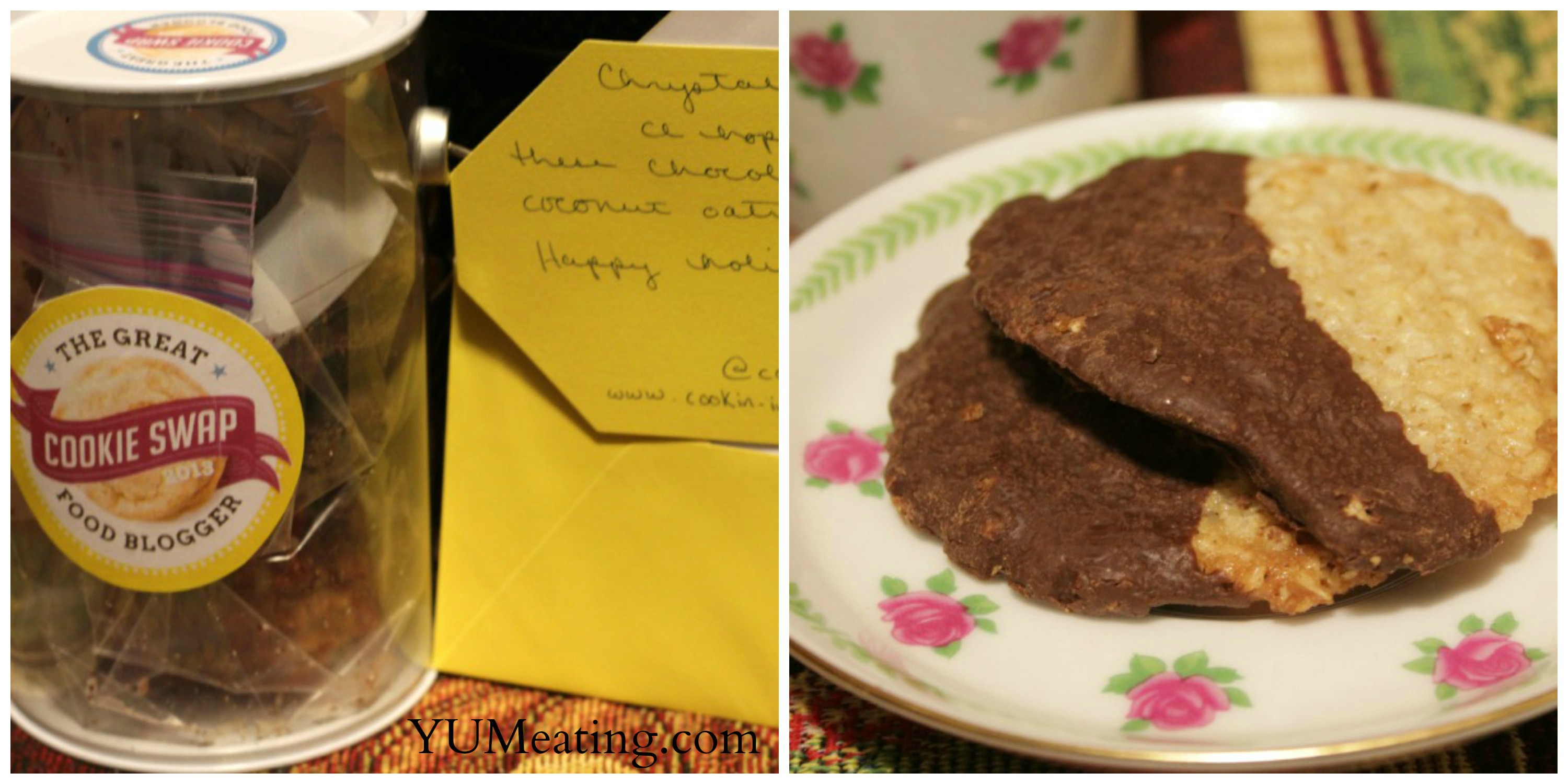 First to arrive were some awesome Coconut Oatmeal Crisps from Ashley Chase who blogs over at Cookin' In Heels. These were incredibly amazing.  The husband doesn't have much of a sweet tooth but he simply adored these. They were light and crispy and they paired nicely with some hot chocolate mint tea. Adore! Kiddo wasn't around when these arrive and yanno, we didn't save her any because they were JUST THAT GOOD! I'd like more of these please.  Ashley posted her swap story and her recipe…. ohhhhh I must have that!
Please.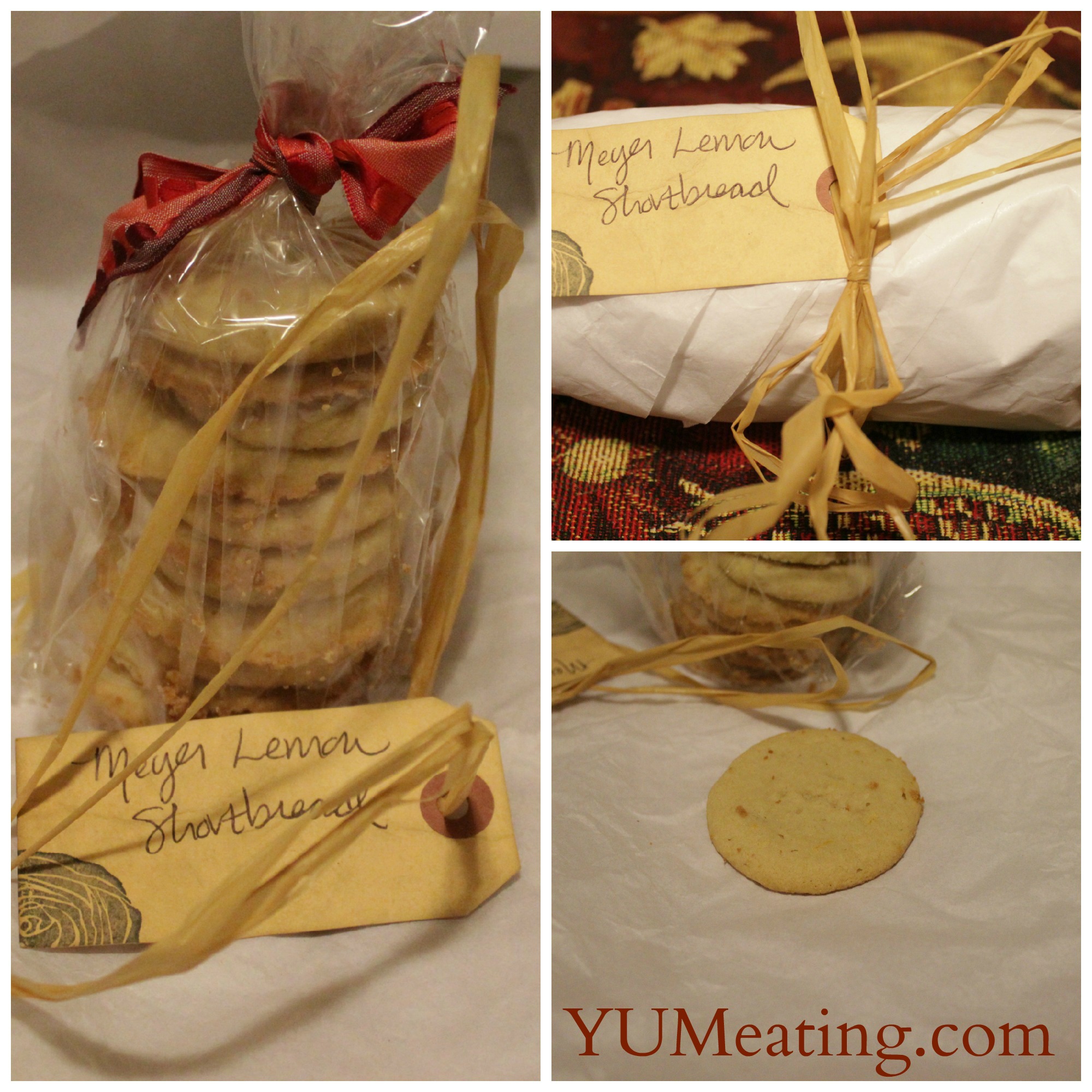 Second to arrive were Meyer Lemon Shortbread cookies. Annakate made these and I loved her simple wrapping. She blogs over at la aguacate ( The Avocado) and hey – we both <3 avocados.  These arrived when kiddo was here so we saved them for after dinner. I liked the hint of lemon but I'm not a fan of shortbread cookies. I tried them with some tea (hey, I had 3!) Kiddo had a couple and hubs devoured the entire package. Annakate made him one happy camper! Check out Annakate's post about the great Cookie Swap of 2013.
Last to arrive were something right out of "Frozen." I saw the movie on Thanksgiving, downloaded the soundtrack the very next day and have been listening to it ever since. I LOVE the baby blue and snowflakes because it goes with my never-ending snowman collection 😉  When I opened the box and saw a card peeking through an envelope that said "Pineapple & Coconut" I started squealing like a little girl.
True story. 
I am not kidding people. Ask the husband. I was like a little girl on Christmas morning opening that highly coveted Barbie she had been dreaming all year about.
Yeah, that excited.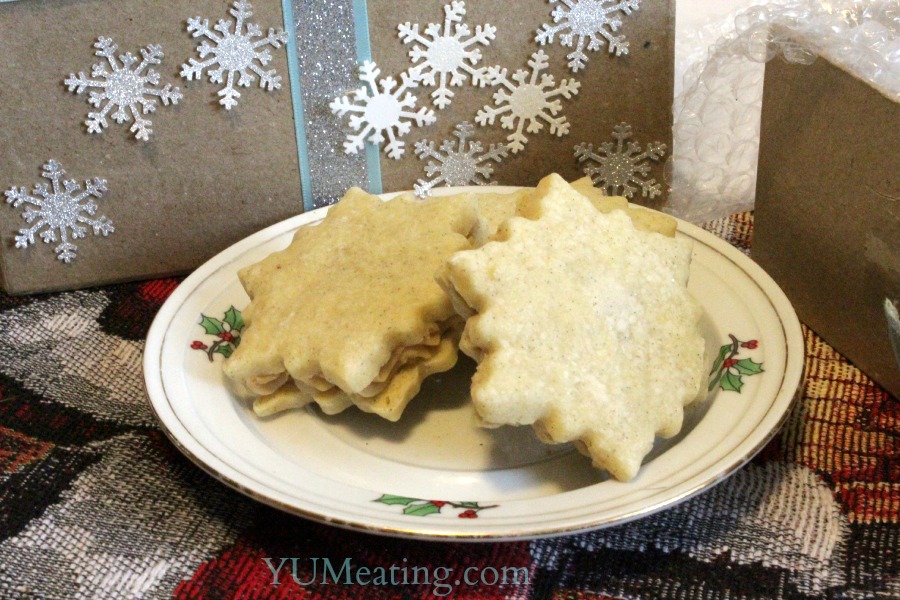 I've been oogling Pineapple & Coconut for ages. I am a huge fan of her eats. So I knew she had sent something YUMmazing. (Oh, I went there.) She sent me Vanilla Cardamom Shortbread Sandwich Cookies with Espresso Buttercream Filling. Oh, she even sent the recipe. I can't decide if I should eat these cookies slowly and hoard them or actually share them. I love that they are not overly sweet and they remind me of a nice tea biscuit. I love cookies that you can pair with tea so I am really excited that I was able to get nice cookies to do that with.  You can read all about her cookie process on her site.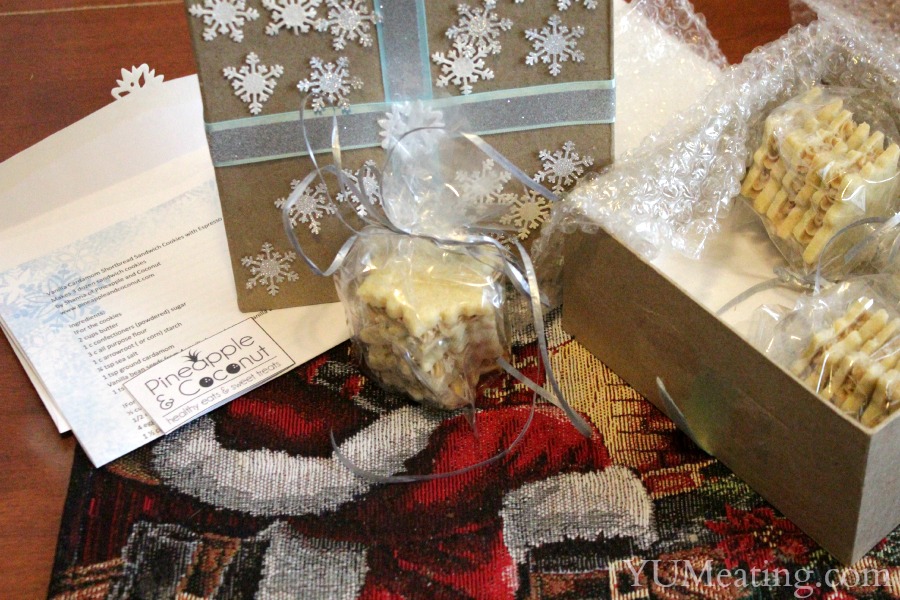 Cookies were not all that I received. I did receive some free swag from a couple of the sponsors.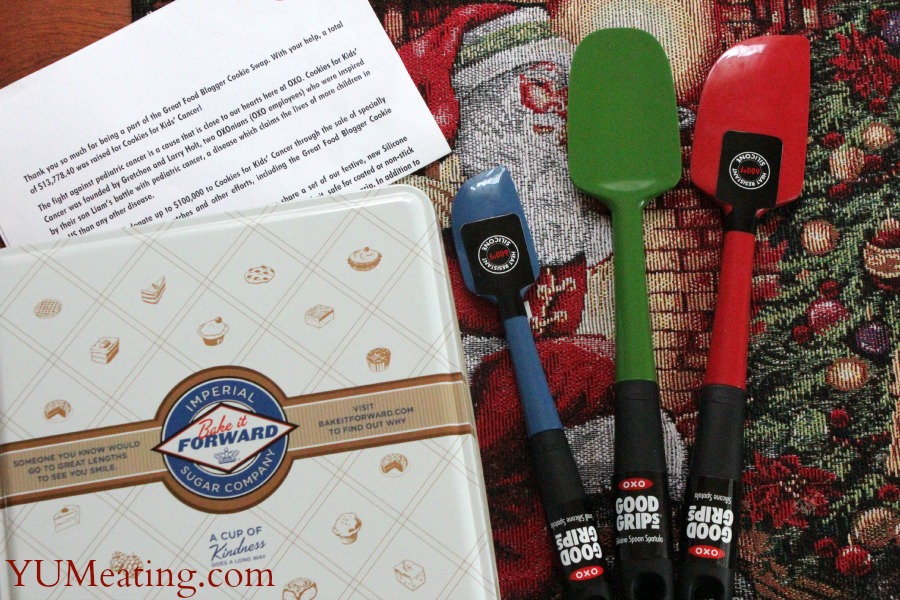 I was sent a set of festive Silicone Spatulas from OXO.  A small blue, a large red, and a large green spoon. These spatulas are pretty bad-ass. They are heat-resistant up to 600 degrees and the best part is the spatula part doesn't come off from the handle when you are mixing your dough like some of the cheaper ones. They also have a nice sturdy non-slip grip.
I also received some coupons for free products from Imperial Sugar Company. They also sent a Bake it Forward tin. I'm excited to register my tin and pay (bake) it forward to someone.  Hopefully they'll do the same.
So what cookie did I make?
My cookie was a simple Apple Oatmeal Cookie recipe which incorporated some of those Michigan apples I had been trying to use up from the crate my mother-in-law gathered from the family farm. I made 3 dozen cookies and packaged them up.  My batches went to Morgan over at Peaches Please, Jennifer over at Just Jenny Lynne and Kaitlin over at I Can Cook That. I hope you ladies enjoyed my healthy apple treats.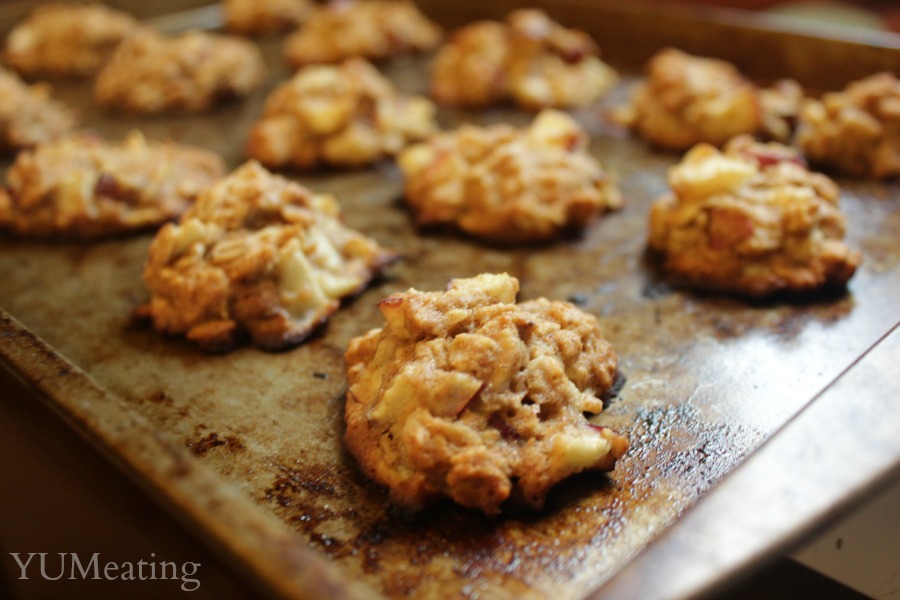 I haven't heard from anyone so I am  not sure if they hated them. I actually had a nervous breakdown and debated about not sending them because I thought maybe sending a healthy, non-traditional cooking was NOT a good idea. Then, they did not seem to want to set right. I did not package them until the next day and some of them started to break. It was stressful and not a happy time. I tried to make the best of it thought and it  was overall a fun experience!
I wrapped them in snowmen.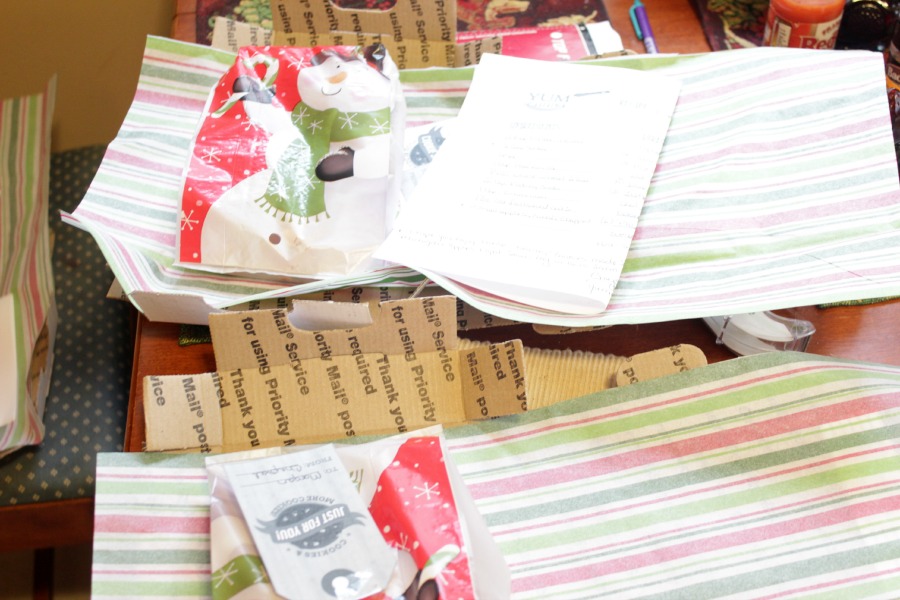 Michigan Apple Oatmeal Cookies
Made in Michigan
Ingredients
1/2

c

butter

melted

1/2

c

raw Michigan honey

1

Michigan farm fresh egg

1

tsp

alcohol free real vanilla extract

3/4

c

stone ground whole wheat flour

1/2

tsp

baking soda

3/4

tsp

ground cinnamon

1 1/2

c

oats

3-4

small red Michigan apples

cored and diced

Apple pie spice

optional
Instructions
Preheat oven to 375.

Grease baking sheets.

Mix together melted butter, raw honey, egg, and vanilla until creamy and smooth.

In another bowl mix whole wheat flour, baking soda, and cinnamon.

Add dry mixture to wet mixture.

Mix in oats and apple.

Use a tablespoon to drop onto baking sheet.

Bake for 10 minutes.

Allow cookies to cookies to cool for 3-5 minutes before trying to remove from baking sheet.

Allow to cool completely on wire rack.

Optional: Sprinkle with apple pie spice.
Next year though, I won't send a recipe I have never made before. 
If you are interested in checking out all 555 cookie recipes Part 1 of the cookie swap is posted on Love and Olive Oil  and Part 2 of the cookie swap is posted on The Little Kitchen (where you will find mine.)