Ho! Ho! Ho! 2013 Christmas Cookie Recipe Swap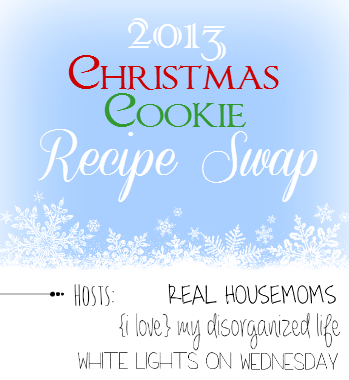 This post should be titled "OMG It's Raining Cookies" after Wednesday's lengthy Food Bloggers Great Cookie Swap of 2013. I'm literally drowning in delectable delights.
I was really excited when Julie from White Lights on Wednesday announced there would be a cookie swap going on. I figured I was already doing one, why not another.
Right? The more the merrier this time of year.
Only, things just did not go as planned.
My partner in crime was Raquel who blogs over at Organized Island. For this particular swap we were to send our partner a recipe we enjoyed so they could make it for us.  I was really excited about this until I kept reading. No butter balls, which most people know as Wedding Cookies or Russian Tea Cakes. Funny, that is what Raquel request. I was actually pretty happy to make these anyway but time was not on my side over the weekend and we didn't get to make them. I had planned on sending Raquel anyway. It made me sad I was not going to be able to send her some, nor was I going to be able to eat any. It's been years since my mom has made these tasty treats.
Raquel then requested some Betty Crocker Red Velvet Pinwheel Cookies. I was really excited about these because they were so pretty and something I have never made before.  I purchased the cream cheese and sugar cookie dough to get started a few days later.
Well…the morning didn't get off to a good start. No matter what I did that cookie dough would not set. I stuck it in the freezer and many hours later still nothing.
This is what I ended up with……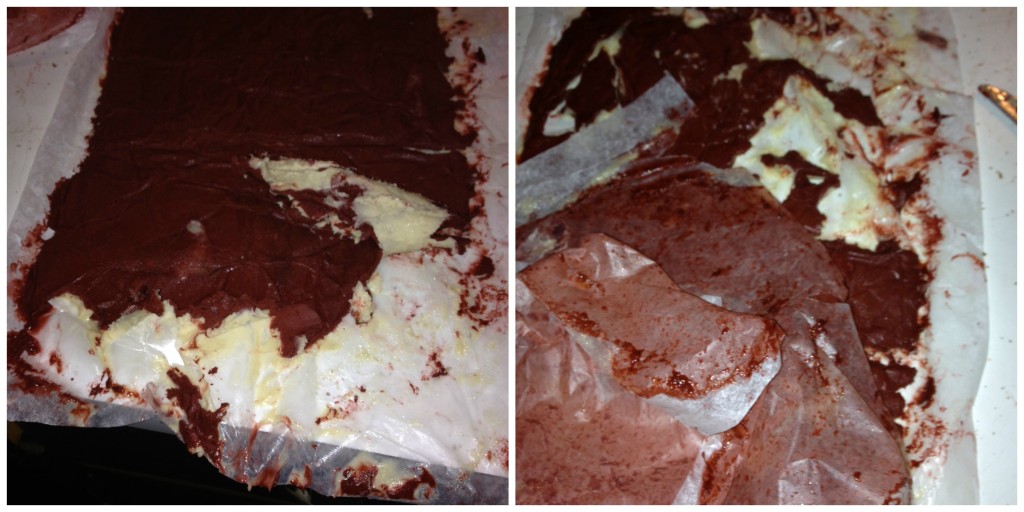 I was messaging Julie on Facebook literally in tears because I desperately wanted to make a good impression with these cookies. I was so afraid people did not like my Michigan Oatmeal Cookies from the Great Food Blogger Cookie Swap because NO ONE had contacted me by this point and these cookies just did not want to cooperate and I knew Raquel deserved to have a great cookie because I had sent her my childhood favorite White Chocolate Chunk Macadamia Cookies. I had not had these since my grandmother passed in 2007.
Finally I came to the conclusion that this was not going to work so we all agreed since I was already in the process of putting together Christmas baskets and had ingredients on hand & due to limited grocery budget I would be sending out more Michigan apple cookies. This time I fattened up the batch a little bit.
But……as I sat here scrolling through my photos I realize it's craptastic that I didn't take ANY photos before my frazzled self packed them up and got them to the post office.
Great.
But hey….
I did get a photo of Raquel's pretty Christmas cookies. She took my simple recipes and make them festive for the holiday by using white chocolate and peppermint! <3!!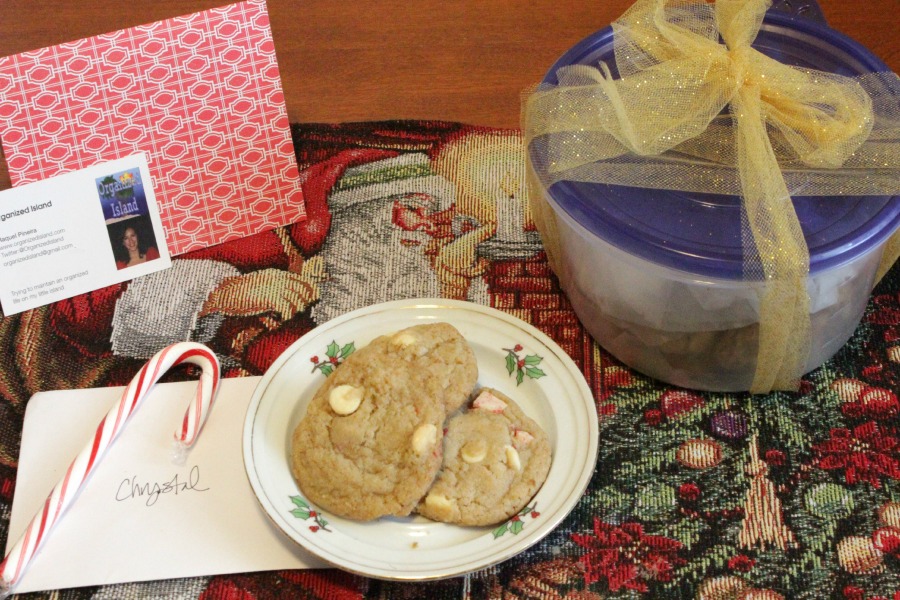 THANK YOU RAQUEL! 
So what have a learned this week? That maybe I am a cooker and not a baker.
That frozen red dough actually tastes pretty good 😉
That maybe even with months of careful planning things don't always work out as planned.
I should have a plan B , C, and D.
Maybe cookies are not my thing. 🙁
Be sure to check out some of the other cookies in the swap! I'm pretty sure they had a lot of success (LOL)
'); // ]]>