Chocolate Carrot Zucchini Cake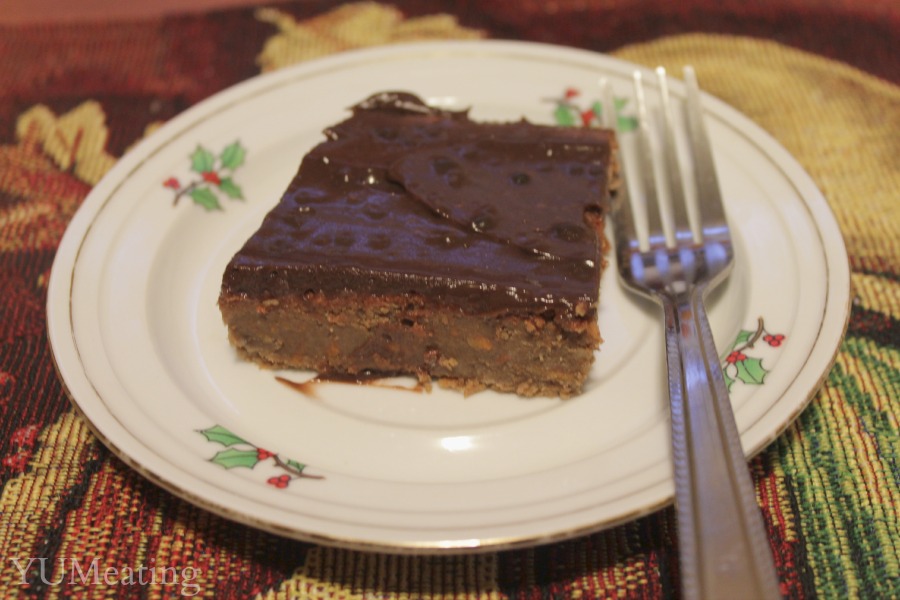 Kiddo and I needed a sweet treat. There was no way I was going to break down and buy Betty Crocker. No offense to those who use the mixes. I do from time to time but I just want to make things myself.
It just so happens I have a freezer and during vegetable and canning season I tuck away the extras that most people throw away. They always come in handy. So kiddo and I looked through the Taste of Home 2003 Annual Recipes cookbook handed down from my grandmother and looked for something I could whip up.
What I liked about this recipe is that it used egg whites and whole wheat flour. It is pretty dense but it was very yummy. We did some modifications to the recipe.  Garden grown vegetables, thanks to my family. I used alcohol free vanilla extract and we added 2tbsp cocoa to  make it chocolate. We also used our homemade applesauce, which worked out quite well. I did not make the frosting in the recipe as I did not have any of the ingredients. Instead kiddo suggested a pudding topping so we made a package of sugar-free instant chocolate pudding with skim milk and use that for the topping after it had chilled.
Chocolate Carrot Zucchini Cake
Ingredients
1

cup

100% Whole Wheat Flour

1

cup

Unbleached All-Purpose Flour

2

tbsp

cocoa powder

2-1/2

tsp

ground cinnamon

2

tsp

baking soda

3/4

tsp

ground nutmeg

1/4

tsp

ground cloves

1/2

cup

buttermilk

1

cup

homemade applesauce

1-1/2

cups

shredded carrots

1/2

cup

shredded zucchini

1

teaspoon

alcohol free vanilla extract

6

egg whites

1-1/3

cups

sugar
Instructions
Preheat oven to 350.

In a large bowl combine the wheat flour, white flour, cocoa, cinnamon, baking soda, nutmeg and cloves.

Slowly add the buttermilk.

Add the applesauce, carrots, zucchini and vanilla. Set aside.

In a smaller bowl beat the egg whites until fluffy. Soft peaks will form.

Gradually beat sugar into egg whites 1tbsp at a time until sugar is completely dissolved.

Gently fold into batter.

Pour batter into a greased cake pan.

Bake for 30-40 minutes or until a knife comes out clean from the center of the pan.

Allow to cool before frosting.
It wasn't overly sweet and that was a plus. Husband doesn't like overly sweet things so he was able to enjoy this.  It was a win-win for everyone. It's amazing what you can come up with when you start searching your cabinets and recipe books.
What is something you created just by searching recipe books and the food items in your house?