Herbed Grouper & Scallops en Papillote
Sounds fancy, doesn't it?
Papillote is French for "paper."
Did you know that? I know I didn't until I decided we should make this recipe. I had been wanting to try out some recipes with parchment paper for a while now and I knew this grouper and scallions we purchased on sale would be a real treat for this low carb recipe found in the Atkins cookbook "The New Atkins for a New You Cookbook." I even decided to let the husband help.  I just love this cookbook. There are so many whole food and clean eating recipes that fit within a lot of way of eating lifestyles. 
I just  love how simple this recipe is. The parchment paper puffs up while in the oven and creates a steam packet, much like a tin foil packet. This allowed the fish and scallops to steam in their own juices. Nothing charred or dried out. I love foil packets, too. But I find I like them much better when grilling. Parchment paper is a bit more breathable and delicate.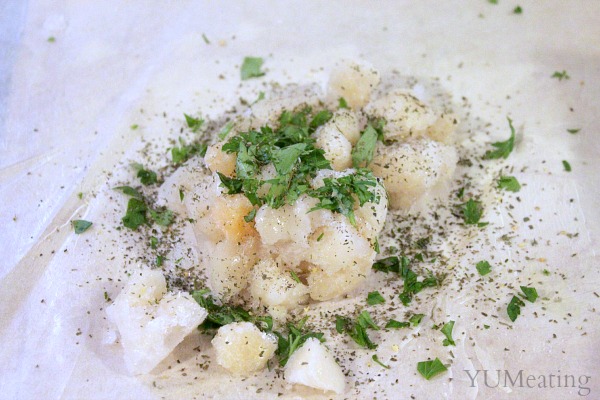 Because the husband does not care for scallops, we put those in their own packet.  Then in another parchment pack we put a piece of grouper. So each piece of fish had its own packet and ingredients.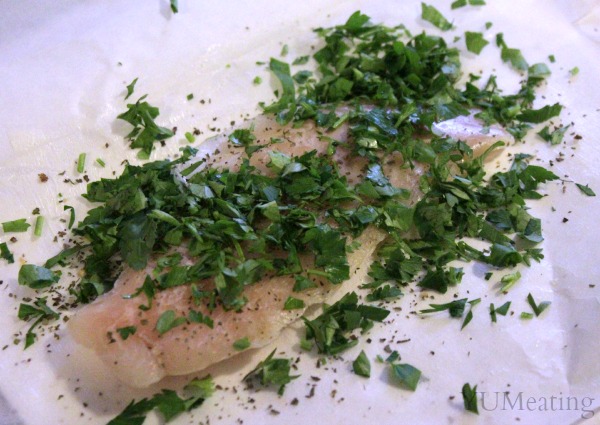 These cooked in their cute little packets for about 10 minutes. With prep, this recipe can be prepared, cooked and on the table in under 30 minutes. Pair with some green beans, a baked potato, some rice or even a salad!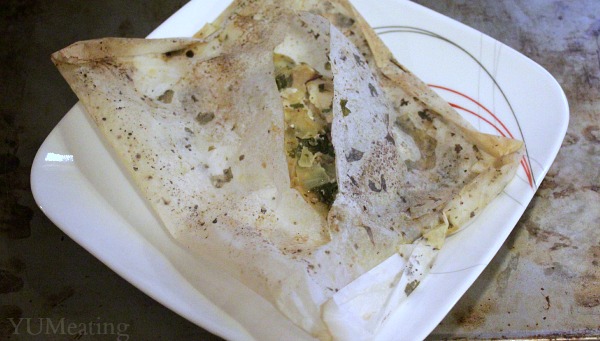 Husband enjoyed his with some yummy yellow rice and green beans.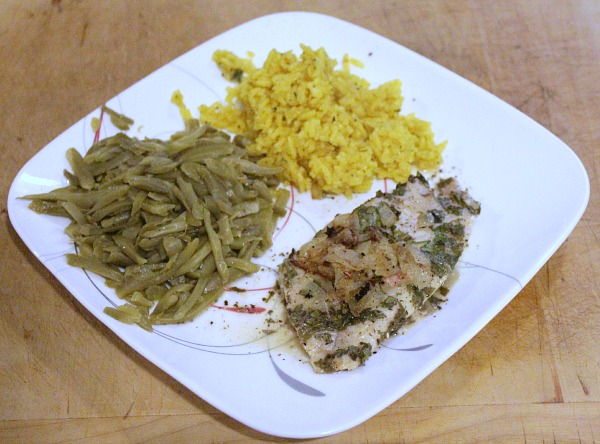 I paired my seafood with green beans.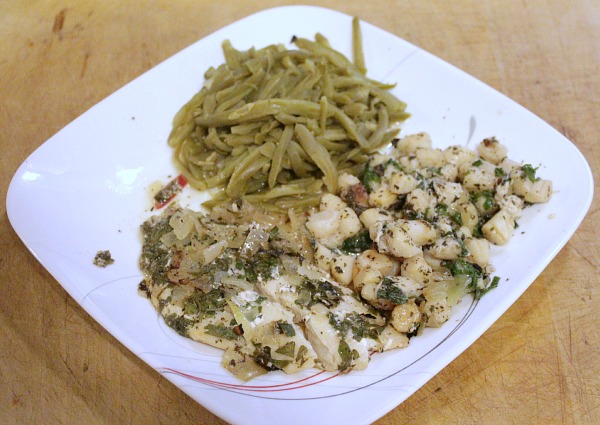 I know we all don't want to turn our ovens on in the summer, but sometimes its just worth it for a recipe that takes mere minutes to prepare.
Have you ever baked anything in parchment paper? Tell me all about it.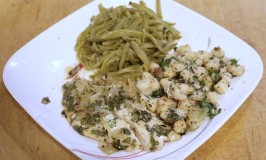 Herbed Grouper & Scallops en Papillote
Ingredients
2 1/3

TBS

unsalted butter

divided

1

c

sliced green onions

1/2

tsp

salt

1/8

tsp

pepper

1

pc of fish for each person

you can use any fish you like

1

TBS

basil

chopped

1

TBS

dill

chopped

2

TBS

parsley

chopped

1

lemon

sliced
Instructions
Preheat oven to 475.

Fold each piece of parchment paper in half.

Keep the fold in the center.

Cut the fold into a heart shape.

Smear 1 tsp of butter over each half of the parchment paper.

Set the paper aside.

Melt the remaining butter in a medium skillet on high heat.

Add the green onions, salt and pepper.

Saute until soft. Will take about 3 minutes.

Place the fish fillets on the buttered side of paper.

Place the butter and herb mixture on top of the fish.

Cover with unbuttered side. Take care to make sure the edges align.

Crimp edge and make sure they are tightly shut.

Place packets on a baking sheet.

Bake until fish is cooked. About 10 minutes.

When its time to eat, carefully open each packet.

Steam will rise and it will be hot.

Transfer to plate and serve.