That Time I Made Extra Cheesy Au gratin Potatoes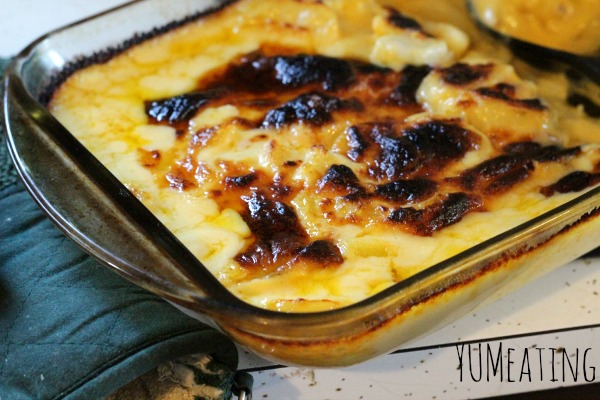 I am a creature of habit. I tend to make the same few meals over and over. You would think as a food blogger I would have a million recipes to toss out at any given moment in time. While my cookbook collection is starting to take over the kitchen, there's still a lot of things I just don't make. During the week I want things that are quick and simple. I spend a lot of time tied to my desk and hubs works 12 hour hospital shifts so he's on his feet. The weekends are when I make meals that require a bit more time. I don't mind. Kiddo and I can create masterpieces together and she gets a few life lessons out of it. And someday, she'll remember all the great recipes just like I did and make them for her family.
At least, that is what I am hoping. I don't really follow recipes. I never have been good about following rules. Most of the recipe I make are things that I learned how to make just by watching my mom over the years. She's another who doesn't really follow recipes. Matter of fact, I come from a long line of ladies who weren't good at following recipes and preferred to use them more for inspiration. 
We got into a bit of a rut with our weekend meals. I really wanted something different. When I get in this mood I tend to think – "what would mom make?" and try to seek out something new that my mom used to make that I loved and then I can share it with my family and with you guys.
That's how these Creamy Au Gratin Potatoes came to be. I wasn't really in the mood for homemade macaroni and cheese since we make that every so often. I wanted something different that I had not made for them. We've had the Betty Crocker version. Works in a pinch, but I am not the biggest fan of boxed foods when I know I can make things myself.
I wanted something cheesy. I was going to make scalloped potatoes but really wanted CHHHHHEEEESE.
Oh, I know. Let's make homemade au gratin tatoes. Everyone screamed.
Ok. That was an exaggeration.
But, they were thrilled. Who doesn't like cheesy potatoes.
I should also point out that these are not burned. I like to put my mac and cheese and now this under the broiler for the crispy top. My mom does this for me even still. I pick it off and eat it. Just one of those things. LOOOOOOve it.
We cheated and boiled our potatoes so it would not have to cook in the oven long. Just enough to blend the cheese and crisp it up. So much quicker than trying to cook the whole thing in the oven. I am an impatient person. Meatloaf and I don't get along because it takes so long to cook.
These guys loved it. Half a pan was gone by the time dinner was over.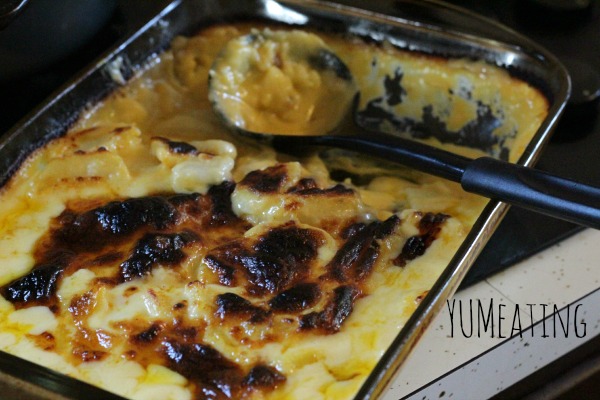 That Time I Made Extra Cheesy Au gratin Potatoes
Ingredients
8

potatoes

pealed and sliced

6

tbsp

butter

6

tbsp

flour

1

tsp

salt

1

tsp

pepper

4

cups

skim milk

3

cups

2% shredded cheddar
Instructions
Preheat oven to 350.

Boil a pan of water, be sure the pan is large enough to fit 8 sliced potatoes and water should cover at least an inch over the potatoes.

Peal and slice your potatoes.

Once the water has boiled add your potatoes and reduce the heat.

Cook on medium-high heat for 10-15min. You want them to be just barely tender.

Remove from heat, drain.

In a sauce pan, on low heat, add the milk, butter, salt, and pepper. Whisk.

Add 2 cups of the shredded cheese. Whisk up a little bit.

As the butter and cheese start to melt and get saucy, add the flour. This will help thicken things up a little bit. You don't want a runny pan of potatoes! Continue whisking.

Once everything is well blended into a nice thick cheese sauce, remove from heat.

Add the potatoes to a cake pan.

Add the cheese sauce.

Mix carefully so that the potatoes don't break.

Add extra salt and pepper if you like.

Top with the remaining cup of cheese.

Place in oven for 10-15 min or until your cheese has melted.

If you like, place under the broiler for extra goo and crisp.