Bacon Wrapped Stuffed Dates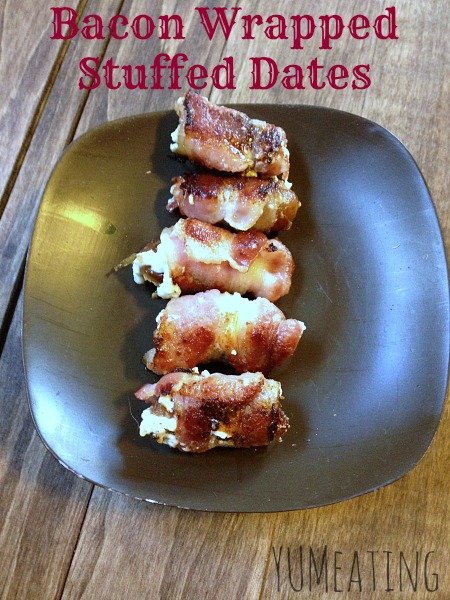 A few months ago husband and I went to this small plates restaurant (tapas) in Flint, MI called 501 Bar and Grill. There is another place down the road that we've visited over the years, (Blackstones) and had been hearing about the 501 from plenty of friends.  We finally decided we should give it a go. After our wine tasting event a few weeks back, we decided to grab some dinner before picking up kiddo. When we get time out and about we like to go to places we don't normally get a chance to. I first mentioned Blackstones because it's a little Irish pub and we don't get to town often. We pull up, only to find out it's apparently closed on Sunday's. I found that a little weird. We ended up crossing the street to the 501.I find the food and atmosphere to be inspiring.  I've been dying to try my hand at bacon wrapped stuffed dates. After our last visit I decided I had enough of 'wanting' and when the week rolled around for hubs to travel to his out-of-town job I knew that I could get creative and perfect things before showing him my new culinary skill.
Off to the grocery store I went.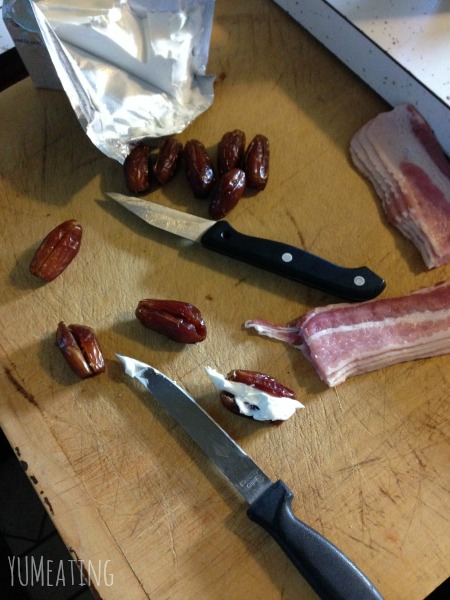 I came home with some regular thin sliced bacon, a package of dates and some cream cheese. When I try creating a recipe for the first time I have this rule that I will buy the cheap ingredients that way if things don't turn out well I didn't waste a lot of money. I hate to waste food but I hate to throw money away even more. So, I have some no name products from Aldi's.
I did send hubs some photos of what I was having for dinner and to document my progress. That's the other habit I have. I tend to use my phone for a lot of photos as I am cooking so I can share with my social media channels. As I was sending them to him, I would upload a few to Instagram.
I was so proud of my bacon wrapped stuffed dates.  I didn't have a recipe to go by. I had no idea what I was doing, but I sure was going to try.  And try I did.
It was a real pain shoving the cream cheese inside the dates. I had to slice each one down the side to get the cheese in there. Wrapping them in bacon was pretty simple and I didn't have to use a toothpick to keep things in place.
I continued this process until I filled the pan.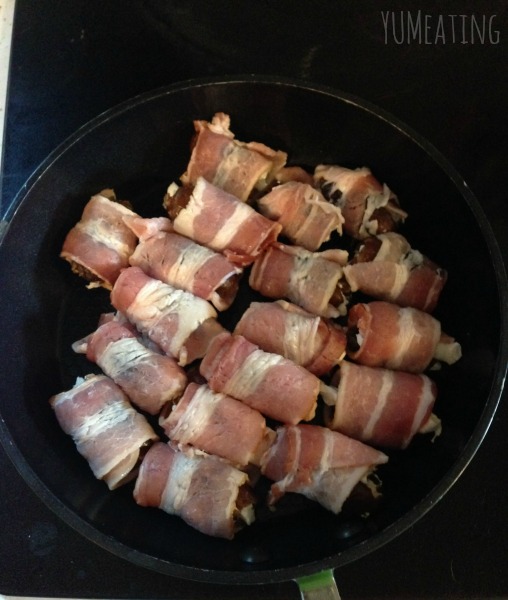 Once I had all these little guys in the pan, I turned up the heat. Because I am cooking with bacon I did not use any oil in the pan since bacon produces its own.
I tried to keep the end side down first so that it would stick together. I had one or two that I didn't catch, but it didn't seem to hurt anything.
I didn't use any seasoning.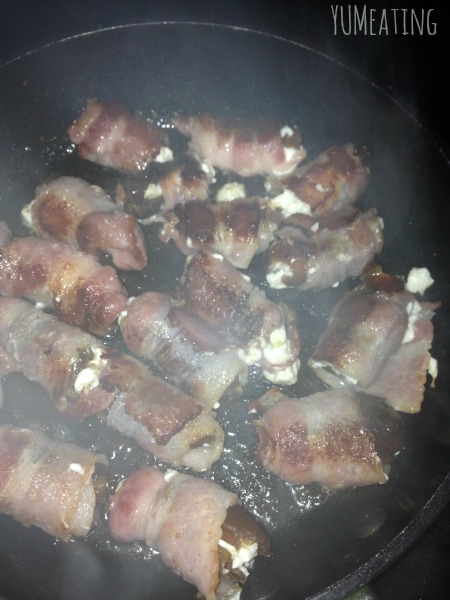 Once the end side was seared I turned down the heat so that the rest of the wraps wouldn't burn. That would be a bummer.
I cooked the dates until the bacon was done all the way around.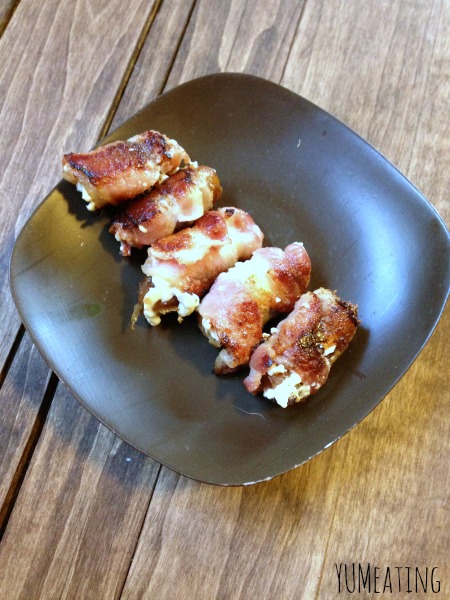 I made myself a little plate and sat down to find a movie on Netflix and enjoy my little dinner, alone. 😉
As I bit into these warm little treats, while still good, I knew something was missing. I knew next time I made them I had to do something different. This was not the flavor I was used to experiencing.
Goat cheese people, goat cheese. I knew there was something that just didn't seem right and when I was at the grocery store I thought about goat cheese but went for the cream cheese because it was cheaper. And since I didn't bother seasoning the cream cheese, what I was experiencing was a completely different burst of flavor.
And, they were amazing.
As I sat there watching my movie, I started to jot down some notes about flavors I could add to my cream cheese. I thought about blue cheese. I thought about the different flavors of balsamic vinegar I have. And, I thought about the goat cheese. I am also thinking about fresh dates from the produce section rather than the kind I found in the snack section.
I have some ideas swirling around that I think would be great for the fall season and hope to have a few practice runs in the works soon.
If you're looking for a simple appetizer or snack, this is perfect. Feel free to use it as a starting point to mix in some of your own flavors.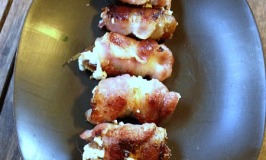 Bacon Wrapped Stuffed Dates
Ingredients
1/2

lb

bacon

18

dates

1

package light cream cheese

1 block
Instructions
Take a package of bacon and cut it in half. You will only need one half of the package and you need the short strips.

Slice each date down the side. This will help with stuffing.

Using a tsp or a small spoon put a small amount of cream cheese in each of the dates.

Wrap a slice of bacon around each date.

Put the dates in a warm skilled, bacon end side down first.

Cook until bacon is done all the way around.