Crockpot French Onion Roast and Gravy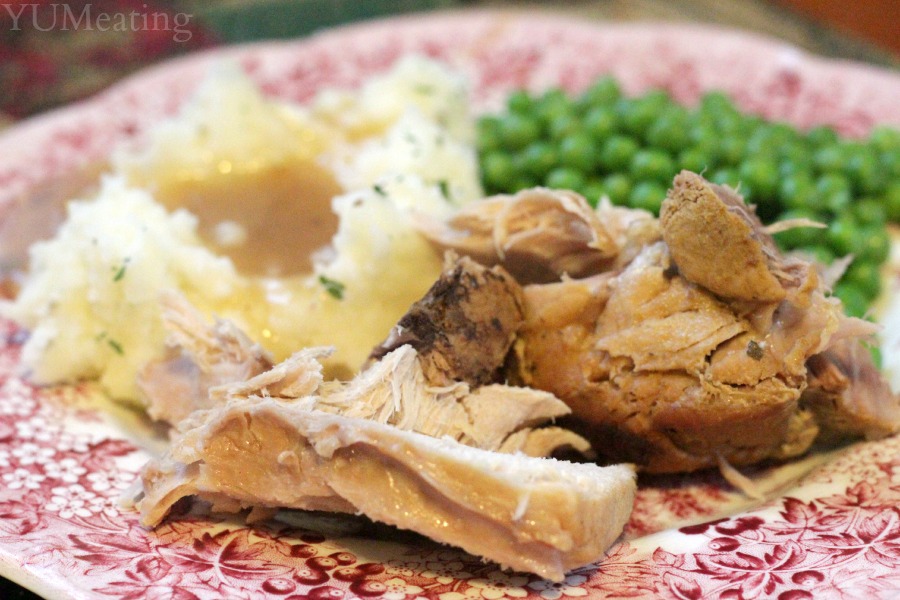 Since my Christmas post about Ranch Roast was such a hit and one of my most popular posts in December, I am going to now share my other favorite roast recipe – French Onion. Just like the Ranch Roast this one is super easy to  make and doesn't require a lot of prep or ingredients.
This one can be done in a crockpot. Cooked on low it will take about 6 hours. If you don't have a crockpot you can also put the roast in a roaster pan and slow cook in the oven for some roasted slow cooked pork.
For these recipes it does not matter if you use a beef roast or a pork roast. That choice is yours. For my Ranch Roast I ended up using a butt roast because that is what was on sale. I buy the cheap cuts of meat because we are on a limited grocery budget. For this particular  French Onion roast I a bone in giant port chop that hadn't been cut into slices. It was $3. Can't beat that.
I put a cup of water in the bottom of my crockpot. Then I put in the roast. Once I had the roast in place I added the dry ingredients and the secret weapon.
Dry French Onion soup mix. That's it. That's my secret.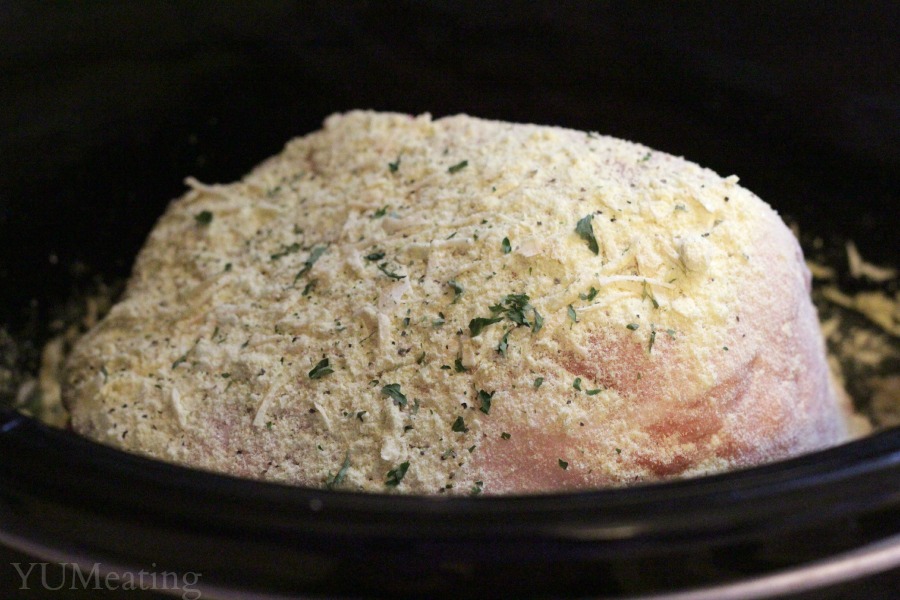 Then I added some pepper but skipped the salt because the dry mix has enough salt in it for my taste buds. Then I added a little bit of parsley because my husband thinks everything tastes better with a little parsley in it.
I cooked it on low for about 6 hours. Every few hours I would flip it over and make sure to splash some of the water juice mixture on it.
When it is all done I take it out of the crockpot and slice it. I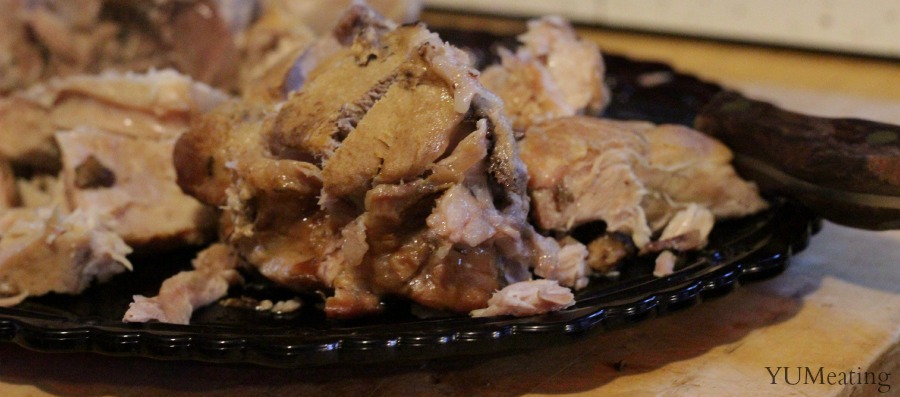 To make the gravy I take a small strainer and place it over a small saucepan. I pour the drippings from the crockpot into the strainer and let the liquid slide through. I toss the fat that fell off, the few dried onions that didn't pass through and whatever else got left behind. Then I add 1 TBSP corn starch (you can use whatever thickener you prefer) to 1 super hot cup of water and mix well. I bring my drippings to a boils and then slowly whisk in the cornstarch water mixture until the drippings slowly thicken to form gravy. At this point you can add salt if you need it.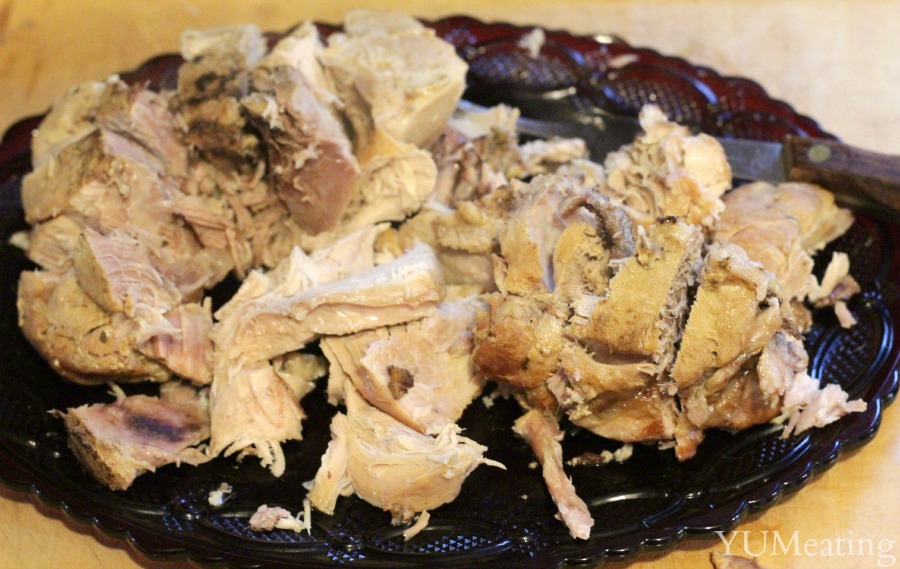 If you like you can cook potatoes or radish in your crockpot or roaster pan. We ended up making mashed potatoes to go with the gravy and we paired it with some peas.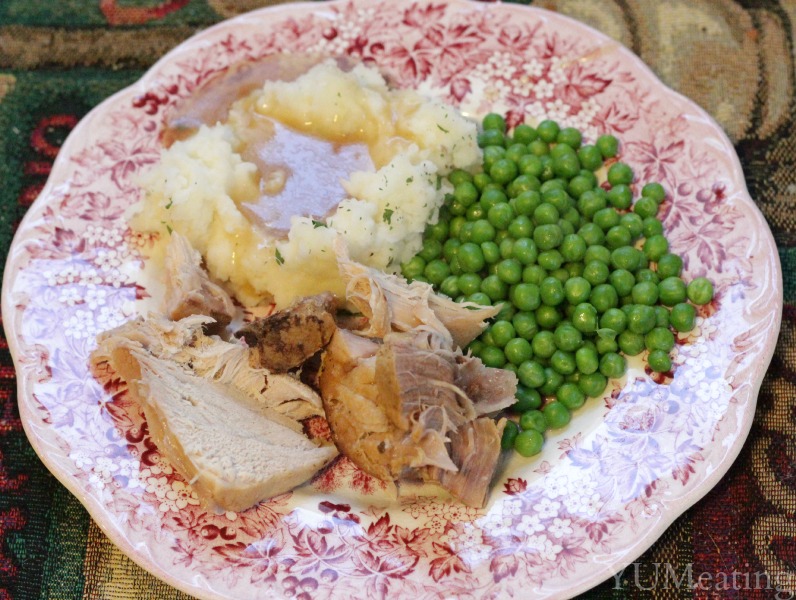 Are you a crockpot fan? What are some of your favorite meals? 
French Onion Roast Gravy
Ingredients
Drippings from one cooked roast

1

cup

very hot water

1

tbsp

cornstarch or other thickener
Instructions
Pour the meat drippings from the container through a strainer into a saucepan.

Bring to a boil.

While waiting for drippings to boil add cornstarch to very hot water an mix with a fork.

Once drippings come to a boil use a whisk to slowly whisk in the water and cornstarch.

Turn down the heat and keep whisking until everything is well blended.

If gravy is not thick enough add more cornstarch and water.

If it becomes too thick add water or beef stock.
Crockpot French Onion Roast and Gravy
Ingredients
1

roast

3

cups

water

1

packet of dry French Onion soup mix

Pepper

Parsley

optional

Salt

optional
Instructions
Add 1 cup water to crockpot.

Place the roast in the water.

Sprinkle pepper on top of the roast.

Add 2 more cups of water.

Sprinkle dry onion soup mix on top of the roast.

Sprinkle the parsley on top of the roast.

Cook on low for 6 hours or until your meat thermometer registers it as done.

Different size roasts will require different cook times.