DIY Coffee & Tea Mug Gifts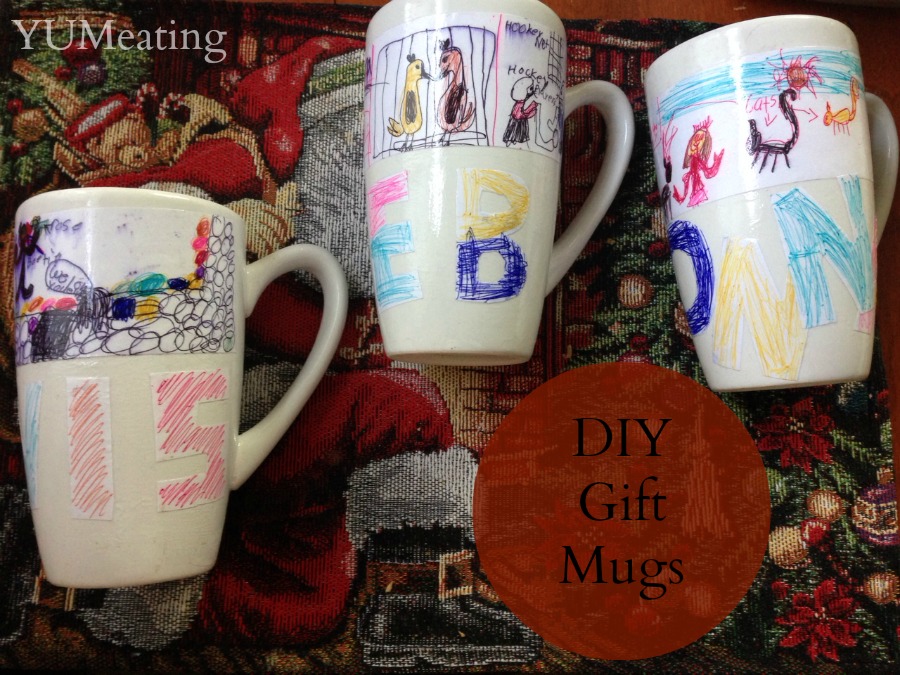 Holidays for me aren't about the amount of money we spend. That was something I had to put my foot down about a few years ago with kiddo and husband. Husband has this way of thinking that if it doesn't cost X amount of dollars than it's just not enough.
When I put my foot down the first thing I did was give kiddo a 5 Things printable to request her Santa items.  This limits her to only ask for something she wants, something she needs, something she will wear, something to read and one special thing. It has helped out tremendously. It also helps us with cutting down the presents we buy. The next thing we did was to start making homemade gifts and treats. I encourage you to pin it and save for this Christmas, because you and I both know it will be here again before we know it.
While I realize Christmas and Valentine's Day are long gone, we are coming up on Easter and Mother's day. These make great gifts for parents, grand-parents, even aunts and uncles!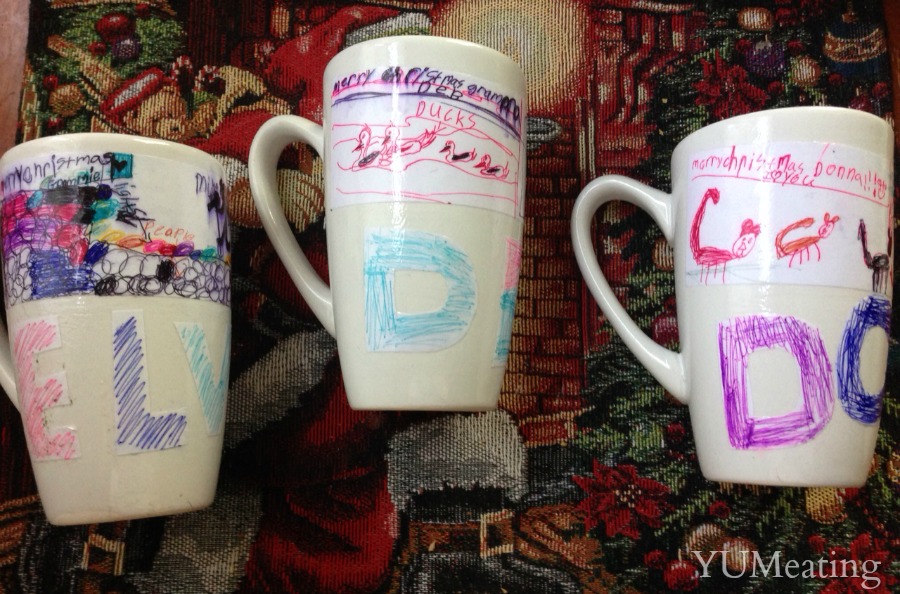 For my mother, his mother, his father and step-mother they already have a houseful of 'stuff' and 'things.' Why add to that? Our first few Christmas's together he was in his 'not enough' phase and it was a literal nightmare for me. Personally, I would rather give back during the holidays and give to those in need. We weren't really able to do that because we just could not communicate our different views on Christmas or holidays in general.
Now that we have, the parents get a few small things and one nice thing. Then kiddo makes a homemade gift and then my mother and I make a lot of homemade treats. I make things on my own so that she doesn't know what she is getting.
For example, my father-in-law loves Pumpkin Seeds. My cousin has a giant pumpkin patch so I know during pumpkin season I am gathering as many pumpkins as I can. I do a lot of canning and they do a large carving party for the kids. I roasted at least 20 pumpkins worth of seeds for my FIL last year. Then I can them in jars and keep them in the cool basement until Christmas time. I know both my mother-in-laws enjoy tea so when I catch their favorite kinds on sale I grab them up. I am a tea junkie myself so I have to be careful not to break into their stash 😉
Last year we made all the grandparents coffee mugs. This year we made just the grandmothers tea mugs. We found these tall style plain white mugs at our local Goodwill for 60 cents each. My local Goodwill stores tend to get a lot of Old Navy and Target clearance items so I find a lot of steals and deals every time I go.
What we do is trace the cup shape onto some basic white paper. Then we let kiddo draw on that paper. Once she's done we Modge Podge it to the cups. Once dry we spray with sealer.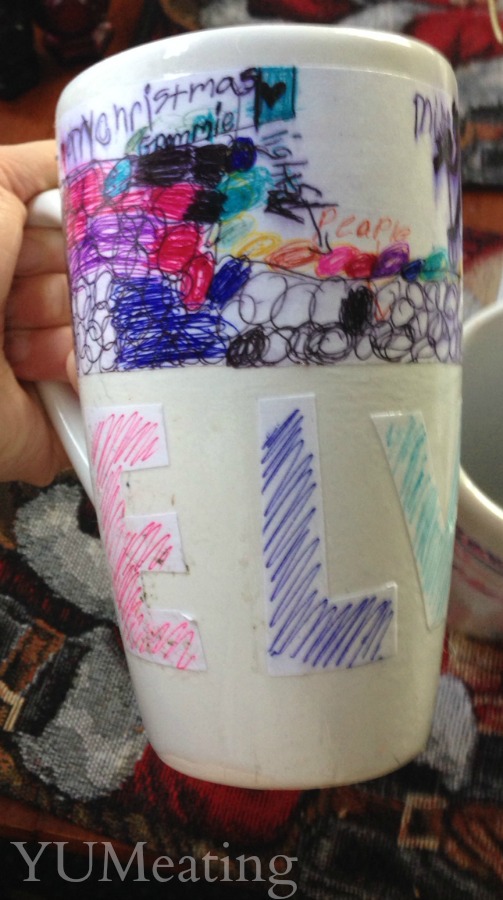 My mother-in-law loves Elvis. Last year kiddo made the cutest cup and had these screaming fans all excited for Elvis. It was so funny. Mind you she is going to be 9 in a few weeks. This years (ok, wait, technically its last year, I keep forgetting we are in January already) mug also had an Elvis theme.  (Elvis did have an accident though, while drying in the garage he fell over. So when he was all done drying we had to use a razor blade to scrape off the dirt that stuck to him.)
My mother lives in the country. A place where people drop their cats. It's very sad. But, she takes care of every single one of them until the rescue mission close by has space for them. My mother is one of those that will share her own meal and do without just to be able to feed these cats that cross her path. So, kiddo made her a mug full of cats.
My step-mother-in-love loves birds and hockey. Last year her mug was full of the birds her and my father-in-law own. This year it had birds and hockey players. Hey, I didn't question it.
Then she went and "bedazzled" every mug with some jewel stickers she had.
Fabulous!
We stashed some tea in the mugs and they loved them.
I can't tell you if they use them or not, but I know it still provides them with more joy than any store-bought gift ever could.
The best thing about these mugs is you can make them year-round with any holiday, celebration or theme in mind.
 I'm thinking our next one will be something to do with Father's Day. What about you, what holiday do you see yourself making some DIY mugs for?