#adultcoloring The Time Garden: A Magical Journey and Coloring Book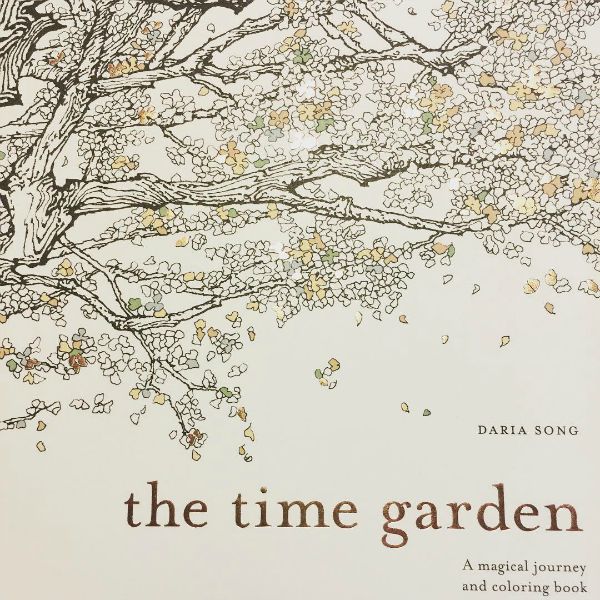 This is a first for me. I've done a lot of book reviews for authors and publishers over the years, but this is my first coloring book. But, it's not just any old coloring book; this is a book specifically for adults. I'm sure you've all seen the adult coloring craze in full force these last few months; but adult coloring has been around for ages. I'm actually thrilled to see art in mainstream media. As someone who grew up with an art-loving parent, I grew up appreciating the creative soul inside all of us.
I'm also irritated with myself. I have a pile of art that I could easily digitize and turn into a coloring book. Why didn't I think of that sooner? Going full-on nerd mode here, have I ever told you I was in art club through high school? President my senior year. It makes me giggle. And I wasn't even the best artist in the class!
Coloring is a big part of my life; not just drawing. Honestly, it's my lifesaver. When I started my mental health therapy many moons ago, one of the things my psychiatrists and therapists always encouraged was sticking with my art. They made it a point to tell me that even if I was not inspired to draw, I should buy a coloring book and crayons and color my little heart out. Then, I would sort of laugh about it.
Now, that studies are showing this adult coloring craze is actually a good thing, I smile. Guess my Drs knew what they were talking about all along.
I've been creating Mandala's. I find the process of creation therapeutic. I love coloring them with bold bright colors. Pointalism is my art of choice, so when looking for a coloring book, I look for drawings which have open spaces perfect for me to cover with a million little dots.
This book is not one of them.
The Time Garden is a beautiful piece of work. What I loved is not only is it a coloring book, it's actually a story book. I could see someone coloring and personalizing the story book and giving it to a young child as a gift.
The front of the book has a To/From space while the back of the book has an index of all the coloring scenes within the book.
The story is cute; a sleeping girl and her dream. The drawings are sweet and beautiful. I can appreciate each piece.
Personally though, these pieces of work don't really appeal to me to color. I did make a copy of one of the pages to color for the purpose of this blog.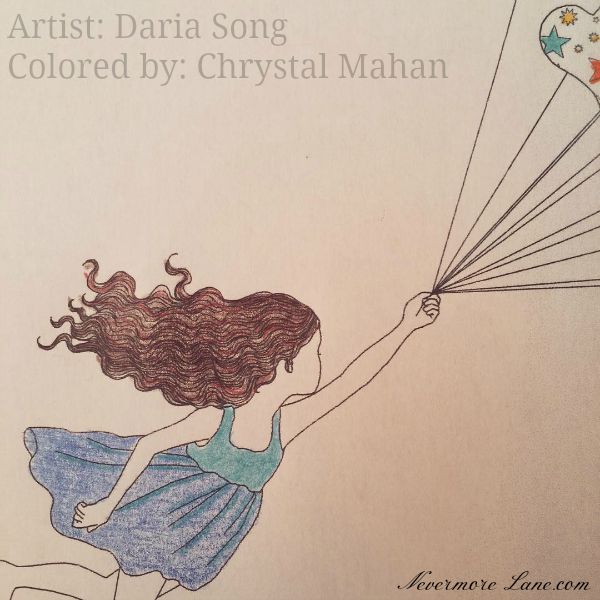 It's all about personal preference, so please don't take that as I didn't like the book itself; because I did.
From Amazon:
A dazzlingly beautiful coloring book for all ages, The Time Garden will sweep you away into a whimsical cuckoo clock–inspired world, created in intricate pen and ink by the internationally best-selling Korean artist Daria Song.

Journey through the doors of a mysterious cuckoo clock into its inky innerworkings to discover a magical land of clock gears, rooftops, starry skies, and giant flying owls—all ready for you to customize with whatever colors you can dream up.

Cuckoo . . . cuckoo . . . cuckoo . . . When the clock strikes midnight, you'll wonder, was it all a dream?

The Time Garden features extra-thick craft paper, ideal for non bleed-through coloring, and the jacketed cover with flaps is removable and colorable. Special gold-foil stamping on the cover and spine and a To/From page make it perfect for gifting to adults and kids alike.
You can currently preorder The Time Garden on Amazon for $8.79
Disclosure: I received the ARC for free in exchange for my honest review from the publisher. I was no compensated for my post. I was not required to write a positive review. All photos and opinions are 100% mine. Links are Amazon links; if you follow and make a purchase, I'll make a few cents.
Have you been bitten by the adult coloring bug? What are you coloring?