14th Annual Wine and Food Festival

A couple of weeks ago we were shopping at Kroger when I noticed all these banners hanging from the ceiling for a wine and food festival. I had no idea where it was or who was the sponsor. I only knew you could get tickets at Kroger cheaper ( $15 each.) I immediately told my husband that I really wanted to go. It had been a while since we had done a wine tour or tasting and I was itching to do another. There are quite a few that go on around the state, but they are on weekends which makes it difficult for husband and I to go to them since we have kiddo. We try to keep our no-kid weekend days to a minimum. 
The event was Saturday and Sunday, but we went to the 1st Annual Celtic Gathering on Saturday. This was an all-day event where we sat outside while enjoying the sites and sounds of Irish, Scottish and other Celtic traditions. It truly was a good time, but it was also very draining. It took me forever to get up and around on Sunday. The wine event didn't start until 1pm, but we didn't get there until 3. Oops. That's ok.
The festival was held at Meadow Brook on the Oakland University campus in Rochester, MI. It was beautiful scenery, but wasn't as big as I thought it was. It also wasn't set up like I thought it was. I was pretty excited that Kroger was the sponsor because they were going to be sharing a lot of their Private Selection line of meats and cheeses. I have had some of these and they are really tasty for such a great price. When reading the description for the event on the website I was under the impression that their would be various tents set up with different wines to taste and food pairings.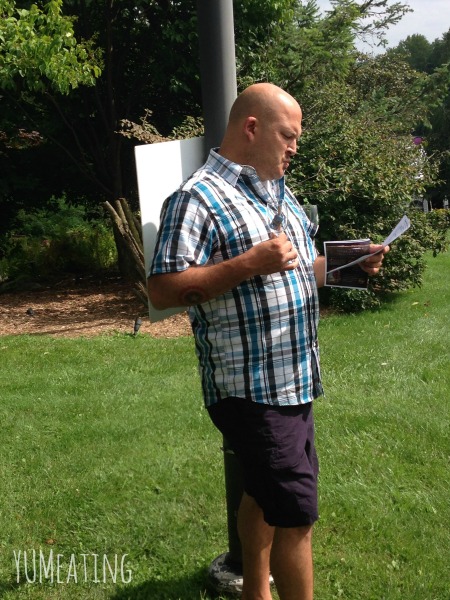 I was really wrong. When finally get down all the winding sidewalks, there is a table where you hand over your tickets, get your tiny wine glass and tickets. There is an admission ticket attached to your glass that will get you in the food tent. You go down the line with your tiny plate where they pile on a ton of meats, cheeses, crackers and even a tiny cup of ice cream. The problem here was the balancing act. Not just of the plate and wine glass but the pile of food on the tiny plate. After the food line you are met by some wine experts to help you with your first pairing. We handed over our first ticket (You get 8 free with your price of admission) and headed out of the tent.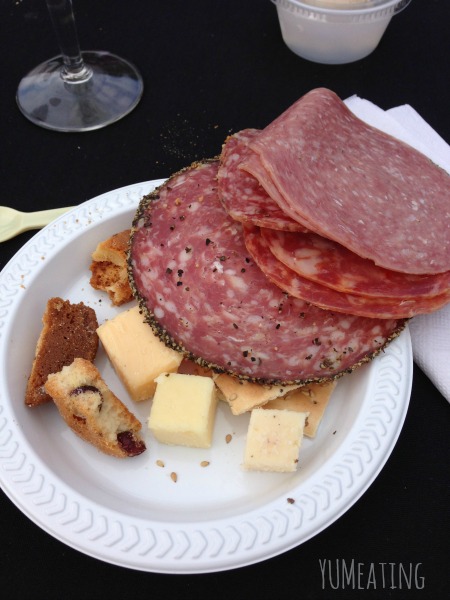 There was limited seating after coming out of the tent so we went through the next one after draining our glasses. That particular wine wasn't top of my list. The next little tent was more wine, nothing of which I was interested in. I kept walking so I could get out into the open area to sit down with my plate. We finally found a spot. The chairs were not comfortable and it was quite painful to sit there. The last 3 tents were rather large and they were nothing but wine. I think I saw 4-5 tiny tents where vendors were located and in the gazebos was a jazz band, which I found quite enjoyable to listen to. Husband and I took turns finding a wine and met back at the table to eat our snacks and enjoy our wine. For every sample you give them one of  your 8 tickets. Some were very generous with their pours and even gave some freebies. Others were not.
I am a label lover. I think it's the marketer in me. I tend to seek out those wines with the most interesting labels and boy did I find some. And, with that I found some wonderful wines. Of the wines that had a very simple wine was not make out of grapes or cherries, but rather apples. It tasted more like a spiced cider and husband loved it. I did too. It was sparkling and very refreshing. It was amazing.
We walked around all the tables and spent some time talking to the people behind the tables. It was fun to visit with people. When we were getting ready to leave a gentleman noticed husbands tattoo (Captain America) which he had long before the movie came out. He's been a fan since he was a little boy. So, he's not on the Marvel bandwagon, he's a lifer. We often get all sorts asking about his tattoo. I generally am amused. I had 2 tickets left. We had talked to this gentleman for so long that by the time he went to catch up with his family, the tables were starting to pack up! It closed at 5:30p and tables stopped pouring at 5:15. Oh, gosh!
The guy we spoke with though turned out to be pretty interesting. Him and Mr. Yum talked for a long time about comics turned into movies and television shows. He mentioned he was a non-profit owner and when they finally wrapped up their comic book talk I had to ask about his non-profit. I love hearing stories from people who have started one and it turns out he's starting a center for diabetes education and assistance in Detroit. I offered my help with marketing, social media, content and gave him my card. Sadly, I haven't heard from him yet.
All in all, it was a good time. I wish we would have showed up when the event started so I could have really enjoyed it, but at the same time, once you walk the tables and find the types of wines you actually want to try, there wasn't much else left for us to do. There were some classes going on, but we missed those while we were sampling and talking. This is something I am putting on my list for next year. Hopefully we'll make it on time 😉
While we were gone my MIL sent me a text telling me that kiddo and her were having lunch and the waitress asked kiddo how her day was. Kiddo replied "all my wishes came true today, I'm going to go live with my daddy and Chrystal." It literally brought a tear to my eye, right before I took that photo of husband by the tree. Which is why my heart is broken for so many reasons since she's now not living here.  And this is the photo we sent her when she told us.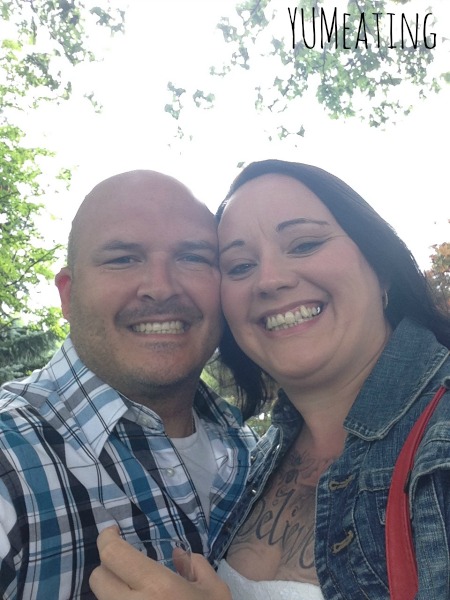 This was our reply (LOL.)
Goofy kid.
Disclosure – I paid for my own tickets. I was not compensated for this post. I just wanted to share the foodie fun I experienced.