Tasty Tuesdays : Healthy Eating
Sorry I'm a little late with posting the Tasty Tuesdays link-up today!
Last week I was derailed by my husbands graduation, a weekend getaway, family drama and the death of my father. Once I began to process that, kiddo was here for the weekend and we were on to Mother's Day. My plans for posting this week were not done ahead of time like I usually try to do. I was hoping to get better organized and I started my plan of action, only to get sidetracked in life.
I've been taking part in NaBloPoMo (National Blog Post Month) through BlogHer and I was recently partnered with a sponsor for some health items and everything seems to be coming full circle. I've been trying to find balance in being a food blogger and a healthy eater.
This week I am working on getting back on the healthy bandwagon. I did an hour on the treadmill and I started tracking my food. After the treadmill I did a little cleaning. My husband is going to be gone all week. For the net three days he'll be in the city at a 3-day seminar for a giant study event to prepare him for his boards. Then, the weekend he will be down in Ohio for some big airsoft event. I stepped on the scale a few weeks back and was shocked by what I saw. To say I gained weight at an extremely rapid pace the last 2.5 months is an understatement. Part of me is worried something is going on, the other part of me only blames myself. Sadly we don't have insurance at the moment so I can't call my doc for a check-up.
As I look over my last few posts I see that I need to make some changes. Not just for me, but for my family as well. Because of the decisions I had to make regarding my father, and knowing for some time he was dying, I let the old me take over and the overeating binge disorder returned. This is something I need to address. Thankfully, with the house to myself, I can clean the fridge and cabinets and step away from what is easy, and get back to the way I should be.
Thankfully, I love smoothies! Even better – I'm working on a new smoothie book! And, in case you are new here, my current smoothie book is available on Kindle for 99 cents! You'll want to grab that soon before the price increases!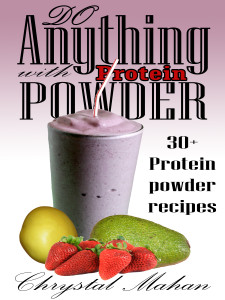 Running a food blog is hard. If anything, YUM is only going to get better as I work through this journey.
I don't know about you, but I am ready to party!
Because I am on this health kick, I have been pinning some recipes that are making me look at my everyday foods in a different way. Because of that, my personal favorite from last weeks Tasty Tuesday is:
(drum roll please……..)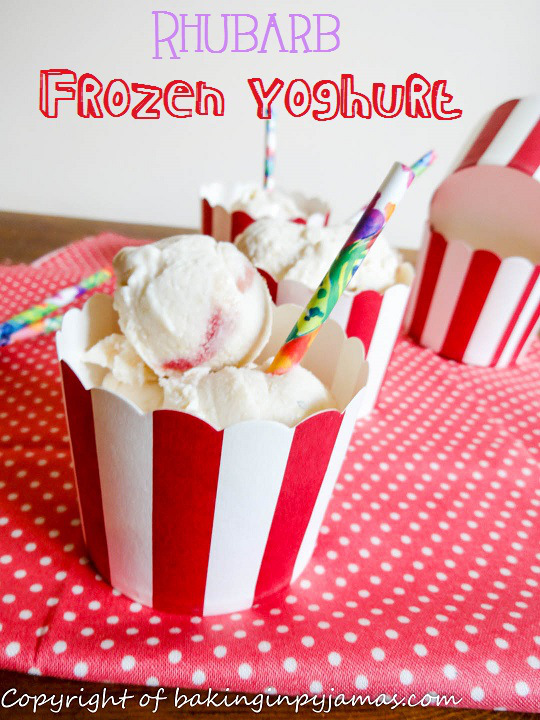 Rhubarb Frozen Yogurt by Laura at Baking In Pyjamas!
Strawberry Rhubarb pie, crisp, crumble, and compote are my simple pleasures in life. Strawberry cheesecake ice cream is the best invention ever. Like Laura, Ben and Jerry's is sinfully yummy, but we all know, it's not meant for health purposes. I did a happy dance when I came across Laura's post and I can't wait for the rhubarb to come up this season.
Now that I think about it, that's one packet of seeds I am lacking for my trash to treasure garden. I must get on that ASAP!
Okie dokie. Let's party on! Feel free to browse the great tasty treats and link up a few of your own!
Tammy from Creative K Kids has expanded her party so that now this party is being run on three blogs! This month, Chrystal from Yum Eating and Erlene from My Pinterventures are her co-hosts!
We would love to have you link up to three of your old or new food posts! Here are just a few requests for this linky:
PLEASE follow

the hosts and co-hosts of this party through one of their social media listed below. They visit your post, leave a comment, and pin your post. Just pick one (or more) of the options below and please follow them.
**Tammy at Creative K Kids (Blog)**
Pinterest/Facebook/Google+/Twitter/Instagram
**Chrystal at Yum Eating (Blog)**
Pinterest/Facebook/Google+/Twitter/Instagram
**Erlene at My Pinterventures (Blog)**
Pinterest/Facebook/Google+/Twitter/Instagram
Try to visit a couple of blogs and leave a comment or share their posts!
Please link up a food post you have never linked up at this party before.
Place this button or a link to this post somewhere on your site–either on the actual post or on your sidebar or on your party page.
As a thank-you for linking up, we will pin your recipe to the Tasty Tuesdays at Creative K Kids Pinterest board. You could follow the board to see all the great food recipes!
By linking up, you agree to let any of the hosts or co-hosts use your pictures and links if they decide to feature your post. Your photo may also be used for promotion on any of their social media outlets.
If you include your e-mail in the linky form below you will be added to a weekly reminder e-mail when the link party goes live. Your e-mail will not to added to any other lists or given out.
Thanks for linking up!
');