Join Me in the #52weekmoneychallenge from Stuck at Home Mom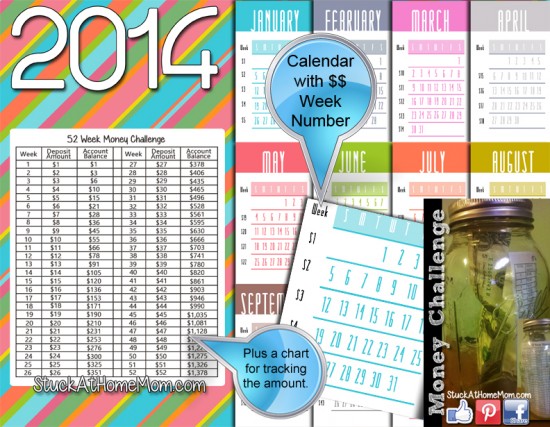 This morning I was scrolling through Facebook, enjoying my tea before I start my day when my writing buddy Nicole (who blogs over at Frugal Maine) shared the 52 Week Money Challenge from Stuck at Home Mom. First I had a laugh because her website title is pretty funny. When I clicked the link I had to laugh even more. Her tag line reads, "Good information rarely comes from a spell checked grammar proficient source."  Booo-ya.
Hilarious. 
I know I tend to get a little anal about my own grammar and I do secretly fix others when I read it. That's from all the years of working on my BA and MBA and having to write paper after paper. It's also the fiction writer in me (pen name, so Googling isn't going to help you, you'll only find non fiction and poetry under this name) who has to constantly double-check her words. Sorry for that. 😉
Blogging is a whole different ball game. I tend to type the way I speak – quickly. And, with an accent. Don't judge.
So the money challenge seems pretty easy.  Step one: Grab a Mason jar. Done. I have a few leftover from YUMs canning season.  So, the first week of the year we are to drop $1 in the jar. Easy peasey. Week 2, drop $2. Week 3, $3. And so on. So by week 52 you drop in $52. By the end of the year you will save $1,378.  Stuck at Home Mom also explains you can do it backwards if it makes it easier for you at holiday time. First of the year do $52, $51, $51 that way in December your savings jar deposits will be $4, $3, $2, $1.
I'm looking at that $1,378 and thinking about all of the wonderful things we could do with that.
So, are you up for the challenge? What could/would you do with your $1,378 savings jar?