East Side Mario's in Niagara Falls, Ontario, Canada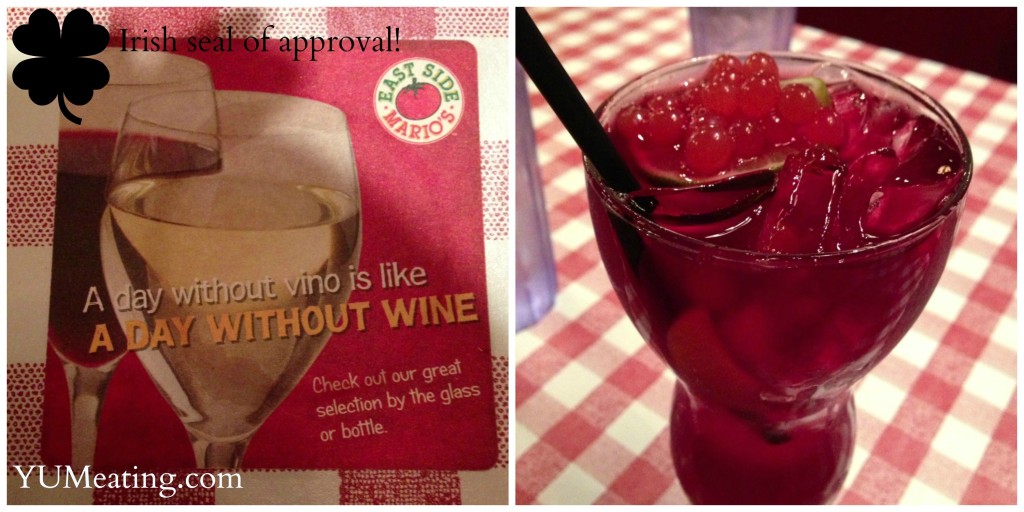 On our trip to Niagara Falls, this was our second eating stop. Our first was The Waltzing Weasel in London, Ontario.  East Side Mario's was on our list to try because the Four Points hotel gave us vouchers to use. It was one of 4 or 5 restaurants located inside our hotel.
I apologize for the photos.  It was late and it was dark inside East Side Mario's so there are dark shadows on my iPhone photos. I debated about this post but I really wanted to brag about my bacon wrapped scallops !
My husband ordered a Sangria. He's not much of a drinker but this is his go-to drink when he does decide to order something. He was tickled to death when it came out and it was full of fruit (even passion fruit) and he didn't have to send it back to ask them to add more mix to it so he couldn't taste the liquor.  I ordered the Canadian VQA white wine and it paired nicely with my meal. I was so proud, I picked it out all by myself!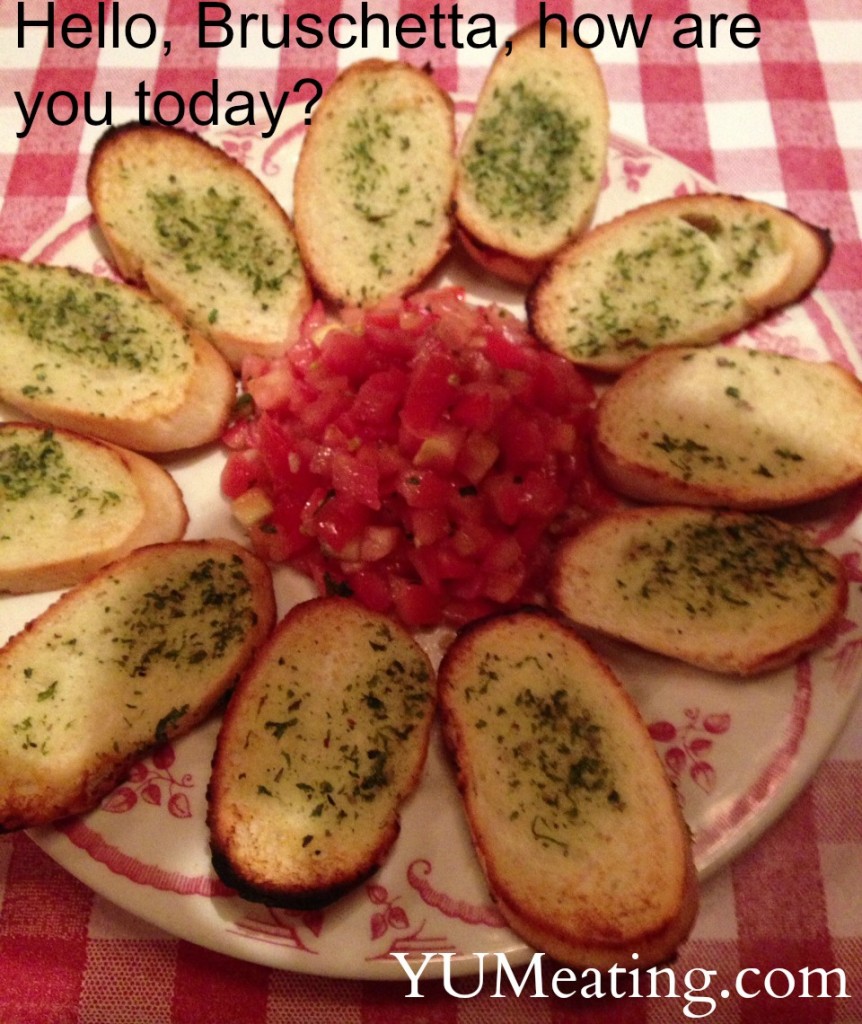 We started out with the Bruschetta. The bread was crisp, nice and buttery. Personally, I wanted a bit more of an Italian flavor. The Bruschetta needed a little more flavor. It needed some seasoning, some pesto, something. It was just tomatoes.  It was still good though, I just expected a bit more.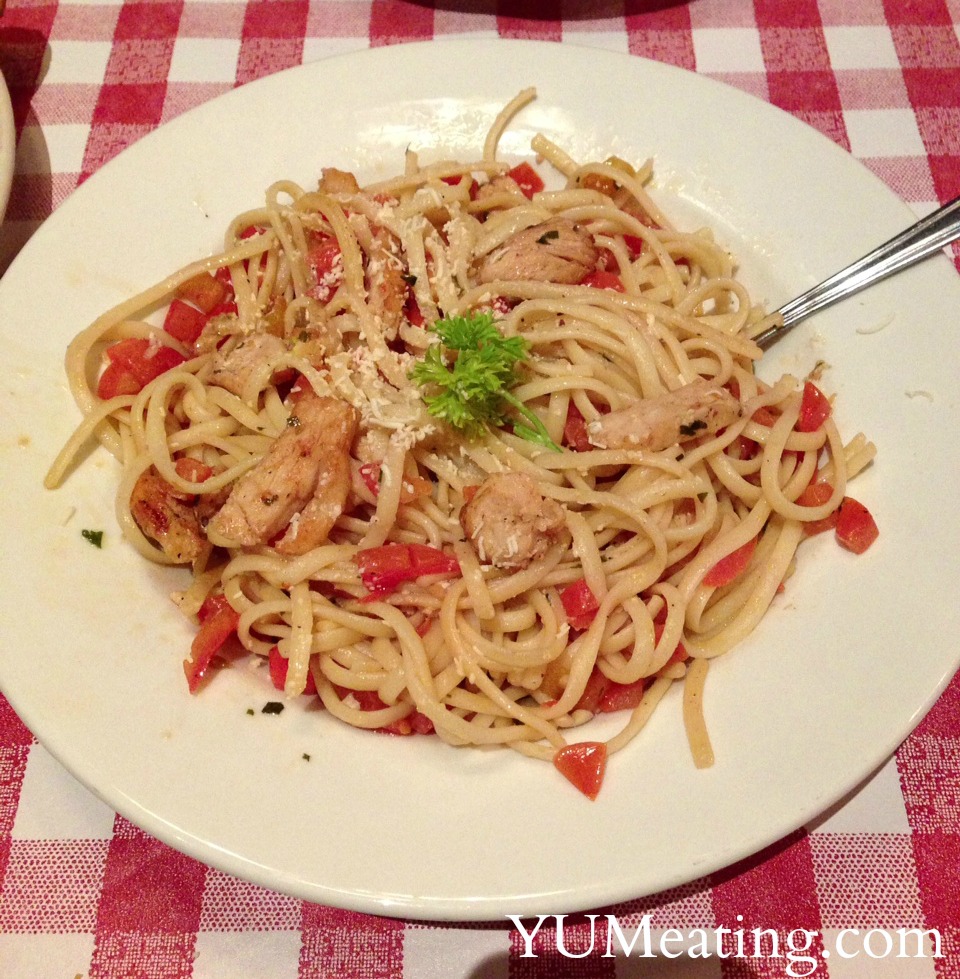 My husband ordered the Linguine Chicken Tetrazzini with no mushrooms. They brought it out with mushrooms on it anyway. So, we had to pick them off. No loss. I ate them. We also had to special order it with no alfredo sauce. Instead, we replaced the alfredo sauce with butter and olive oil. He was really happy that they did that for him. He said other than the mushrooms on his plate his meal was perfect. His noodles were the perfect al dente, just the way he likes them. Wonderful bouquet of herbs and spices. Perfect knife cuts. He was pretty impressed.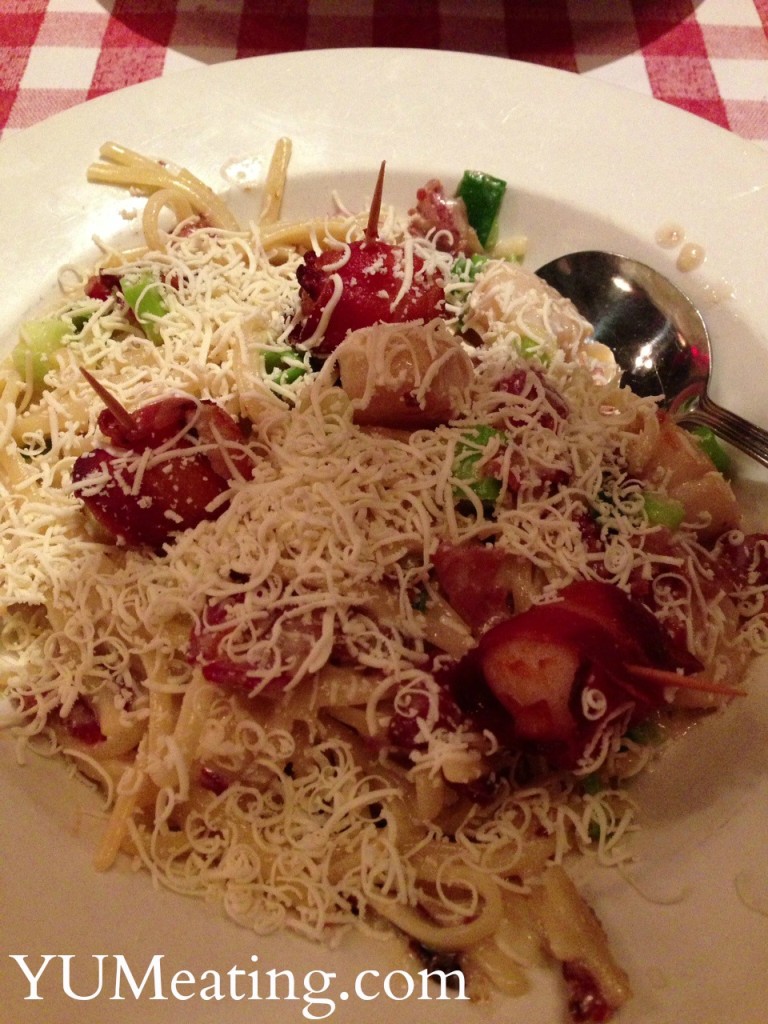 I ordered the Scallop Carbonara after debating between it and the Seafood Linguine for what seemed like an hour. I think it ended up being the bacon that won my heart. Or the scallops. I love scallops.  I only have one sentence to say about this dish. It was a flavor explosion in my mouth.
There were three scallops wrapped in bacon. Nice cream sauce over my pasta with more scallops and bacon crumbles. It paired perfectly with the white wine I ordered. I was a happy, but tired girl.
Despite the few minor mishaps with my husbands dish or server was amazing and management immediately came out to try to fix the situation.  East Side Mario's had a really fun Italian atmosphere. If I ever go back to Niagara Falls it would be a place I would visit again.