Ginger-Spiced Pumpkin Muffins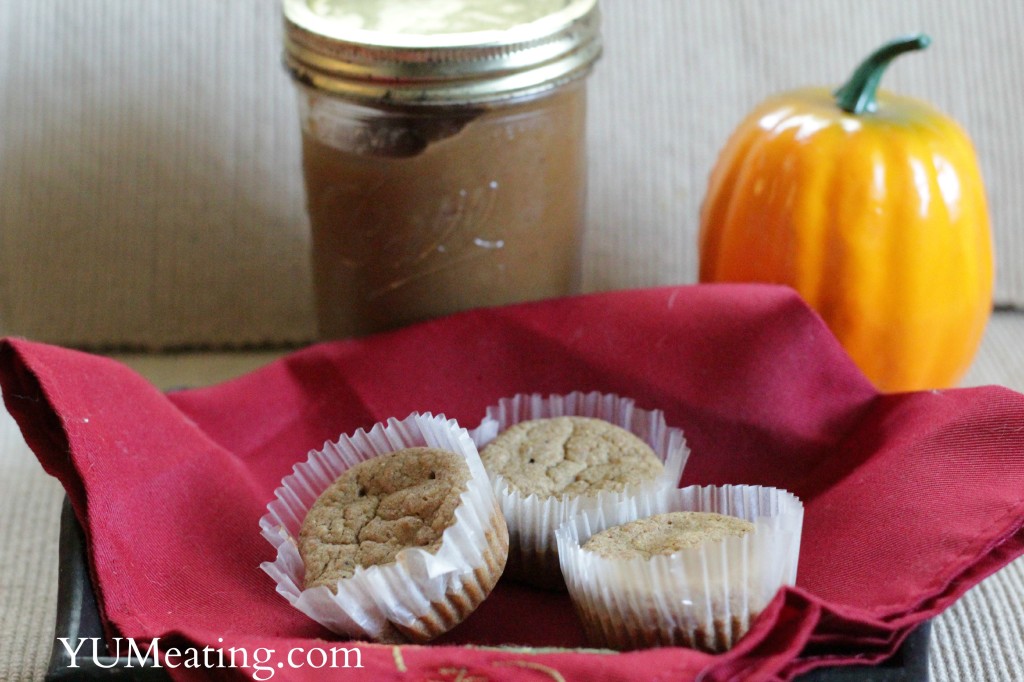 First, let me apologize for the poor photo. Kiddo was 'helping' me. The dogs, Casey and Tink, along with the cat Ziggy were running all over the place. As you can see on the napkin – fuzz, fuzz, fuzz.  I guess that is why it is a good idea to check your photos before putting your camera away.
That is OK. The main point of this post is to show you some of the recipes you can make with the "Homemade Pumpkin Butter" recipe I posted. I also used 2 cubes of the "Frozen Eggs."
I adapted this recipe from Joy Bauer's "Food Cures" cookbook. This particular recipe is meant for arthritis suffers (like me) as they are supposed to help with the aches and pains.
These pumpkin muffins were easy to make and kiddo really enjoyed the time spent creating them.  I even let her use my older digital camera to take food photos and she was having a good time.
Ginger-Spiced Pumpkin Muffins
Adapted/Inspired from "Food Cures"
Ingredients
1/2

c

Splenda brown sugar for baking

1 1/2

cup

whole wheat flour

2

tsp

baking powder

3

tsp

ground cinnamon

2

tsp

ground ginger

1/2

tsp

salt

2

frozen egg cubes - thawed

1

c

unsweetened almond milk

1/4

c

canola oil

1

tsp

orange zest
Instructions
Preheat oven to 375.

Line cupcake pan with liners.

In a large mixing bowl add brown sugar baking Splenda, whole wheat flour, baking powder, cinnamon, ginger and salt. Mix together.

In a small bowl beat the thawed egg for 30 seconds to create a little foam. Add almond milk, pumpkin, canola oil, and orange zest. Mix together.

Add the egg and almond milk mixture to the flour mixture and stir together until the flour is moistened.

Fill the muffin cups three-quarters full with pumpkin batter.

Due to the almond milk, temperature time has to be adjusted from original recipe baking time. Mine took about 25 minutes to cook. I let them cool for about 15 minutes before testing and they were even better the next day.

These muffins will not rise like muffins made with cows milk.

Can be frozen up to 2 months.