The Waltzing Weasel in London, Ontario, Canada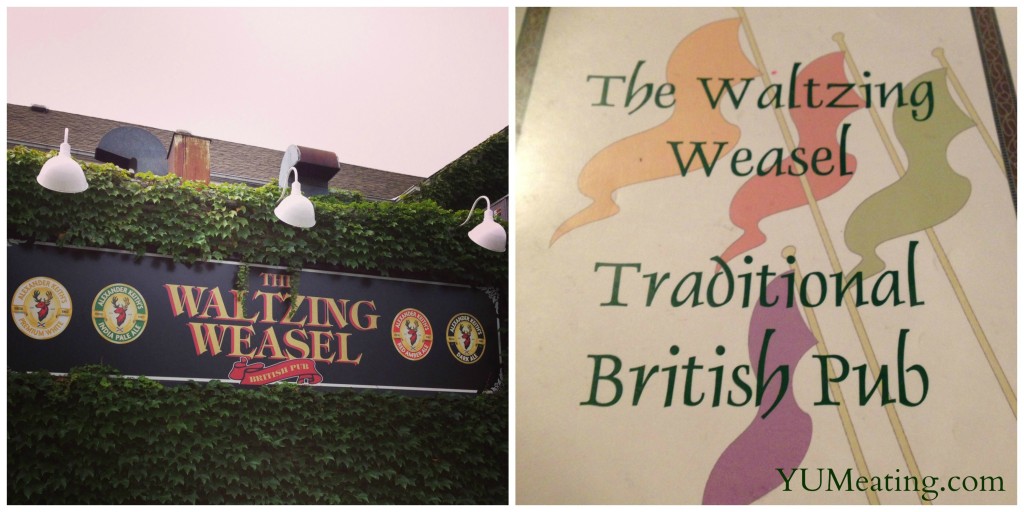 I mentioned that YUM was going to take a quick mini vacation for a couple of days and quick it was. We drove to Niagara Falls, Canada and back in three days.  YUMeating is not going to be a restaurant review site. I don't eat out a lot. Heck, I don't even get a chance to travel a lot. I went to Macedonia, Tremont and Cleveland, OH because I had just graduated and needed break. Niagara Falls was part two of that as it was another present and also served as an early anniversary celebration for me and my husband. Our anniversary is in November, but looking at his schedule for his final year of school and clinical's it does not look like we are going to get much of a chance to celebrate.
When I do get a chance to travel I enjoy sampling the local cuisine. I want to share my YUM experiences!
On the way to Niagara we stopped in London, Ontario at a British pub called The Waltzing Weasel. Growing up Irish I enjoy a lot of Irish and British food so I am ecstatic to sample the food here.
Of course, being Irish I had to order a pint of the good stuff!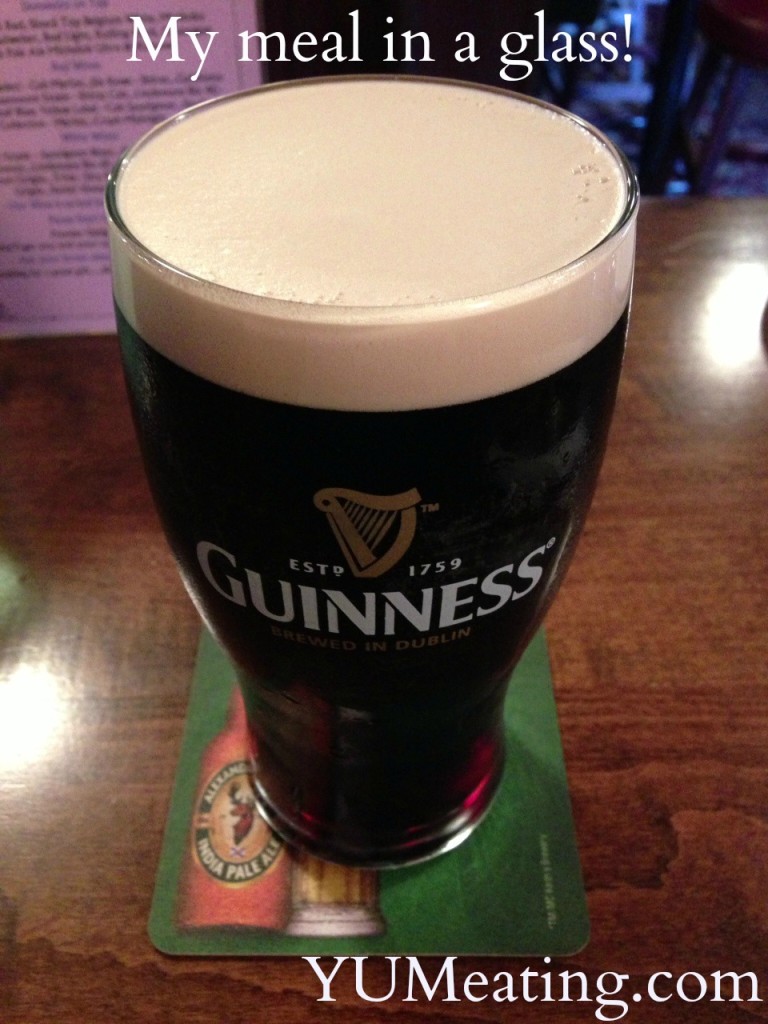 My husband is part Irish part Scottish on his father's side. On his mother's side he is part Polish and Ukrainian I believe.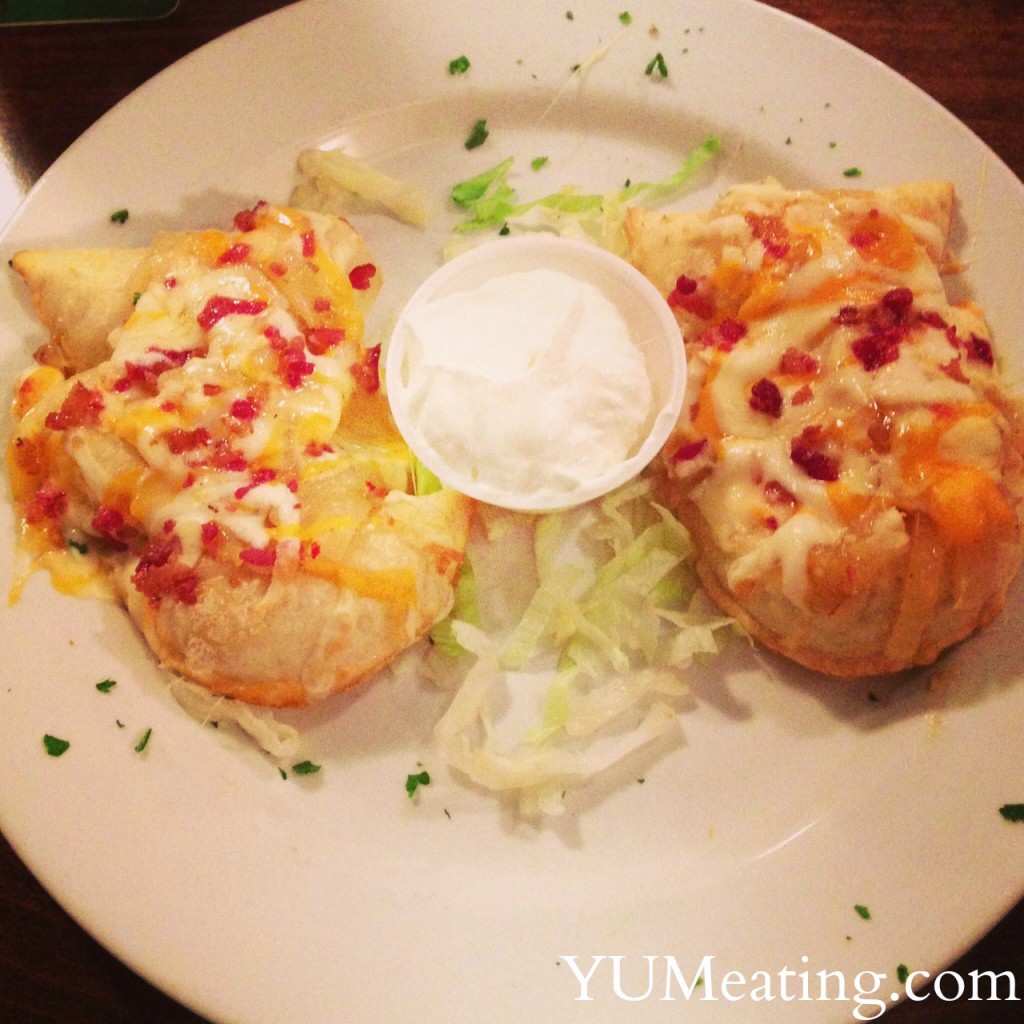 To start things off we ordered a plate of Perogies. These tasty treats were unlike the Perogies I was used to. They had this buttery, flaky, pastry crust that was just to die-for. They were light, airy, and I just could not get enough of them. They were topped with a bit of shredded cheese , lettuce, sautéed onions, and some bacon bits.  Usually I find Perogies to be very greasy and stuffed too full of mashed potatoes. They tend to have that doughy texture in my mouth and I end up not eating them. I was sad when my plate was empty. But then again, it is a good thing because had their been more I would not have been able to eat anything else.
We decided to order Shepherd's Pie and an order of Bangers 'N Mashed and then share each.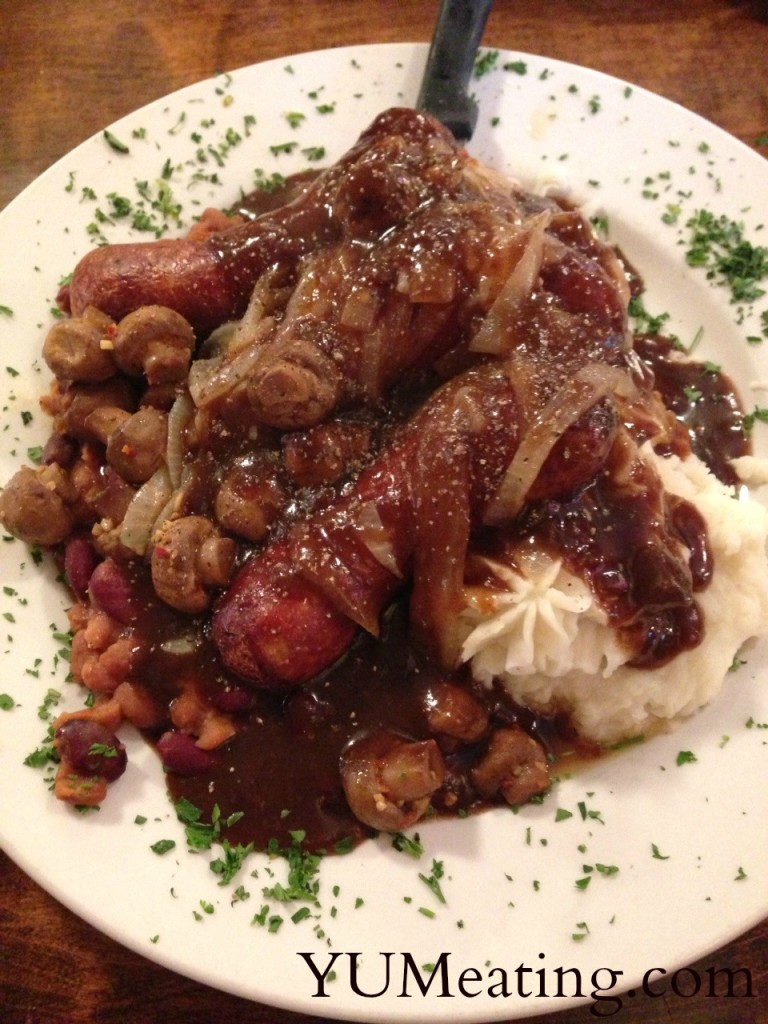 The Bangers N Mashed was literally enough to feed 2 people on its own. There were 2 large pieces of sausage and huge portion of mashed potatoes with home style beans topped with a generous portion of gravy, mushrooms, and onions. When our waitress brought the plate out I knew immediately we were going to be taking a good portion of this with us to enjoy later in our hotel room.  My husband said it was a little heavy on the mushrooms but I like mushrooms and saw no problem with it. It had a nice tangy flavor that really reminded me of food in the south. To me that seemed a little strange for British food. I find Bangers N Mashed to have various flavors all over and find it to be different based on the types of sausage, seasoning, gravy and beans being used.  My husband felt the potatoes were nice and creamy and the overall flavor of the dish was nice and "beefy."  The onions were cooked expertly, the sausage was spicy with a hearty bite. It was not dry, but rather juicy. The beans were full of texture and not mushy. You'll find that with some dishes like this the beans tend to start soaking and get rather mushy when absorbing the liquid of the food around.  We did not make much of a dent in the Bangers and had to take quite a bit of it traveling with us.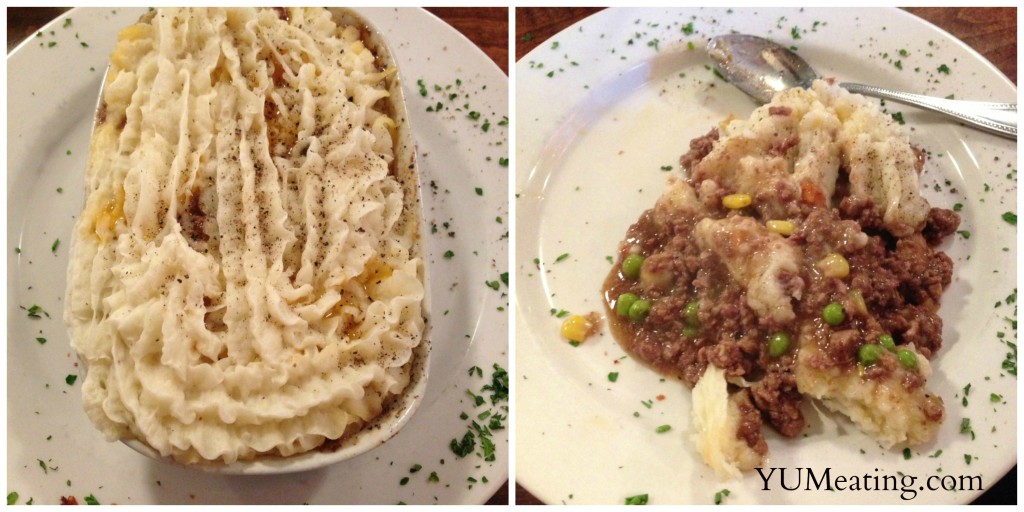 The Shepherd's Pie is one of my long time favorite dishes. It's an Irish traditional dish. There are many variations to the dish. This version has mashed potatoes over a blend of lamb, beef, and pork with mixed vegetables. This is the first Shepherd's Pie I have sampled which carried three different meats. It's also the first that I have tried which had pork. I've only had beef or lamb. This dish was simply amazing and I cannot say that enough. The vegetables were not mushy which as you may have noticed is a big thing for me. I can't stand it when things get mushy that aren't supposed to. Potatoes were lightly whipped and brushed elegantly across the top. It was so pretty I hated to ruin it! The meat was seasoned with a robust flavor.  I kid you not when I tell you my husband licked this dish clean.
The pub itself reminded me a lot of the movie "Green Street Hooligans." (another long time favorite!) No fighting and singing, but he decor and overall atmosphere was similar. Our waitress and the rest of the staff was friendly and welcoming. If you're in the London area and seeking some traditional British cuisine I highly recommend stopping by The Waltzing Weasel. In the meantime, check out their menu.