Pesto Chicken Zoodles #keto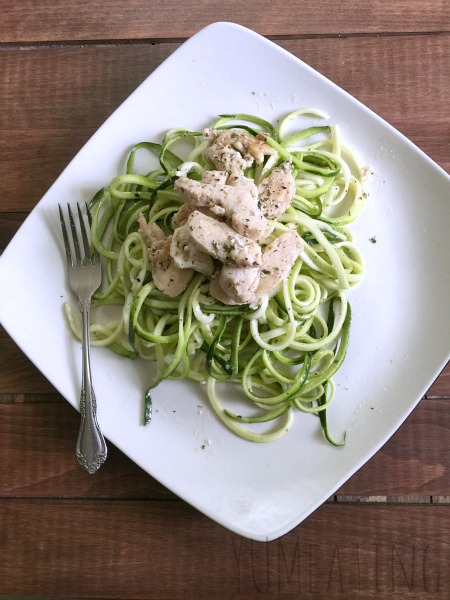 I don't know about you, but I am missing summer just a little bit right about now. We had some serious winds and rain last week, then the weekend was filled with a bit of sunshine. It was nice. I needed that since I spent the better part of my weekend sorting through boxes full of things which I had to sort on whether I was taking it or leaving it here. I found myself leaving a lot of things here. Part because I don't need more stuff to move and part because I would rather kiddo and her dad enjoy the things. 
One of the things I found over the weekend was with the amount of stress and sadness I am feeling, I am forgetting to really sit down and take care of me. I know I need to watch my self-care otherwise my mental health issues take over. On the other hand, I am glad they are not out of control because I am not eating everything tied down.
Now that I have some of my health issues under control, I need to be considerate with myself and be mindful of what I do eat.
I picked up some zucchini on special last week so I decided it was time to bust out the spiralizer and get some zoodles going. I dug out the George Foreman grill, seasoned some chicken breasts and started grilling.
I'd like to be able to tell you that I made my own pesto this time, but I just used a little jar I had opened which I bought at Aldi.
I didn't cook the zoodles. I just tossed in a little pesto and lightly mixed them up. When the chicken was done I cut it in strips.
It's super filling and I didn't get that carb hangover I feel when I eat too much pasta.
With everything going on in my life between my health and my personal life, I am pretty sure my body is thankful for these healthier options.
Anything healthy on your plate today?