Christmas Dinner : Ranch Roast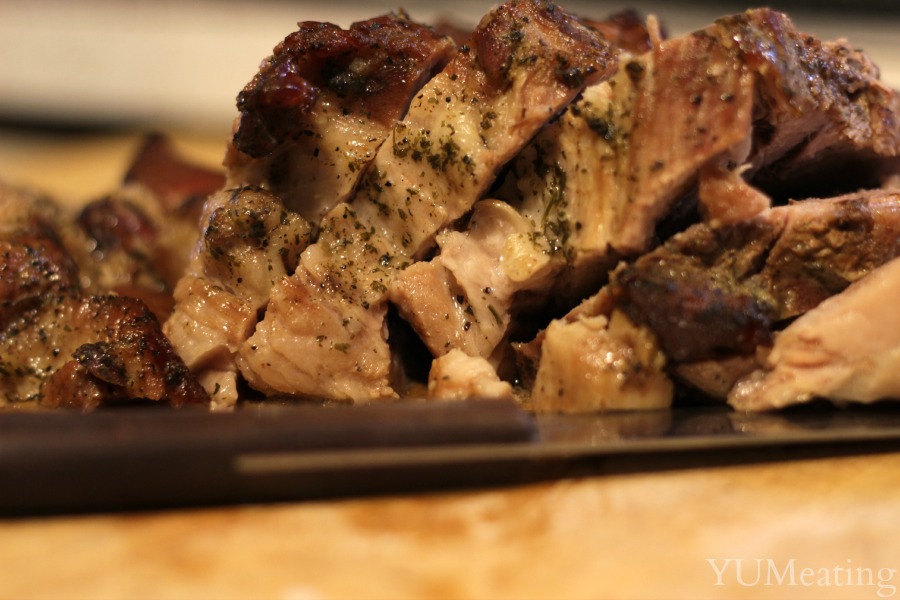 Most people have a traditional ham, lamb or duck for Christmas dinner. We aren't one of them. Since ham and turkey were prepared for Thanksgiving I never saw the point in preparing a ham again for Christmas. Since we have to flip-flip Christmas with kiddos mom, dinner is whatever we decide to make.  There are some years Christmas dinner is on Christmas Eve and other years Christmas dinner has actually been the day after Christmas. This year, because the husband has to work Christmas day we'll be doing Christmas dinner over the weekend.
This pork Ranch Roast was such a huge hit and it just so happens that I have another giant one in the freezer – guess what they're getting for our Christmas dinner?!? 😉
I'm pretty sure by the end of the day there won't be any left.
Look at it. Who wouldn't want that yummy goodness?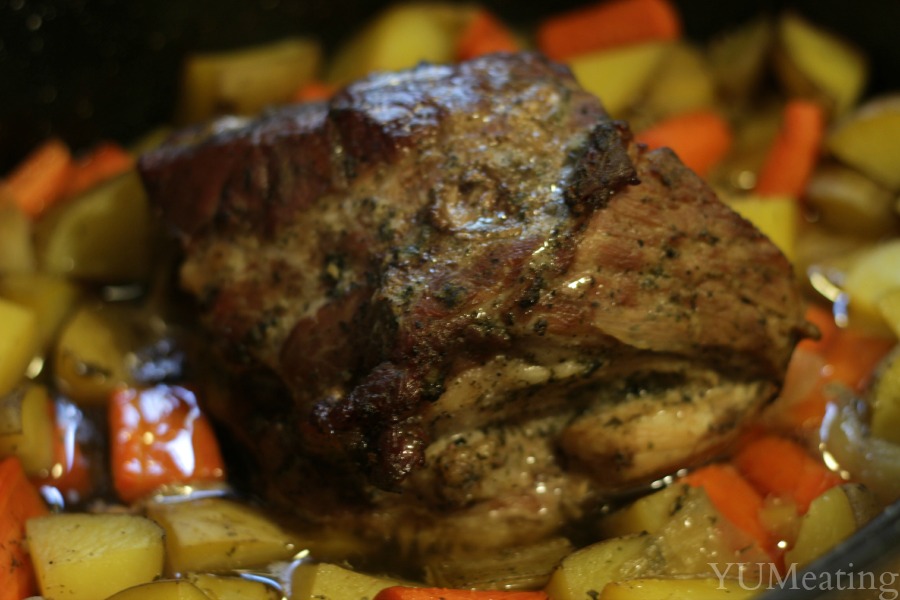 This particular roast I had intended to go in the crockpot but as my luck would have it the pork roast wasn't going to fit with all the potatoes and carrots so I put it in a roaster pan and cooked it on low heat in the oven.  It turned out amazing.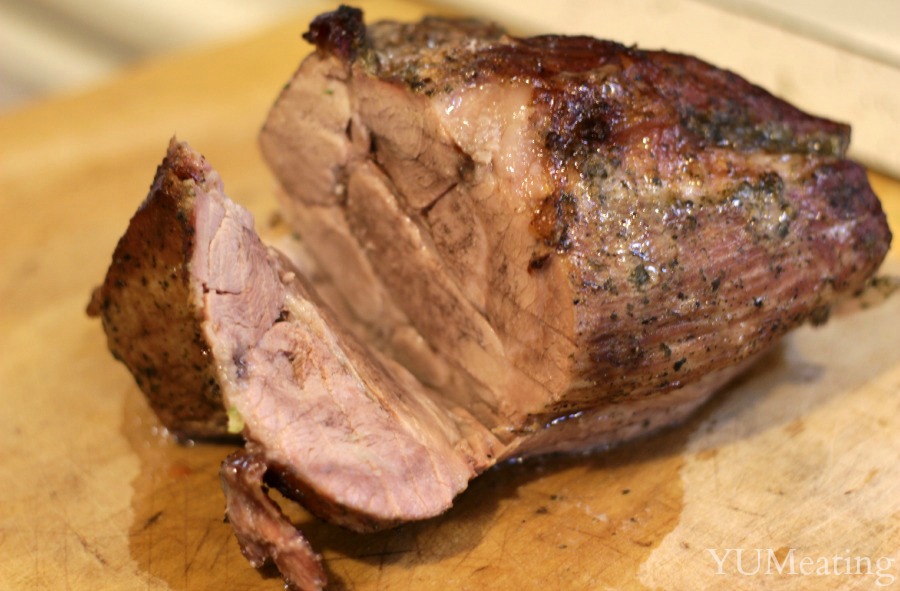 YUMtastic! (that's my new word lately)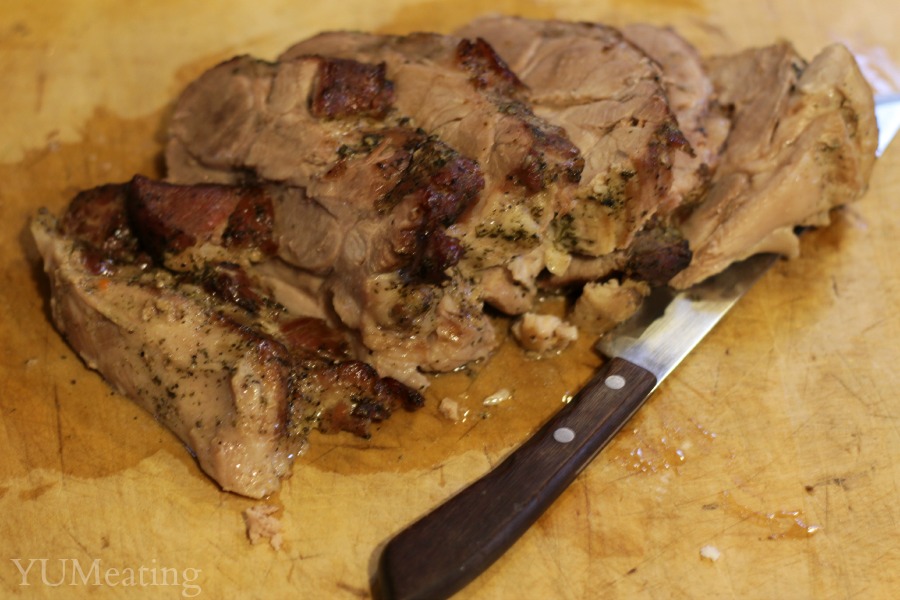 Husband and kiddo went on and on (and on) for the entire length of the meal about how great it was. I had never made a ranch roast for them and neither of them had ever had one. (what?? I know, right!?)
I thought maybe he was being a little dramatic for show, but that's not something he usually does. When it's good, they'll tell you. When it's great, they'll let you know. Sometimes its dramatic, but this was different.
Of course I was happy. It makes me feel good when I can provide them with a simple, wholesome meal that doesn't cost a fortune.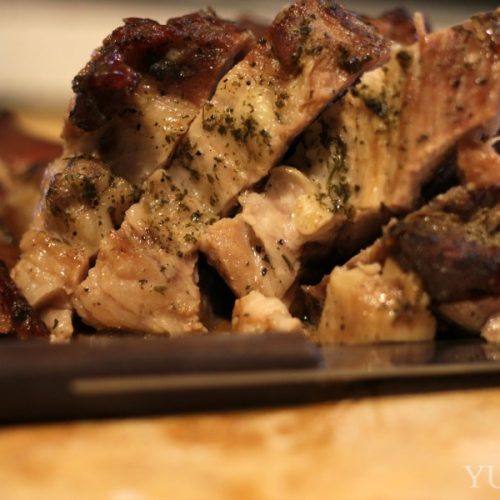 Ranch Pork Roast
Ingredients
Pork Roast

1 1/2

cup

water

Salt

Pepper

5-6

Carrots

peeled and cut

4-5

Potatoes

pealed and quartered

1

packet Hidden Valley Ranch - Ranch Dry Mix Season Packet
Instructions
Preheat oven to 200

In the bottom of your roaster pan pour 1 cup water.

Place your pork roast in the center of your roaster pan.

Arrange the carrots and potatoes around your roast.

Sprinkle salt and pepper over roast and vegetables to your tastes.

Add ranch seasoning packet.

Slowly pour the other 1/2 cup water over vegetables.

Cover and cook for 1 hour.

Using a meat thermometer check temperature.

Bump your oven up to 250.

Length of slow cook time will depend on how many pounds your roast is.

Keep checking every 30-45 minutes with your meat thermometer.

Your temperature setting will let you know when it's done.