Dollar Store Meals: Sausage Gnocchi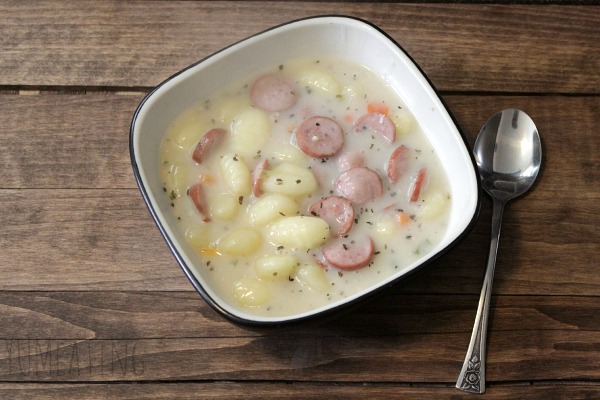 Friday! Woohooo. A few weeks ago we did a freebie Friday  and I mentioned we would start rotating Fridays with freebies and frugal. Except, last Friday I failed because I shared Guinness Meat Pie instead. The meal was somewhat frugal. $2 for pastry shells $4 for the extra lean beef. The peas were $1 and the other ingredients I had on hand. So, a whole pie for about $7 and it (in our house) served 4. 
Well this frugal Friday meal contains pantry items most of us already have on hand and $4 spent at Dollar Tree. While the obvious reason for my infatuation with the dollar stores, they also make a quick in-and-out trip when you want to cook a meal but don't want to hit the drive-thru.
This Sausage Gnocchi is basically just a dollar store version of my Skinny Rustic Italian Gnocchi Soup. While this version isn't skinny, it's still tasty and will work for a quick meal.
First things first.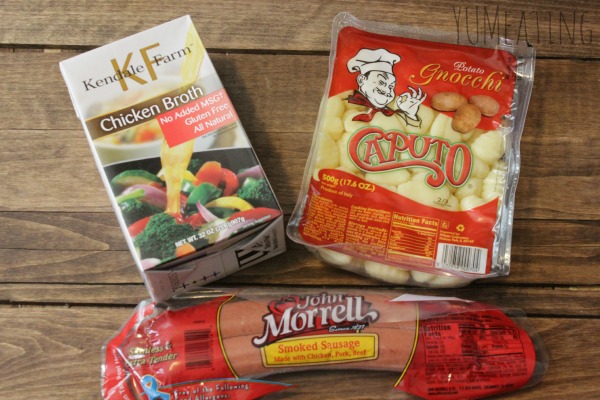 I purchased:
1 package of John Morrell smoked sausage – $1
1 package Caputo potato gnocchi – $1
1 package Kendale Farm chicken broth – $1
I also purchased one container of dried basil for $1, but it will be used for more than just this recipe.
Total meal cost – $3-$4.
This meal will fill up a rather large dutch oven.
Things you will need for this recipe that you probably already have on hand:
flour, milk, garlic (either raw, pre minced or powder)
onions (regular, green, or even powder)
a handful of baby carrots  (or a few large raw, or even a can of canned sliced carrots)
Parmesan cheese (optional)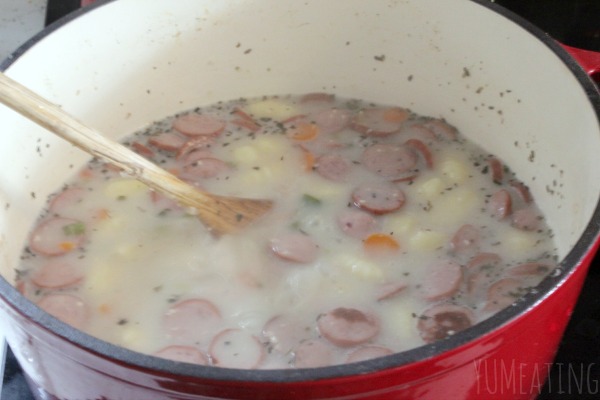 This recipe was rather simple because we've made a few pots of the Skinny Rustic Italian Gnocchi Soup so I had the general idea just about memorized.
Kiddo and hubs both gave two thumbs up and had no complaints that we swapped out our normal brands. When watching calories like me, just leave out some of the sausage and gnocchi. If you like spinach (like the original recipe) feel free to add a little extra to your own bowl to give it something extra.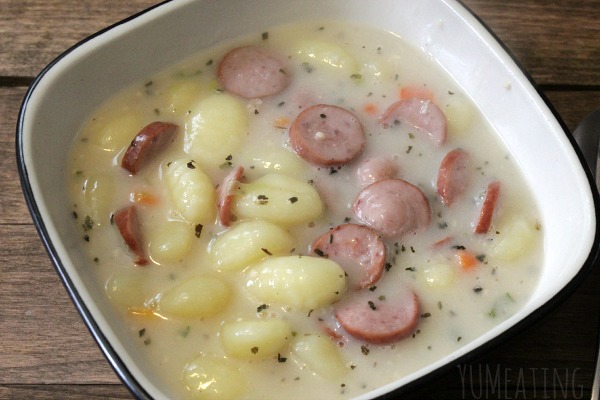 We've tested a few dollar store meals and I'll be sharing those in the coming weeks.  I've also got some really fun freebies too.
Truth is, I started Weight Watchers yesterday, so we'll be having a lot more 'from-scratch' healthier options around here. I made Lifetime on WW many years ago. The last few years with all my health problems and stress, I've put the weight back on. I have tried WW online a few times without much success. Meetings were never at times I could attend – at least the one closest to me and all the rest of them were to far away for me to really schedule that block of time in. Now, their program has new options for the online program and I feel like that change was just what I needed.
I hope these changes will be welcomed with open arms – not just here on YUMeating – but in my home as well.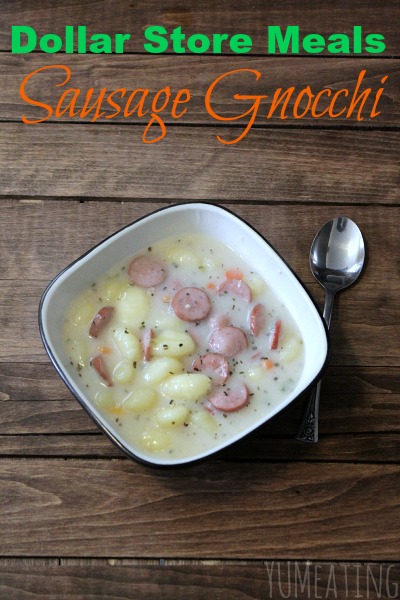 Sausage Gnocchi
Ingredients
32

oz

chicken broth

1

cup

water + 1/2 cup

1

cup

skim milk

1

package of potato gnocchi

17.6 oz

1

package of smoked sausage

7 oz, sliced

1

tbsp

minced garlic

1

tbsp

dried basil

10

baby carrots

diced

green onions

chopped

3

tbsp

flour

1/2

tsp

black pepper

1/2

tsp

salt

Parmesan cheese
Instructions
To make this a one pot meal, slice the sausage and place it at the bottom of a dutch oven or large stock pot with lid.

Cook on medium heat to warm the sausage and slightly brown on both sides. About 4 minutes.

Remove and place on a paper towel; set aside.

Using the same dutch oven you are going to create a slurry using the flour and 1/2 cup water.

Pour them into your dutch oven and whisk the two together on low heat.

Continue whisking until your flour becomes just a tad darker in color. We are not trying to make a rue.

Add 1 cup water, chicken stock, and milk to the dutch oven.

Slowly bring to a boil.

Once your dutch oven mixture starts to boil, reduce heat, add onion, carrots, garlic, and 1/2 tsp black pepper and salt.

Continue to stir.

Turn the heat back up and return to a boil.

Partially cover the pot once the soup boils and reduce heat to low.

Allow soup to simmer until vegetables are soft, about 15 minutes.

Continue to stir.

Once your vegetables are tender add the sausage, gnocchi and basil.

Continue cooking until the gnocchi floats to the top. They'll become fluffy and your soup with start to thicken.

Season with more black pepper to taste.

Once gnocchi has floated to the top, you're ready to serve.

Using a large spoon or ladle, place soup into bowl and garnish with Parmesan cheese.

For a lower calorie bowl, add a few pieces of gnocchi and sausage in your soup and fill it up with spinach for a great tasting rustic version.
Are you trying to make any health changes in 2015?