Create Your Own Juice Detox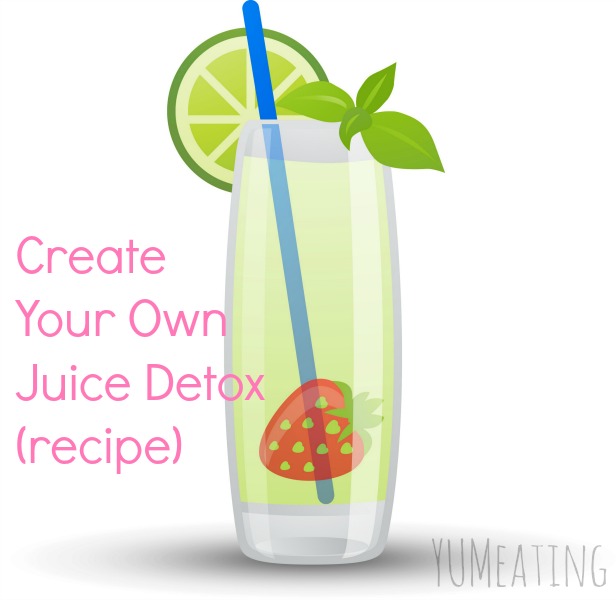 After purchasing a bottle of a popular juice detox for $30 many, many years ago and reading the list of ingredients, I learned it was only a juice fast with a fancy label. I did drop a few pounds, but it was hard to only drink juice for a day. I had a headache and felt weak and tired. I am told this is normal for some, but it is a feeling I don't like. Not one single bit. But, I love my juices and I love my smoothies so I wanted to share with you guys a recipe I worked on back in early 2000s. This recipe was one of the first I ever posted online and it was one of the first pieces that earned me income for publishing online (for recipes, not for other content/writing.) 
I still don't know how the guy from "Fat Sick and Nearly Dead" did it. First, I need to have that chewing sensation. Second, the taste was not good. It was bland and tasted like a watered down V-8 vegetable juice drink. I like making my own juices, but his concoction was just….ew. Maybe because it had way too many different vegetables in it. Not sure. So over the years I have experimented with different flavor combinations. I have a few recipes that are my go-to and every once in a while when I have a bowl of fruit that no one seems to want to eat, I juice it so it doesn't go to waste.
Some people like to do a fasts or detoxes and can handle it. Every person's body is different. I understand that, but I always felt that some of those juice fasts on the market today are way overpriced.  Using fresh products in your own juice would be much more beneficial. Don't let anyone tell you that you must have some big fancy powerhouse of a juicer You don't. Most of the people pushing those $200 juicers get a kickback of some kind so of course they are going to tell you it's the holy grail of juicers.
I'm not going to tell you that. I have a food processor I purchased from the thrift store a few years ago. I blend a lot with that and my $20 Kmart Oyster blender. We just recently picked up an old school juicer from the thrift store and it works just fine.
Now that I am trying to lose weight again, I and trying to eat less meat, eat more vegetables and get some exercise in. If I am looking to do some sort of detox or flush rather than a fast, I pull out my recipe and make this juice myself.
Once, I sold the recipe on Ebay with great success (folks I am talking the early 2000s. I wouldn't dare try to do it now, especially since its made its way around the interwebs.) Lots of people have emailed me with lots of thanks. Then, everyone else started to sell it too. Some were an exact copy, others had some variations. Shame on them! Ok. Maybe not. I understand the whole "inspired by" and "adapted from" only us early recipe posters didn't get a single credit from anyone sharing/selling our recipes.
Oh well.
My local juice bar is now making something similar to this and it is delish. I'm really happy to see the trend towards smoothies and juices.
Create Your Own Juice Detox
Detox/Flush Recipe
Ingredients
1

CUP

Papaya Juice

1

banana

1/2

cup

green tea / strongly brewed

1

scoop protein powder

1/2

cup

blueberries / can be frozen

1/4

cup

carrot juice

1/4

cup

apricot juice

1/2

cup

non-fat plain yogurt
Instructions
Blend all of the above together till smooth. Serve over ice.

Drink every 3 hours or less ( up to 6 times per day ).

If you are not using your own fresh made juice, try to use juices with no added sugar or corn syrups, this is the key to losing.

Supplement with 1/2 cup of the following raw veggies between shakes:

Celery sticks baby carrots

Green pepper slices mushroom slices

Cherry tomatoes shredded lettuce

Yellow squash slices

Do this for no more then 3 days. This is meant to jump start your weight loss , cleanse, flush, detox, etc.

It is not meant to be continued after 3 days.

It can, however, be repeated every 2 weeks or so. As always, check with your Doctor for his or her advice on weight loss and diets.
If you are interested in more of my smoothie , juice and protein powder recipes please check out my recipe book "Do Anything With Protein Powder."
Enjoy and good luck!