Chicken Avocado Brown Rice Cakes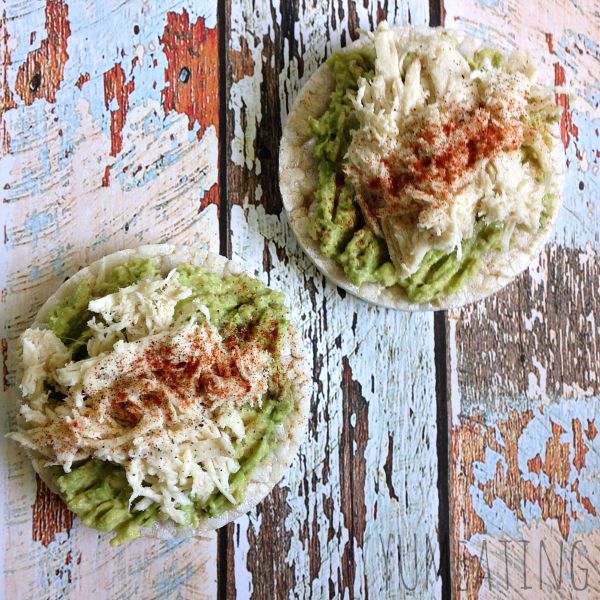 I've slowly been getting back into the habit of using my crockpot. With school starting in just a few weeks, the crockpot and one-pot meals are going to be my best friend. We have a whole new schedule to work around; which means I am going to need meals ready in a hurry most nights. So, I'm practicing. 😉
The other day I wanted to see what I could do with some chicken breasts I needed to use up. I was growing bored with grilled chicken breast with some sort of seasoning and side. I figured I would slow cook these bad boys and then figure out what to do with them later. I figured at the very least I could whip up some homemade chicken noodle soup or chicken and barley and freeze it. Cool weather is just around the corner here in Michigan so I wasn't opposed to getting an early start on my freezer meals.
As they cooked, my stomach started to growl. By the time they were done, it was uncontrollable and I still had a few hours before hubs was going to be home from work.
After my yummy brown rice cake find, I wanted to create a quick snack that wouldn't break my calorie bank, but would allow me to calm my angry stomach.
And then I had an idea.
I whipped out my hand blender and started to blend my chicken breast, shredding it right there on the spot.
Ta-da!
I also learned that shredding and trying to take a photo doesn't work!
Avocados are my summer go-to. I just love their creamy taste. ( you are totally missing out on this fabulous avocado soup!)
So, I started thinking about my avocado toast and wondered how good that would be on the brown rice cakes. So, I spread some on there. Then I got to thinking about chicken salad. So, I made some to put away for lunch later in the week and then freeze the rest of the chicken while I decided what to do with my avocado rice cakes.
Then, I added some of my chicken salad (shredded chicken, little bit of mayo with olive oil, garlic powder, onion powder, pepper) on top of one of the rice cakes with a dash of paprika.
Folks, we have a winner.
New super simple brown rice snack cake to add to my growing list.
Filling. Healthy. Low points, low calories, sugar-free, low-fat, low glycemic. Protein punch. Power packed.