Lean & Mean Spaghetti and Meatballs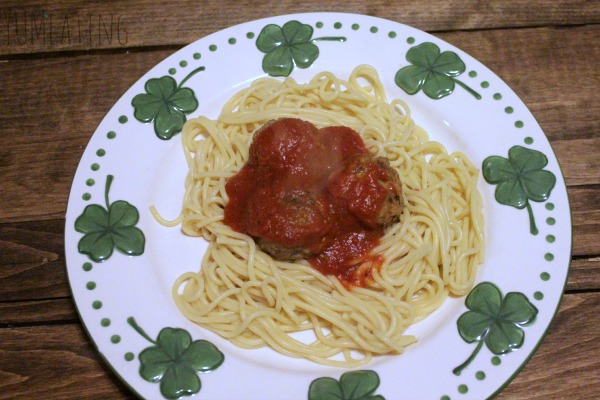 I'm still trying to figure out why I called these mean. Hmmmm…
We're really trying to get control over our food and cut calories where we can. I desperately need to bring my weight down so the hip and back pain can be managed. One of the things I find really frustrating is that the leaner meats are a lot more expensive than its full fat counterparts. When the government is screaming at us about the cost of obesity the should be yelling at the food manufacturers for their pricing structure. 
But, that's a whole different post for another blog (LOL)
Mr. Yum is not a fan of ground turkey. No matter what I do to it, no matter the dish or recipe creation I have concocted, he wants nothing to do with it. It bothers me a bit because we really need to switch from high fat beef. I have been buying Laura's lean beef (not an affiliate nor is this an affiliate link but if you click it you can go to her site for nutritional info and a coupon!), but here it's about $7/lb. Not budget friendly at all but it works is some of our dishes where beef is necessary. I am trying to still figure out where its an absolute. I've also been swapping the beef in our tacos for fish or Boca crumbles. That works out pretty well and the crumbles I can get on sale for about $3.
I'll eat spaghetti without meat. I'm totally fine with mine being vegetables and as soon as someone buys me a spiralizer I am cutting pasta out of my diet completely – even the high fiber kind I finally got my family to eat!
I've made turkey meatballs before. They didn't go over so well. If you have cooked with  lean turkey before you know that if you don't add a little bit of oil to it then it will crumble, fall apart and be extremely dry. Adding oil to it seems to be counter productive since you are trying to reduce calories but I justify it cause olive oil is a good fat and I don't use a lot.
The family really wanted spaghetti and meatballs. I only had one pack of Laura's lean beef and anyone with a growing 9 year-old will understand – 1 lb of beef isn't going to be enough between her and her father.
So, I got creative.
In my bowl I smashed together some lean ground turkey and the lean ground beef. Mr. Yum looked at me like I lost my marbles. He started to make a comment and I told him to trust me. It will be fine. So kiddo and I continued to add our spices and she rolled them all into these wonderful little balls.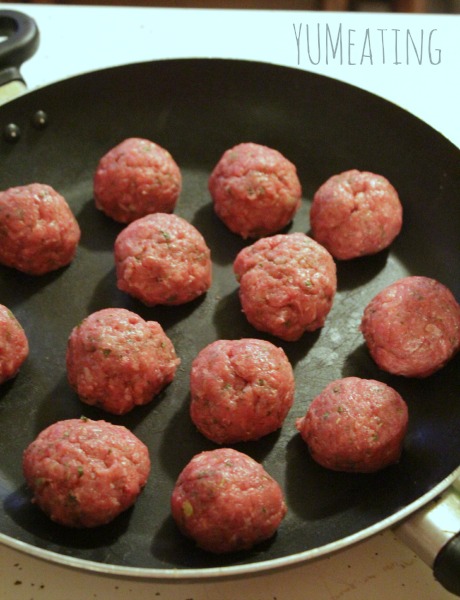 I didn't add oil and I didn't cook them any differently than I would regular meatballs. I made my pasta. Since no one will eat the wheat kind and messing with the low carb kind is a joke; I finally found a high fiber kind that cooks and tastes well (Ronzoni Smart Taste). This is helpful in the feeling full department (something regular white pasta sucks at) and the low glycemic department due to the fiber.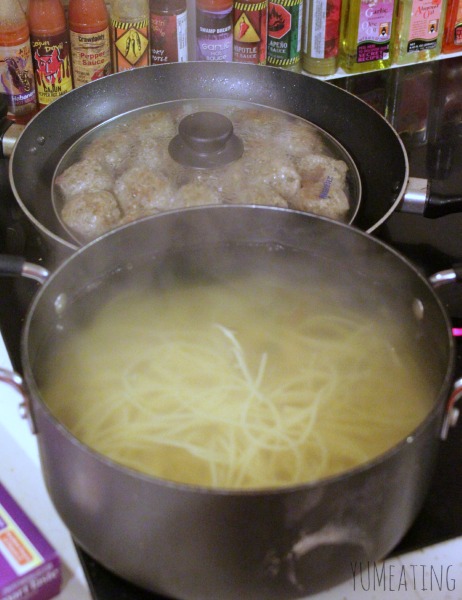 That will help me in the weight loss vs. PCOS battle.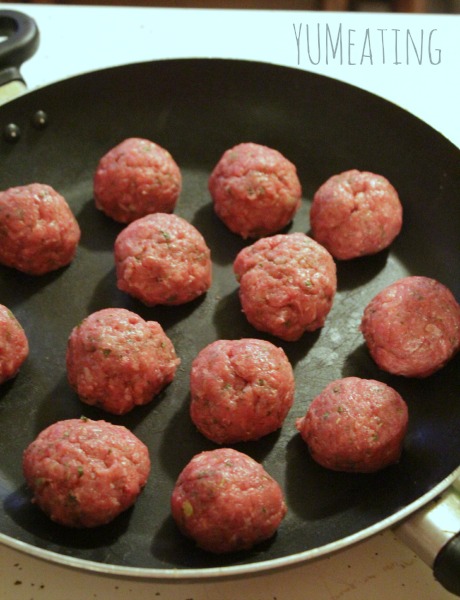 What I was happy about was not only did combining the two meats give us enough for dinner, we even had some leftovers for lunch the next day. Everyone loved the meatballs; hubs was thrilled he couldn't tell it was turkey and I was able to stay within the grocery budget as Kroger generally puts their brand lean turkey on sale for about $4/lb. I find it on the quick sale isle a lot for about $2 and I freeze it for future use the moment I get it home.
If you are trying to keep your calories in check, feed an army, and/or don't want to bust your grocery budget, try mixing lean beef with lean turkey. I bet no one will know the difference.
The did not crumble. They did not fall apart. The beef had just enough lean fat in there to hold it all together.
What are some changes in your families diet you have made? Did you tell them first?
Lean & Mean Spaghetti and Meatballs
Ingredients
1

lb

lean ground turkey

1

lb

lean ground beef

oregano

onion powder

garlic powder

pepper

1

box spaghetti

sauce of your choice
Instructions
Add the beef and turkey to a large bowl.

Using your hands squish together and combine the two; mixing well.

Add the seasonings to your personal taste.

Mix again.

Roll into balls.

Place in a skillet and cook on low-medium until the outsides are brown.

Cover skillet with a lid and turn heat to low.

Prepare your pasta according to directions.

Drain the pasta.

Top with finished meatballs and sauce of your choice.