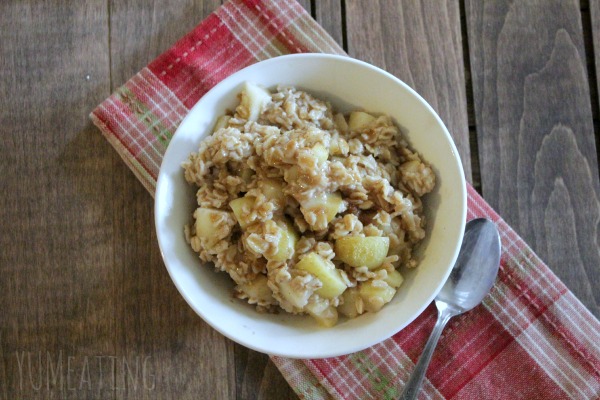 I bet you thought I was done with my oatmeal kick.
Haha. I tricked you 😉
But seriously. If you like apple pie you are going to love this with all its warm cinnamon-y delicious goodness.
Plus – it's healthy.
Right?
I mean, what could be wrong with oatmeal, cooked apples and cinnamon?
I am a huge fan of apple crisps. I like apple pie but I totally suck at making pies that need their own crust. That is, unless I cheat and use a premade crust. And, have Mr. Yum's help. Otherwise I put it in a skillet. I use my cast iron skillet for a lot of things.
I know this sounds like it is time-consuming. It's not. It doesn't take any longer than a pot of oatmeal would take to cook. 🙂
If you are pressed for time in the morning, you could make a larger batch in the crockpot for some overnight crockpot oatmeal. This way it is ready for you when you get up in the morning.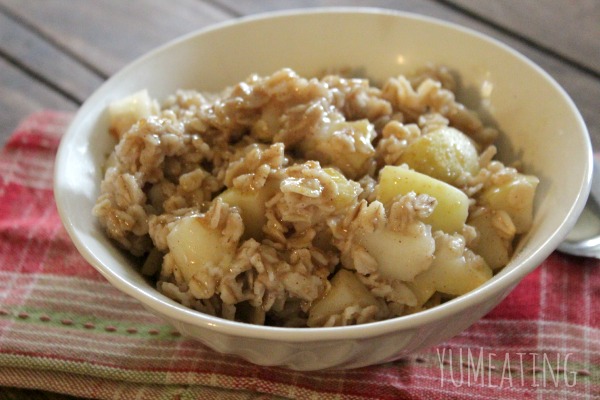 You'll need old-fashioned oat or steal cut oats but not the quick cook time. That won't give the apples enough time to cook and you'll end up with hard apples and soggy oatmeal. Doesn't sound so appetizing.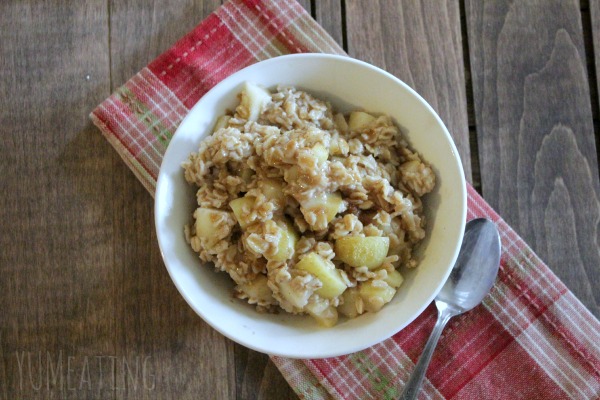 Apple Pie Oatmeal
Ingredients
1/3

cup

oatmeal

any kind other than quick cook

1 1/3

c

water

1

apple

diced

1

tsp

cinnamon

1

tsp

apple pie spice

2

tsp

brown sugar
Instructions
Bring the water to a boil.

While you are waiting for the water to boil, dice apples.

Add the to the pot.

Add the cinnamon.

Once the boil starts, turn the heat down just a little and slowly add the oats.

Turn the heat to low.

Continue to stir.

Add the apple pie spice.

Continue cooking until apples are tender and oats are done. Your cook time will vary depending on the type of oats you use, so read your packaging!

Transfer oatmeal to bowl and sprinkle with brown sugar.
How about some apple pie in your bowl for breakfast?