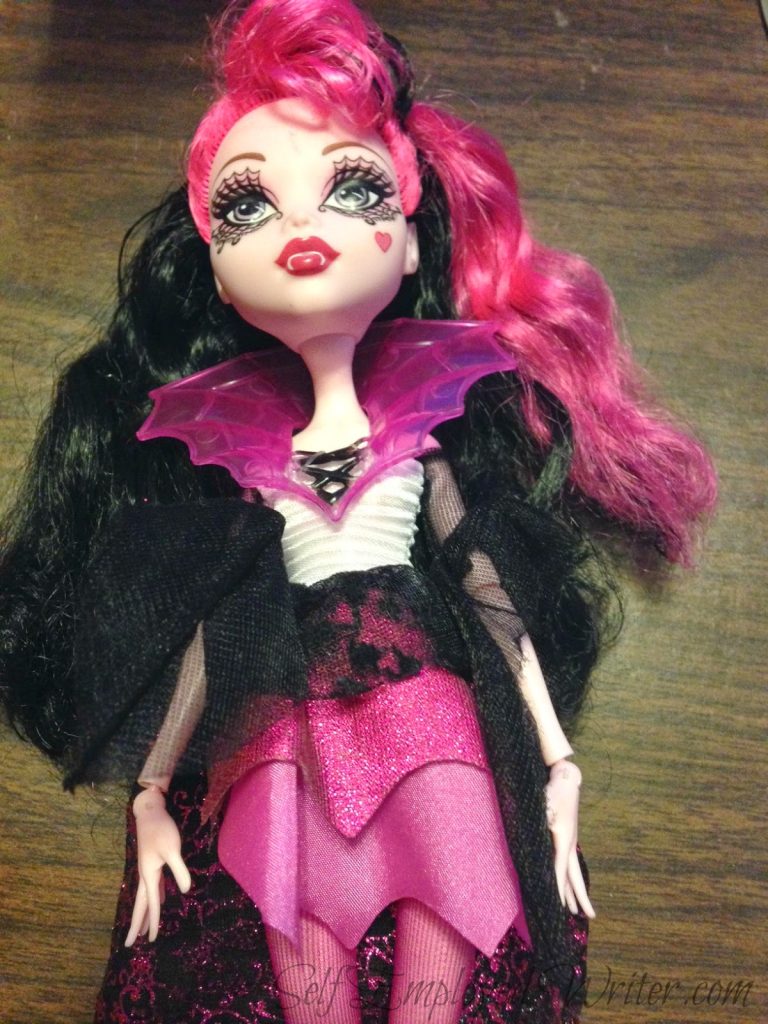 I love, love, love Monster High dolls.  When I was younger I played with my Barbie's until I was about 12 or 13. I loved to style their hair and clothing. I played beauty shop often and would paint their nails and cut their hair. I had my own sewing kit and would repurpose any old material from curtains, tablecloths and clothing to make homemade Barbie clothes. I wonder if my mother thought I would be a fashion designer when I got older. My creations would get traded with the neighborhood girls who loved my one-of-a-kind clothing. I would use what they traded me to make something else.
My favorite Barbie's were the Barbie and the Rockers. I'm a child of classic rock. I grew up listening to Three Dog Night, Iron Butterfly, Ozzy/Black Sabbath and more. As a teen I was big on hair bands, vampires and pretty much anything supernatural. My Barbie's started to resemble the rocker side of me as I got older and a lot less like the pretty pink packaging they came with. I also grew up reading Stephen King and Edgar Allan Poe at a really young age. I think I was about 7 or 8 when I stumbled upon my first horror movie. A lot of this reflects in my interests today.
I've been collecting dolls all my life. Since I met my husband I have slowed down a bit. I do have some collectibles here, but my good stuff is packed away in my mothers attic. I vow that one of these days I will do something with that doll collection. For now, I find myself hanging out in kiddo's room just so we can play with dolls.
True story: Kiddo used to not be a lot of fun to play dolls with. Thankfully she has gotten better within the last year or so.
When Monster High came on the scene I was SO excited. Finally, a doll that looked like how I would redo my Barbie's.
Kiddo and I love Monster High. Technically I own two. Both are Draculaura. I just adore her. But, kiddo keeps watch of them for me. One of the dolls, Ghouls Rule, had some really frizzy hair as I received her used. She also had a few pen marks on her face.
This was my gift last Christmas: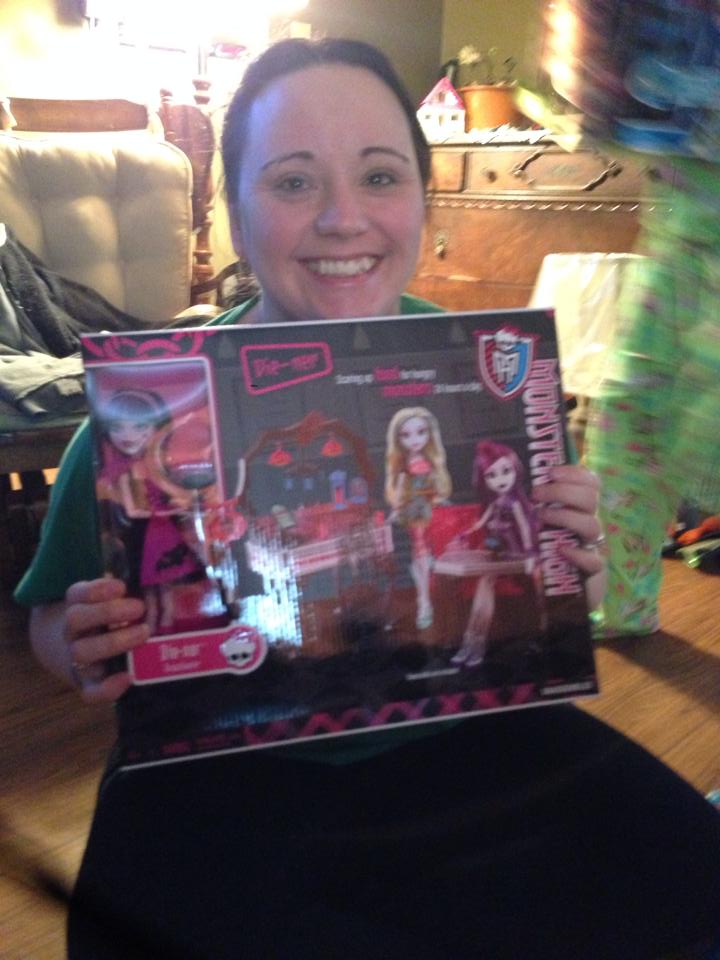 This is what she is supposed to look like: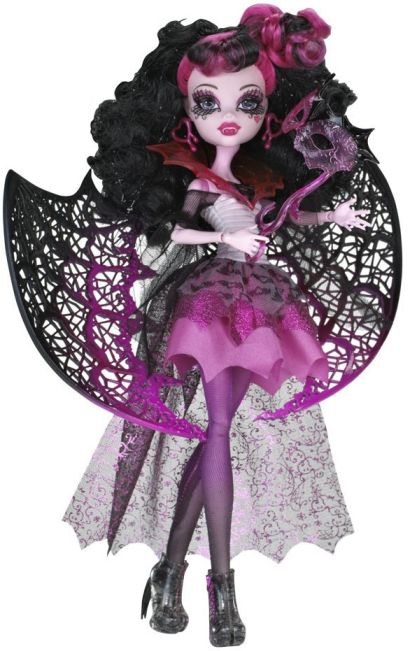 This is how I saw her on eBay: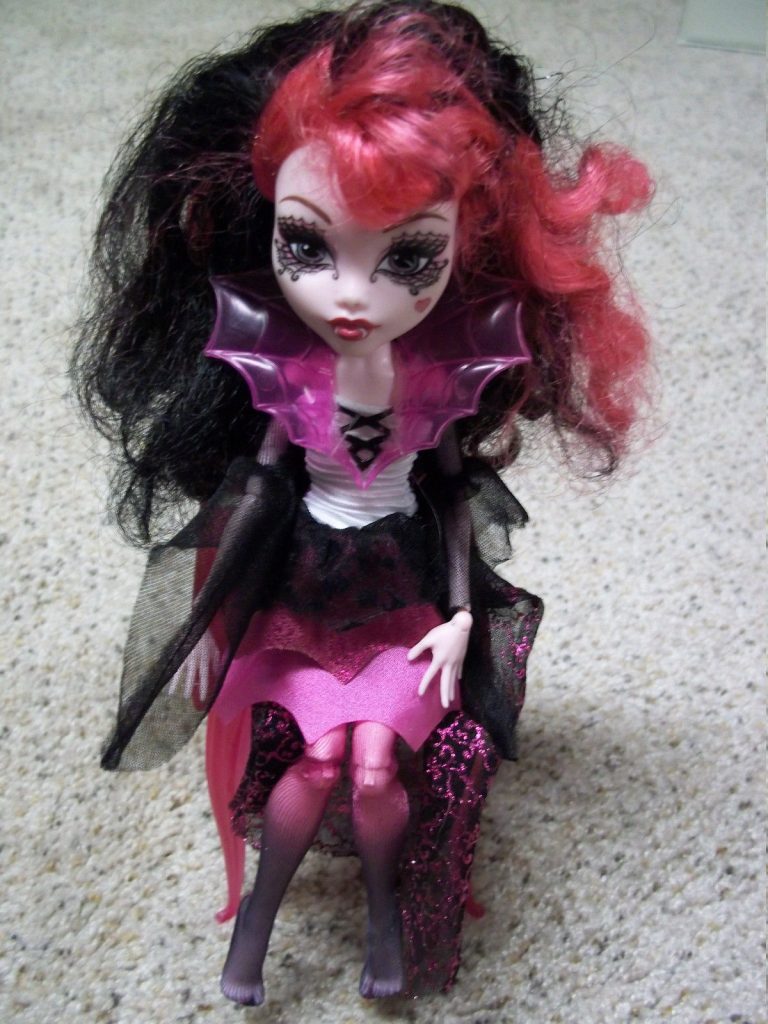 I just couldn't pass up that gorgeous detailing on her face.  She was super cheap so I decided to give her a buy.
I've spent a lot of time rerooting and painting dolls for custom items in life. One of my favorite projects was saving a bunch of old Cabbage Patch dolls (cleaning & fixing) to give to the Children's Hospital.  I would like to think at some point I could get back to that; but life often calls. For now we'll start with the simple things – like hair.
I hate it when the dolls look like they stuck their finger in a light socket. A lot of times this happens because the dolls went in the bathtub or the child decided to put something in their hair. For Draculaura, her previous owner must have dipped her head in the olive oil bottle. It was yucky. The back of her head had this giant blob of oil and the pony tail had a ton of frizz like it had been burned.
Before I handed it over to kiddo, I wanted to try to make her hair look better. So, I set up my beauty shop and went to work.
I found the boil method on Pinterest. I've used detangler and other methods; but with that blob of oil I was afraid it wasn't going to work.
See how ratty that hair looks? I wish you guys could see the oil blob. Gross.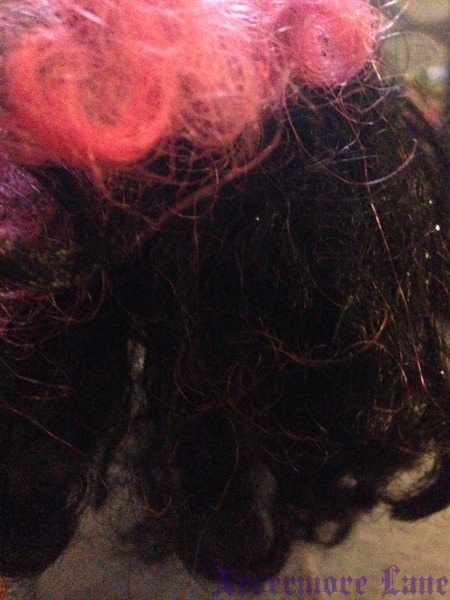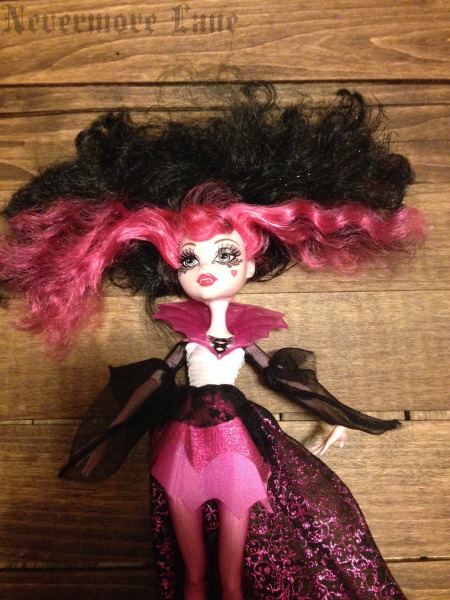 It took me a little bit of time to comb it all out; but I there was success.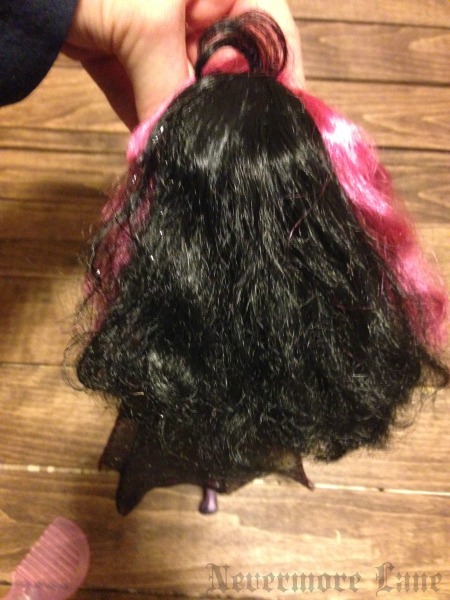 I turned on my faucet and let the water run until it got really hot. Then I filled a bowl with water. Since he has a lot of hair I picked a bigger bowl so all of her hair would be covered.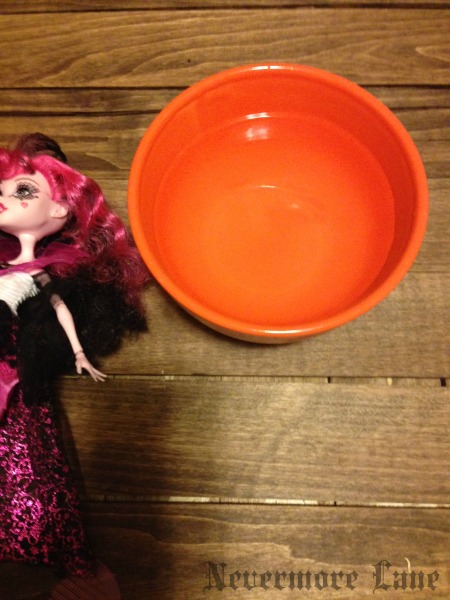 Then I dipped her in it. (just her hair.)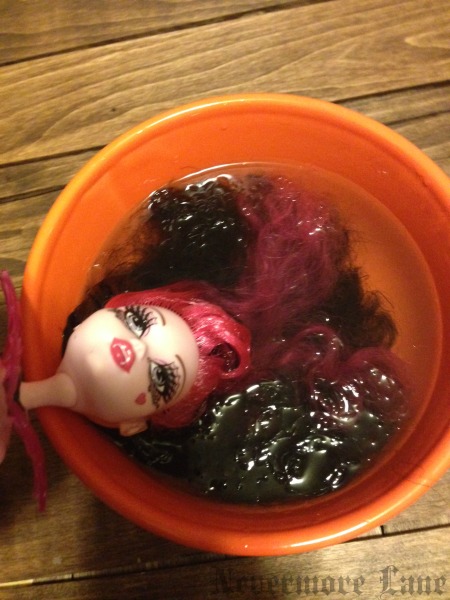 I let her sit in the hot water for about a minute. I used my fingers to swish the hair and water around. Run through her hair to get out some of the tangles. When I pulled her out I used a dish towel to blog her hair dry. Run the comb through again and this time it was so much easier. As her hair started to dry it was curling back up a little bit. It was a lot smoother – virtually frizz free. At this point I wished I had used some pipe cleaners to twist her hair around. It would have dried with some nice curls.
Don't you think she looks better?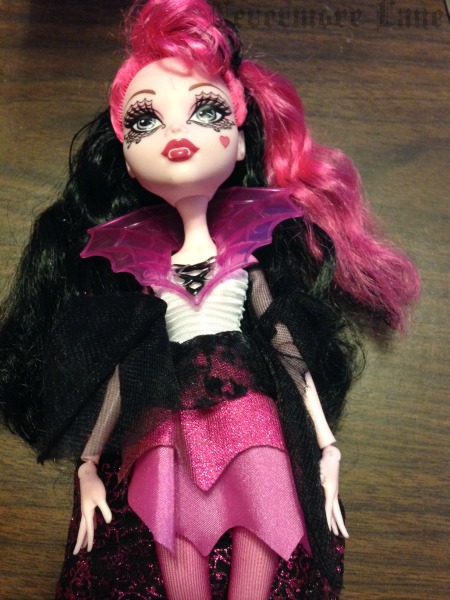 Once she was all done she made a great decoration for Elmer our Elf.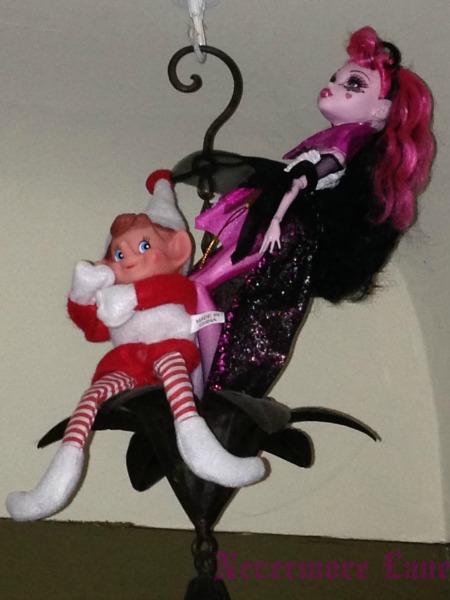 See how easy that is?! I recently stumbled on some tiny Barbie rollers so I am going to go through the boil process again and try the rollers. I don't have enough for all of her hair so I am going to use some pipe cleaners.
Kiddo was happy to find her with Elmer and add her to the Monster High collection.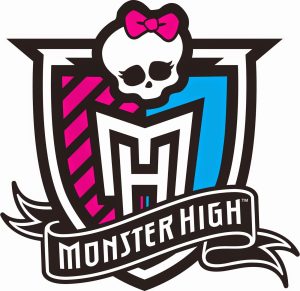 I hope you enjoyed my first post on the new website. I have a lot of fun things planned here. Hope to see you again soon! 
~ Chrystal ~