The Art of Calligraphy with Simply Calligraphy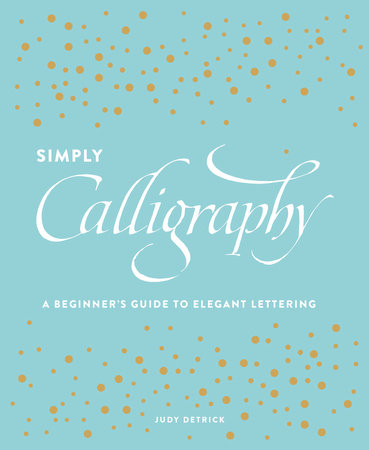 Now that the summer weather is in full force, I can finally start sorting out some of my boxes. Since moving last fall I went through this phase where I just didn't want to unpack. Now, I am to the point where I just can't stand living out of boxes. So, it's time to clear out the spare bedroom, paint it, and put new floor down. That is a huge DIY project that we'll be starting on this week.
The other day I came across all of my art supplies and found some of my old calligraphy pens. It has been ages since I have done lettering or any sort of drawing and now that I have some time and space to do so, seems like no time like the present to brush up on my skills.
I came across this book Simply Calligraphy: A Beginner Guide to Elegant Lettering by Judy Detrick and it seemed like it would be perfect for me to use as a refresher. I can practice using a calligraphy pen or I can use the diagrams to help with hand drawing (the outlines and fill in later) as well. I think the Tiffany blue cover with gold foil really yelled at me, too.
Learning the simple and beautiful art of hand-lettered calligraphy is as easy as picking up pen and paper!

Italic is the calligraphy's most popular alphabet, and this delightful manual introduces basic capital and small letters and numbers, plus all the creative flourishes you need to customize your unique script for every project and occasion.

With quick and easy instruction from calligraphy teacher and designer Judy Detrick, Simply Calligraphywill have you whipping up elegant invitations, pleasing place cards, and personalized thank-you notes in no time.

Includes practice exercises, advice on tools and materials, and project ideas for place cards, invitations, and more!
This book is gorgeous and the lettering is quite simple, elegant, and beautiful. The perfect addition to an artists bookshelf or anyone wanting to learn lettering basics.
Disclosure: I was given a copy of Simply Calligraphy: A Beginner Guide to Elegant Lettering by Judy Detrick for free in order to facilitate my review. I am not being compensated for this post. All opinions are 100% my own. That being said, I recommend products which I feel would be of use to my readers.