Restaurant.com Gives Plates of Thanks! #PlatesofThanks #giveaway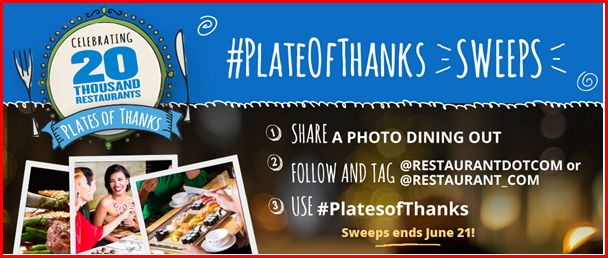 I'm sure by now you have all heard of Restaurant.com, right? I remember when I first stumbled upon this site moons ago and it had zip for my area. I did find a few off-the-wall places in my state. It's been a pure joy to see the site grow as well as offer numerous places for me to extend my foodie palate. I use Restaurant.com quite a bit when I know we are going to take an outing or road trip.
My past trips to Niagara Falls, Cleveland, OH, Traverse City and even small little East Tawas have all included a Restaurant.com gift certificate. It gives me a chance to try a new restaurant without breaking my modest travel budget.
And now, Restaurant.com wants to give back as a way of saying thank you for helping them reach 20,000 restaurants in their network.
Restaurant.com is celebrating 20,000 partner restaurants across the nation with the Plates of Thanks Sweepstakes! Twenty (20) winners will be selected randomly to receive a free party for up to six people at a participating Restaurant.com restaurant.

How to enter:
1. Visit www.restaurant.com/sweepstakes
2. Get social!
– Follow Restaurant.com via Twitter or Instagram (Please make sure they hyperlink our social media platforms.)
– Snap a photo dining out
– Tag either Restaurant.com's Twitter or Instagram with a caption that indicates the photo is part of the Sweepstakes
– Use #PlatesofThanks to entered
Sweepstakes ends June 21.
Do you have a favorite Restaurant.com memory? I'd love to hear about it.