Not Impressed with Bulu Box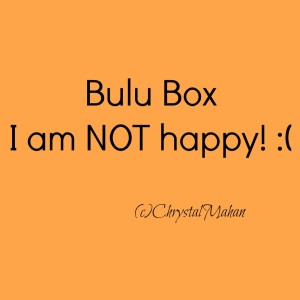 Bulu Box, you have failed this blogger~ (That's an 'Arrow' reference for those who might be wondering what sort of weirdness is going on here. I am a serious Stephen Amell fangirl *swoon*) Ok. Now that we have that all out of the way…let's proceed with this Bulu Box situation. If you've had an awesome experience with it, that's awesome for you. I didn't. Thankfully I didn't spend too much on it. As part of their wanna-be affiliate program I was given my first box to try at a discount. 
I won't be getting another one.

I had to put this on my regular channel instead of my YUMeating channel because there was NO food! I ordered the 'Weight Loss' box since Bulu offered two varieties. This weight loss box and the regular Bulu box. I really wanted to like this box. I felt their website is top-notch and I liked the little perks like points for reviews and such.
But, after opening my box all of that interest quickly faded. As you can see from the video where I open it and you get to see my initial reaction.
2 different brands of energy shots. Which, I'll never use. I have enough issues with sleeping as it is. One weight loss supplements, two packets of energy stuff that goes in my coffee. Again, I don't need jolted. Martha Stewart (yeah, I know!) digestive health supplements. Well, I tried the supplements. Um..well I can tell you I know now why they are weight loss aids. You are going to just poo. Don't think they had enough probiotics in them!
I wish I had something better to tell you guys.