Walmart Winter 2017 Beauty Box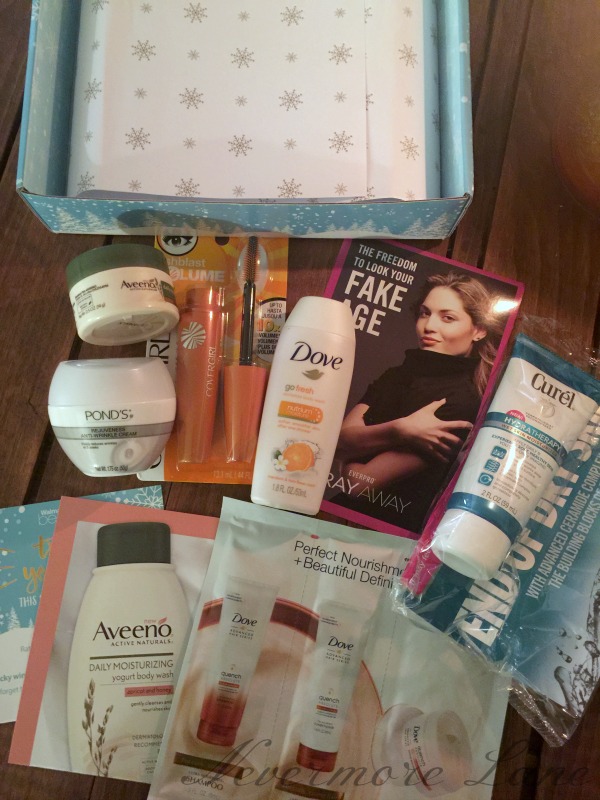 I have to admit, I am not the biggest fan of beauty subscription boxes. I like them, but I seem to end up with a bunch of stuff that I never use and I hate to create excess and waste. I have been able to give a lot of it away to people who will use it. I've been able to donate my Ipsy bags to a friend who used them to create little gifts to give to the women's shelter. Other smaller trial sized products have gone into bags for the homeless. So, it wasn't a total loss for me at all. 
There is one beauty box that I get four times a year and I always end up using everything in it. For $5 it is such a steal.
Check out the Fall 2016 Walmart beauty box to get another glimpse of what this beauty box has to offer.
Let's check out this months beauty box haul.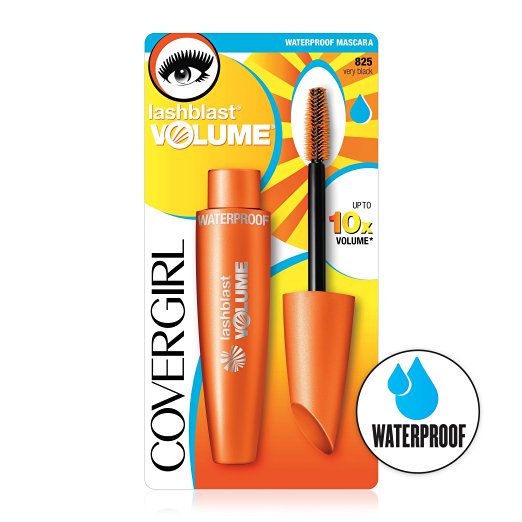 I love makeup. I have friends who are obsessed with their makeup. They stalk Ulta, Sephora and other retailers, waiting for new releases. They have a wish list a mile long. My wish list is pretty short. There was a time when I felt myself going down this path, but I quickly realized I just don't switch up my makeup like that. I do have a few eye shadows I love, like Urban Decay, and when I am going someplace special, I will do my eyes. But, for everyday wear, I don't take the time to use eye shadow. One thing I DO tend to purchase quite a few of are mascaras (and lippies.) I am always looking for the biggest, baddest eyelashes.
My favorite is Urban Decay Perverssion mascara ($22) with the Urban Decay Subversion lash primer ($20)  They are a little spendy, but totally WORTH every penny. My eyelashes pop without the need of falsies. Since they are a bit spendy, I save these for special occasions.
That is why I am always on the lookout for other mascaras. I have heard some great things about this CoverGirl Lash Blast Volume mascara. According to CoverGirl it has up to 10X more volume. One thing I noticed right away that was different was that the last brush is plastic instead of the traditional fiber brush. I can't wait to test this out.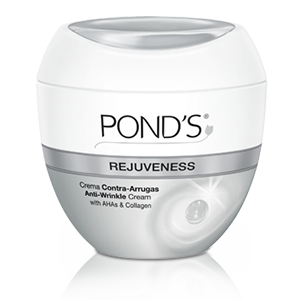 Pond's Rejuveness is my favorite anti-wrinkle face cream. I received this product in a Walmart beauty box some time ago and have been using it ever since. I am a former Olay user. Pond's reminds me of my grandmother as she used their cold cream faithfully for years. Great line of products. Not to say anything bad about Olay, I just prefer this anti-wrinkle cream so much more. So, I am thrilled they sent me another one because mine was almost out 😉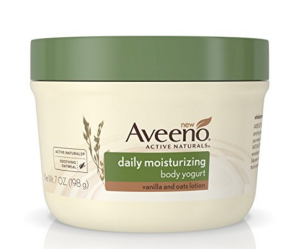 Aveeno Daily Moisturizing Body Yogurt: Vanilla and Oats Lotion is a new product for me. I have used various Aveeno products in the past. Some worked out, some didn't. I love their oat body lotion. When I first moved to Michigan it was my go-to in order to battle the winter weather. I haven't had a lot of good luck with their facial lotions as they always seem to cause breakouts. I have never used their body yogurt so I am excited to give this a try.  It smells amazing !
Dove Go Fresh Nutrium Moisturizing Body Wash: Mandarin and Flare Flower is another new product for me. Last beauty box Walmart sent Sweet Cream with Peony scent. I love Dove products and generally use them all when they are sent, but I can't deal with Peony scent so that went into the 'to donate' bin. This one will be the same because I am also not a fan of citrus or flower smelling body washes. It will go into the 'to donate' pile. If citrus and/of flower are your thing, you will probably like this combination.
Dove also sent a sample strip containing their new Advanced Hair Care Series – Quench Absolute. There is a shampoo, conditioner, and intense restoration mask.

You guys! I am super stoked to try this Curel HydraTherapy Wet Skin Moisturizer ! I have been seeing quite a few of these in-shower moisturizing lotions and have been wondering how well they worked. Michigan wrecks my skin in the winter and I have tried so many different solutions. Problem is, when I find one, the stores stop carrying it. 🙁 I am excited that this beauty box contains a decent sample size and even a $4 coupon!
Thoughts: This months beauty box has pretty much a full stack of things I will be using. The only thing I wont is the Dove body wash. For $5 this box is worth it just for that Pond's anti-wrinkle cream. A++ Walmart. You did not disappoint.
Are there products here you would like to try? Have you already tried some of them?
If you would like your own Walmart beauty box subscription you can sign up directly on the Walmart Beauty website.
Disclosure: Not a sponsored post. This one is all me. I'm not being compensated by any of the companies listed here. Walmart beauty box links are not affiliate. 
Links are affiliate links through MagicLink. They are hands down my new favorite linking option now. Saves me so much time and energy from hunting down store and product affiliates, not to mention signing up for affiliates and pays so much more than Amazon. Plus, all of the products you find on the net are located on MagicLinks. If you are not familiar with this type of program to earn money from your own website, I highly suggest you check them out!