Reason, Season, and Lifetime Friends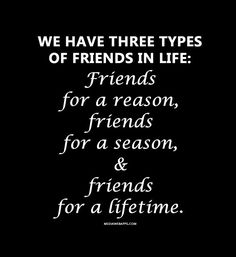 Approximately 11 years ago, this poem landed on my desk. At the time, I had been going through some serious issues with the loss of a friend to cancer and those who left my life shortly after. History has a way of repeating itself.
The poem is as follows: 
Reason, Season, Lifetime Friends
People come into your life for a reason, a season or a lifetime.
When you figure out which one it is,
you will know what to do for each person.
When someone is in your life for a REASON,
it is usually to meet a need you have expressed.
They have come to assist you through a difficulty;
to provide you with guidance and support;
to aid you physically, emotionally or spiritually.
They may seem like a godsend, and they are.
They are there for the reason you need them to be.
Then, without any wrongdoing on your part or at an inconvenient time,
this person will say or do something to bring the relationship to an end.
Sometimes they die. Sometimes they walk away.
Sometimes they act up and force you to take a stand.
What we must realize is that our need has been met, our desire fulfilled; their work is done.
The prayer you sent up has been answered and now it is time to move on.
Some people come into your life for a SEASON,
because your turn has come to share, grow or learn.
They bring you an experience of peace or make you laugh.
They may teach you something you have never done.
They usually give you an unbelievable amount of joy.
Believe it. It is real. But only for a season.
LIFETIME relationships teach you lifetime lessons;
things you must build upon in order to have a solid emotional foundation.
Your job is to accept the lesson, love the person,
and put what you have learned to use in all other relationships and areas of your life.
It is said that love is blind but friendship is clairvoyant.
Right now, these words are running through my veins as I try to handle some season and reason friends.
Over the summer I let a friendship go. It was toxic and it was for the best. Honestly, I didn't feel a sense of loss so there was no period of mourning.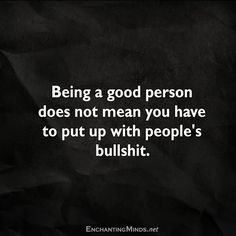 I've found that sometimes you have to repeat the process when there is no longer joy. I refuse to be sad about the process of letting go. Everything happens for a reason and this is no different.
Sometimes you cannot be sorry for things you did not do. I have spent too many years in the past trying to be sorry for things I did not do with the hopes that everything would be okay.  I am however, the first to apologize when I am at fault. Whether the person chooses to accept it or not is totally up to them. I will not force the issue nor will I chase after them.
Sometimes it is not always so black and white. I wish it were. I wish there was no grey area for us to have to push through the muck. But, there is.  I have to allow myself to mourn this time around.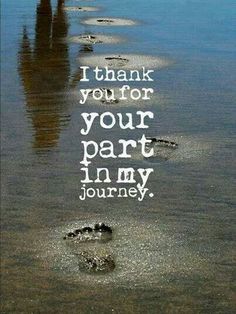 I have no regrets about anything in my 2016 journey.  It had more highs than lows. There were great adventures. Smiles, laughter and very few tears.
I'm thankful for the part each of these people had in my journey this year. And while these chapters in life are done, I have already started writing new ones.
I'm going to be just fine.