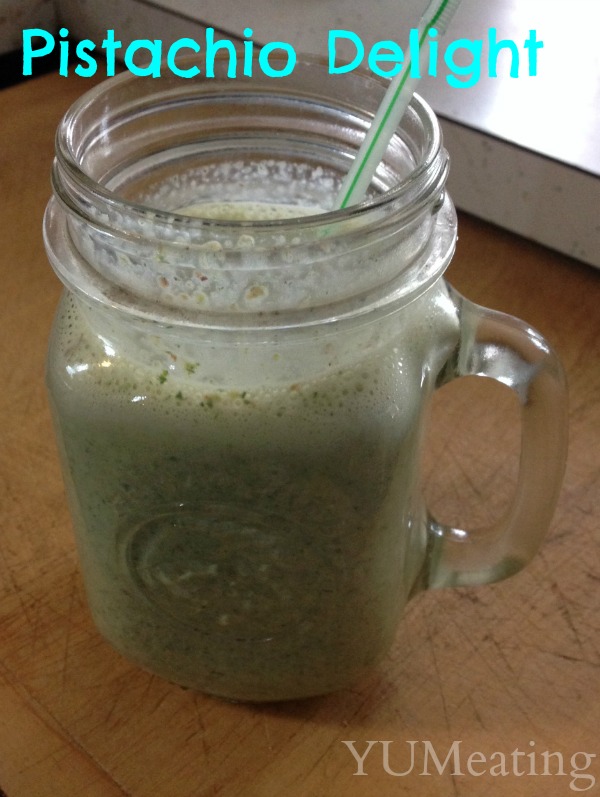 Here is Day 5 recipe of the 30-Day Green Smoothie Challenge. My refrigerator was void of any fruits and vegetables by this point. It also fell on a weekend where I had zero time to run to the grocery store. Thankfully whenever I buy fresh spinach for salads there is always that last little bit that seems to go bad (even in green bags) before I can get to it. While it is not "bad" by  most folks standards I tend to not like it in my salads so I pop it in a freezer bag and save for cooking – or smoothies.
So there was this recipe that I had decided to make when I started in on Day 4 Cashew Greenie. Digging through my cabinets like a scavenger was a site to be seen. I remembered the husband had purchased some cashews for a recipe he was working on. I found those and noticed we still had a small amount of pistachios hidden away from Christmas. I figured it was worth a shot. I thought maybe I might be stretching it putting pistachios in my cheaper blender. (I mean seriously folks, I spent $20 on this at Kmart.)
As kiddo watched me pop the shell off every pistachio and oh so slyly trying to scoot over as close to me as possible in order to steal one or two I figured I was going to regret putting them right in the blender with the almond milk. At this point I started to second-guess myself and wonder if I should have put them in the coffee bean grinder instead (hey, that thing works wonders in my kitchen.)
I kept going.
Pop. Pop.
Plop into the blender.
Eventually I shelled all the pistachio and held my breath as I blended.
Pistachio Delight Green Smoothie
Ingredients
1

cup

unsweetened almond milk

1

scoop vanilla protein powder

about 1/2 cup pistachios

shells removed

1

cup

spinach
Instructions
If your blender can handle it, place all ingredients in the blender and blend until smooth and creamy.

If you doubt your blender, add the spinach and almond milk and blend.

Then add your protein powder.

Chop your nuts in a food possessor before adding to your blender.

Continue to blend until smoothie is to your desired consistency.
Believe it or not my Oster blended did its magic and everything came out just fine.
I'm out of pistachios and while this was actually a lot better tasting than I thought it would be (not to mention pistachios are my favorite nut) I can't see myself purchasing an expensive bag of pistachios just to make a smoothie. I much prefer cracking and eating to enjoy as a treat here and there.
It wasn't too bad trying to fit a smoothie in during weekend time while everyone else is eating. I was worried because I do the bulk of my cooking and storytelling on the weekends when kiddo is here. Thankfully I was able to bribe them with leftovers for lunch while I enjoyed smoothie time. I did feel a little out-of-place, but on the weekend I think I would rather give up leftover lunches instead of breakfast time. We look forward to breakfast time around here and I did not want to take that morning time away from the little family.
So far things are going ok. I am at the point where I miss the chew factor, which always seems to slow me down with meal replacements. I boiled some eggs to snack on with my smoothie so maybe that will help with that need to chew.
No weight loss yet. But for me and my PCOS issues I have a feeling its going to take more than just a smoothie a day. But I have to start somewhere.