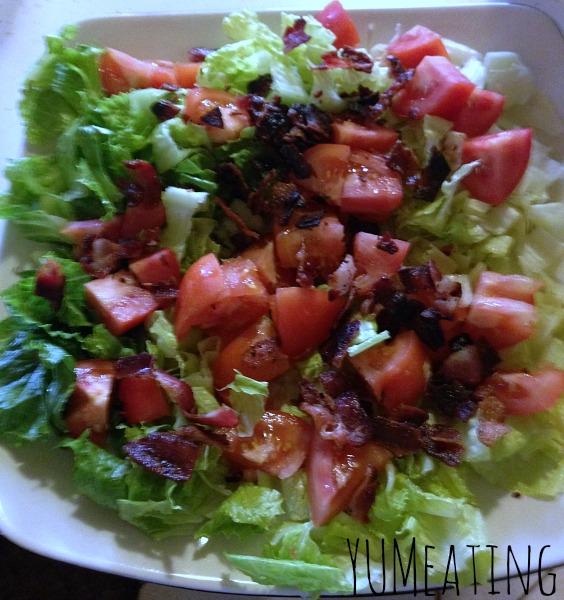 I'm going to call this my fly-by post and photo.
I wasn't planning on writing a post about this yumtastic salad and honestly, I just took the photo to send to Mr. Yum. But, you know what? Sometimes I have to bust out an iPhone photo and just say 'screw it' to the dslr. I mean, c'mon. I am only human.
Truth – I much prefer my iPhone over my dslr, but my dslr takes much better quality photos. But, that's a post for another day. Today we are talking about bacon. I know I missed bacon month but August came in with a bang and went out banging even louder.
Husband has three jobs now. After he graduated we had a lot of worries that he wasn't going go find something full-time. And, he hasn't. But to make ends meet he's working 3 jobs per diem. Pretty much as needed. And while some weeks are hit or miss, it is better than nothing. Hopefully one of these will lead to full-time employment with benefits. One of the jobs is an hour away. He has only been there a few weeks and tries to schedule a few days in a row to make it worth the drive. His first few days he stayed with a friend on his couch. He then found someone else who had an open room and now stays there. So, for a few days a week , almost every other week, I am home alone.
Don't get me wrong, I enjoy my alone time, and when they he leaves in July for summer camp I am counting down the days until he is out of the house. But with work, and it being on a more regular basis, it makes me a bit sad to see him go so often.
With that, I get SUPER lazy about my meals. And my photography. So, expect more of these in the future (LOL)
Take this BLT for example.  I try to limit my bread because it gives me such a terrible stomach ache. I get bored with lettuce wraps, plus I often get mad when my lettuce breaks. So, since it's going to break anyway may as well just toss it on a plate and call it dinner.
I fried up a few pieces of farm fresh bacon. I just love this bacon we get from the guy at the farmers market. He smokes it prior to packaging. Ohhh so yum. The tomatoes are from my garden.
I call this the lazy mans low carb blt. Honestly. Then I topped it with some blue cheese dressing.
You're welcome.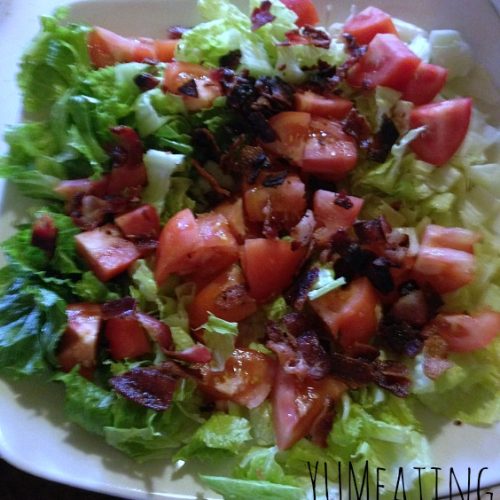 Low Carb BLT
Ingredients
3-4

cups

shredded romaine lettuce

3-4

strips bacon

cooked and smashed

1 to

mato

diced

2

tbsp

blue cheese dressing
Instructions
Cook the bacon in a skillet to your preference.

Allow to cool and then smash into bits.

Shred the lettuce and place on a giant plate.

Dice the tomato and place on top of the lettuce.

Add the bacon bits.

Add the blue cheese dressing.