Spinach and Green Tea Smoothie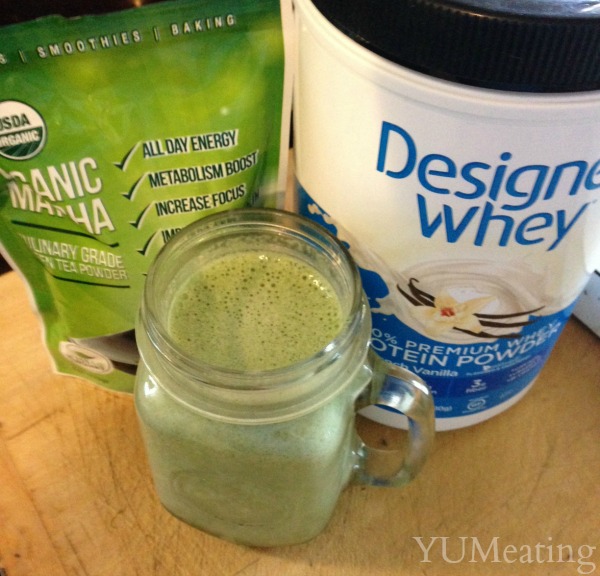 Ok, so the recipe title isn't very original and neither was Day 6 green smoothie. This was my very last bit of spinach. I had zero produce and no other add-in ingredients. With a snow storm looming I knew there was no way I was going to get to the store since I had to rely on my husband to get me there as my mother is borrowing my car.
I made due with what I had and replaced my lunch with this smoothie.
It was surprising how refreshing it was.
I've come to the conclusion that I really like adding the tsp of matcha green tea to my green smoothies. Adding such a small amount doesn't really seem to alter the flavor but it does provide me with a little boost of energy which I really like.
I was worried that this was going to be gross and I was going to have to boot myself out of the challenge because I had nothing else 'green-worthy' in my house.
Pretty sure I was saved by the creamy almond milk and vanilla flavored protein powder.
Thank goodness I can keep on trucking.
Spinach and Green Tea Smoothie
Ingredients
1

cup

unsweetened almond milk

1

tsp

matcha green tea powder

1

cup

frozen spinach

1

scoop vanilla protein powder
Instructions
Place ingredients in blend and blend until smooth and creamy.
Thankfully I have since made it to the grocery store and was able to dig myself out of the giant mounds of snow that planted themselves in my driveway.
Are you doing a smoothie challenge? How are you coming along with it?