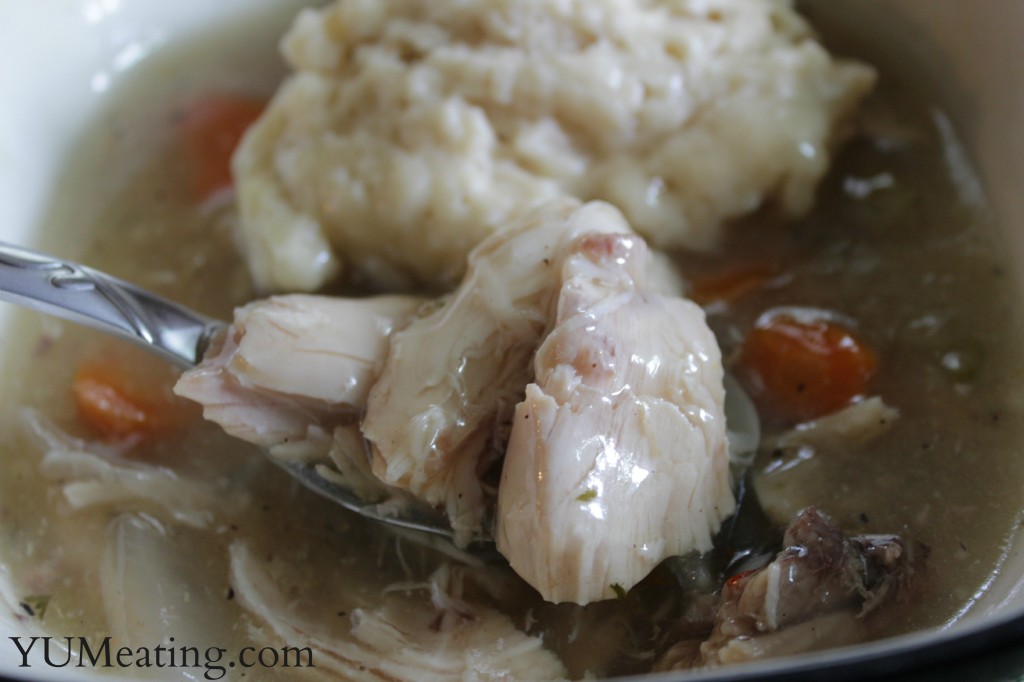 Remember that "Roasted Chicken" recipe from Monday? Well now we are going to make my great-grandma's homemade from scratch chicken and dumplings with the leftovers.
We plated it on Wednesday and made some "Roasted Chicken and Vegetables?"
If your family loved it – great! If not – I would love to know what they didn't love about it. 🙁 You can also share what they did 🙂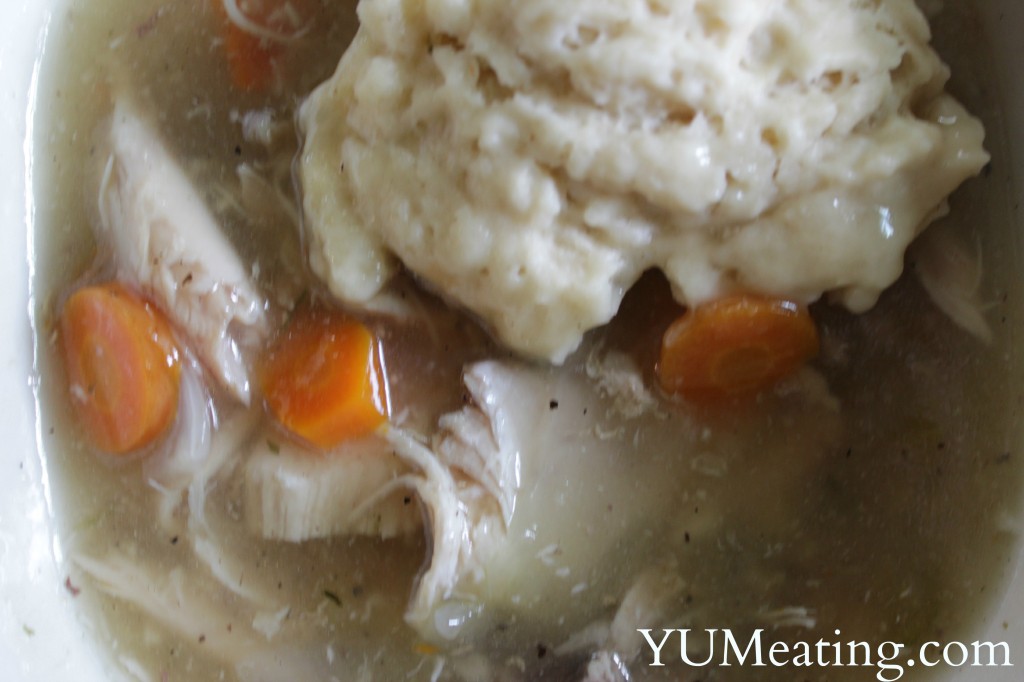 You might have to go buy another chicken and start over so you can  make Chicken and Dumplings.
For this post we are going to assume you have leftovers. I do, and this is one of the recipes I made with my leftover roasted chicken.
This recipe has been handed down from my great-grandmother and it's been a favorite of mine for years. Due to the white flour in the dumplings, I just can't eat it often.
Pull all the skin off the chicken, then pull all the chicken off the bone. If you are feeling really productive fill a small pot with water and boil the bones. I like to cook mine on a low simmer for about an hour. Drain. Then cool. Once cool, skim the junk off the top and toss in the trash. Pour the rest into a freezer bag and put in the freezer for another recipe.
Throw all the chicken skin away. Unless you just like to fry up chicken skin for cracklings. Then by all means, fry away.
In a pot pour all the chicken, leftover juice from the roaster pan, carrots and celery. If this broth is too thin for you – thicken it up with a bit of cornstarch.
Great-Grandma's Chicken and Dumplings
This recipe is using leftover chicken juice, carrots, celery, and chicken meat from a roasted chicken.
Ingredients
1 1/2

cups

flour

2

tsp

baking powder

1/2

tsp

salt

1

tsp

salted butter

3/4

c

milk
Instructions
Place your chicken leftovers in a pot and turn to medium heat.

Cover with a lid and wait for boil.

In a bowl add the flour, baking powder, and salt.

Stir well.

Using a fork, blend in the salted butter.

Slowly add the milk.

When your chicken mixture starts to boil, add dough by spoonfuls allowing it to rest on chicken and vegetables. You don't want it to sink.

Turn down the heat to medium-low and cover.

Let steam cook the dumplings for about 15-20 minutes.

If you have any leftover dumpling mixture you can freeze it for future use.
Notes
Credit goes to my great-grandma, Leona McCliggott.
I have adapted the recipe from whole milk to skim.