Whole 'Lotta Tortilla Loving and Wrapping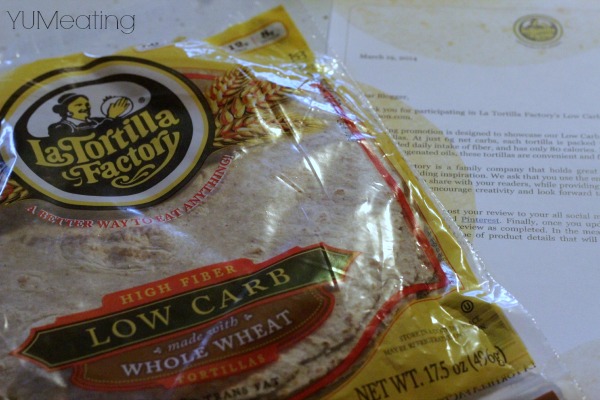 As someone who was told by her dietician to watch her carbs, swap whites for browns and leave the sugar alone by my dietician, I'm always looking for lower carb and whole grain and/or wheat options to make quick and easy meals out of.
Disclosure: I got this product as part of an advertorial.
Since watching my carbs and doing the swap-outs I have tried various low carb wraps and tortillas. Each of them have their very own distinct flavor. Some of them had that earthy grain taste while others had a bit of grit to them. There's really isn't one brand that stands out in my head. Because of this I use lettuce for my wraps or when it is taco night I will eat the corn taco shells. I do believe in the 80/20 rule and whatever your beliefs are, corn is either ok or it will fall into that 20%. I'm not here to argue what food is best and what food isn't. While I do make a lot of things from scratch, my own taco and burrito shells are not one of them.
I'm perfectly fine with my choices. There are a lot of great products out there and I am really digging these LaTortilla Factory whole wheat low carb tortillas. I've used LaTortilla Factory products in the past and have always been very pleased with them. I'm a big fan of the Extra Virgin Olive Oil Multi Grain and Rye soft wraps. So when they asked me to review their low carb tortilla I was pretty excited. The taste is amazing. There wasn't that earthy, grainy texture. These tortilla are high in fiber which brings the net carbs down to 6 grams per wrap with only 80 calories and 3 grams of fat.
I had a little fun with these guys making a few simple recipes to share.
First, I had to test out the grill factor by whipping up some cheese quesadillas.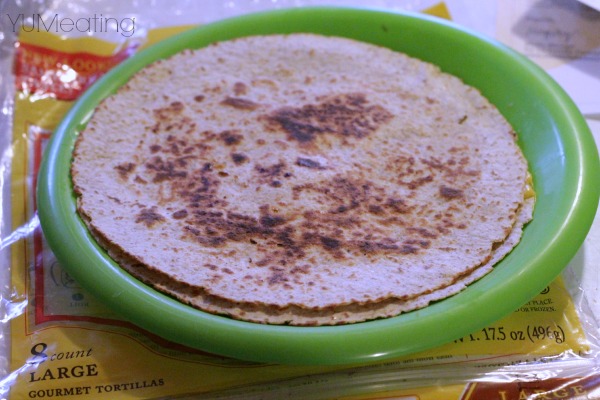 I simply put a very tiny bit of light butter on one side of two tortillas. I placed one butter side down in the skillet, sprinkled some cheese and then placed the other toritalla, butter side up on the top.
Then, I flipped it just like a grilled cheese.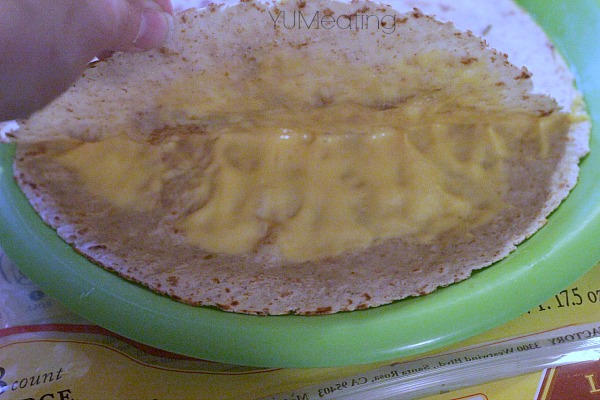 LaTortilla low carb held up very well and made a tasty quesadilla.
Low Carb Cheese Quesadilla
Ingredients
2

LaTortilla Factory Low Carb High Fiber tortillas

2

% Cheddar Cheese

shredded

1

TBSP

Light Butter
Instructions
Put a very tiny bit of light butter on one side of two tortillas.

Place one butter side down in the skillet

Sprinkled some cheese and then placed the other tortilla, butter side up on the top.

Cook on low heat and flip after 2-3 minutes.

Quesadilla will be done when cheese is melted and buttered sides have turned golden brown.

Remove from pan.

Cut into quarters.

Serve immediately.
For my next recipe I made a breakfast burrito. Tortillas make a great alternative to toast. I've tried using lettuce for a breakfast wrap and they just didn't taste good.
I'm happy to report that LaTortilla Factory Low Carb High Fiber tortilla's made a perfect wrap for my scrambled egg and turkey breakfast. Best part? They didn't break in the middle! (Don't you hate that??)
I don't suggest you warm them on the burner like I do 😉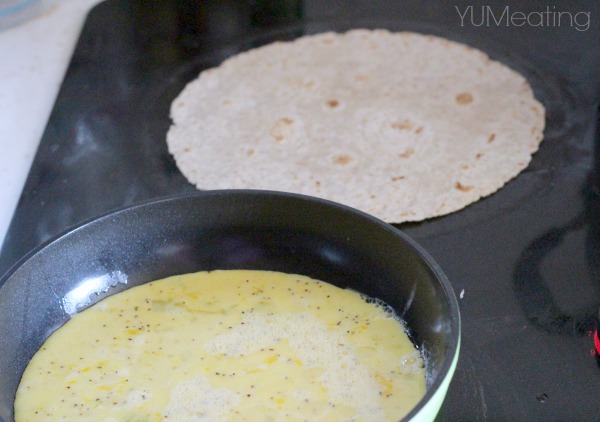 Low Carb Breakfast Roll Up
Ingredients
2

eggs

4

slices

turkey deli meat

1/2

cup

2 % shredded cheese

1

tsp

coconut oil

2

La Tortilla Factory low carb high fiber wrap

salt

pepper
Instructions
In a small skillet on low heat melt 1/2 tsp coconut oil.

Place tortilla in skillet and warm on both sides.

Remove and set on plate.

Place turkey in the skillet and warm on both sides.

While turkey is warming, crack 2 eggs in a bowl and whisk in salt and pepper.

Blend well.

Remove turkey slices and place 2 pieces on top of each warmed tortilla.

Add 1/2 tsp coconut oil to skillet.

Once coconut oil is melted, pour egg mixture into skillet.

Scramble egg mixture.

Place equal parts scrambled egg mixture on each tortilla.

Sprinkle cheese on top of eggs.

Roll and enjoy.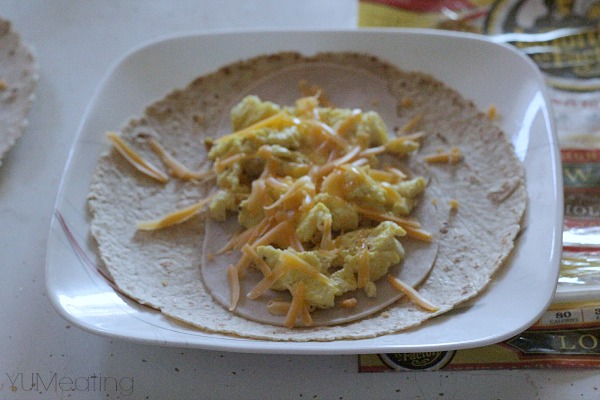 Tortillas are for way more than just Mexican food, right??
I give LaTortilla Factory Low Carb High Fiber two thumbs up. They tasted great, didn't fall apart and the extra fiber kept me full!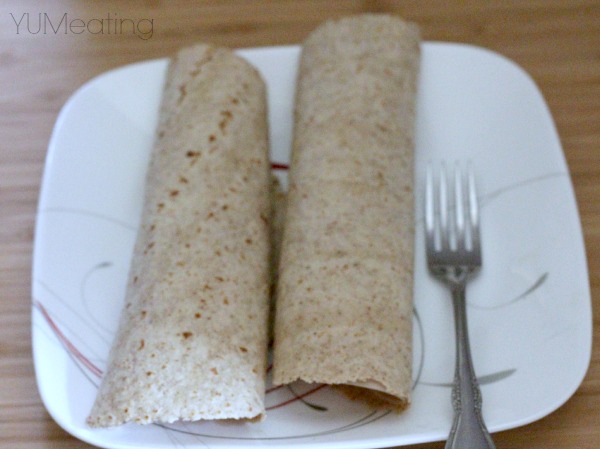 Are you a wrap fan? What's your favorite recipe?
I received one or more of the products mentioned above for free using Tomoson.com. Regardless, I only recommend products or services I use personally and believe will be good for my readers.