Healthy Avocado Garlic Soup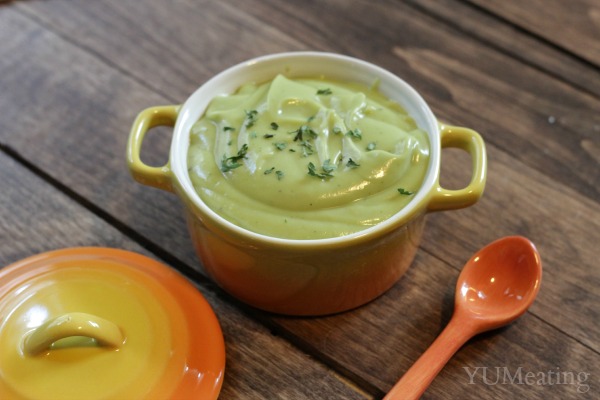 I'm going to have to thank my mom for giving me this recipe. But, I also have to thank the lady she works with who brought some of this work. If not for these two this cold soup wouldn't have passed my lips.
And by passed my lips I mean changed my life.
When my mother first told me about it, I laughed.
Cold soup??? Out of avocado?!?!? What the crap were they thinking???? You don't make soup out of avocado.
And I…
ummm..
have never done cold soup.
This recipe calls for chicken stock.  Since so many different levels of vegetarianism exist, I still call it vegetarian since there are those who are and still eat two-legged animals such as chicken and turkey (Pescetarianism). There once was a time in my life where I was pescetarian lacto-ovo. Meaning, I would eat chicken, turkey, seafood, dairy and eggs. Everything was grass-fed and free range. It was rare that I ate this stuff. Best part was I lost a LOT of weight and even began running. There seriously was no worst part, other than a divorce that landed me 1000 miles away and starting life over. Because I had to eat what was available to me, meat-eating was constantly on the menu. Old habits came back. Old habits that got worse and added new crap habits on top of it.
I'm creating change now. One meal at a time.
To make this vegan, swap the chicken stock for vegetable stock.
Simple switch. The flavor will be a little bit different, but it's not really noticeable. I've made it both ways now and enjoyed both versions so much that I lick my bowl clean.
Did you get a visual?
I'm sure you did.
It's ok. I laugh too.
I can't even describe how wonderful this soup is.
Its YUM-tastic. Its ahhhh-maz-ing.
I've made two batches now and since I am the only one who eats it..
Well, I've had it daily for a few weeks now.
But, that's ok. My avocado addition is much like my pumpkin addiction.
I almost always have avocados on hand. Especially since I went low carb and tried to watch my sugars. Avocado became my go-to treat for breakfast with my eggs. I chopped it and put on salads.
I've been experimenting with a lot lately and when I am finished with my next smoothie/protein powder cookbook I am bound and determined to make a little booklet just for avocados. Of course, by the time that happens it will be fall and I will be singing pumpkin praises again!
Let's just say, I've been discovering new recipes that contain this super food that doesn't require tortilla chips!
My mom showed up with this recipe in hand and I just stared at it. Seemed easy enough and sounded yummy. But, that cold soup thing really put me off.  There was quite a bit of determination to try it though. I'm on a mission to find healthier recipes to eat. I've been having a hard time with pain management and keeping my weight down. YUM is on a mission to find healthier recipes that the whole family can enjoy.
While Mr. Yum isn't quite a fan of cold soups and was a bit more put off than I was, he did try a bite. He said it wasn't bad, but it wasn't something he was going to break down the kitchen door for!
I however disagree.
This was the simplest, most creamy-est, amazing-est thing I have ever tried.
Yes. Cold soup. Sort of like yogurt. Only better.
Like I said, I gobbled this up in a few days. Kiddo didn't stand a chance. It was gone before she arrived.
I made the second batch while she was here, but by the time it was cold, she was on her way home.
That's ok. I know this is something I am going to make again and I have a feeling it's going to be a summer staple for me as I can create it in a matter of minutes in the morning and it will be ready by lunch.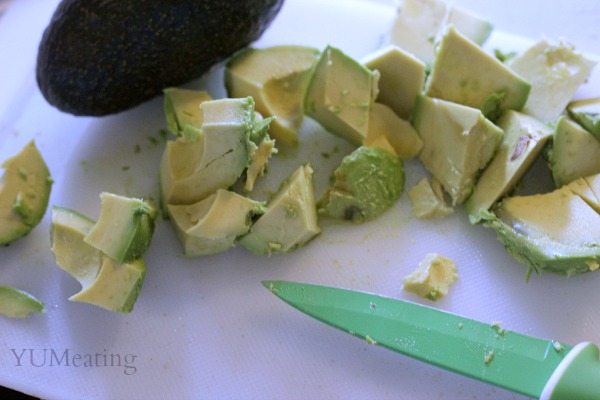 You don't even have to chop the avocado if you don't want to 😉 Unless it's not ripe enough. Then you may want to break it down a bit so it will fit better in the blender or food processor.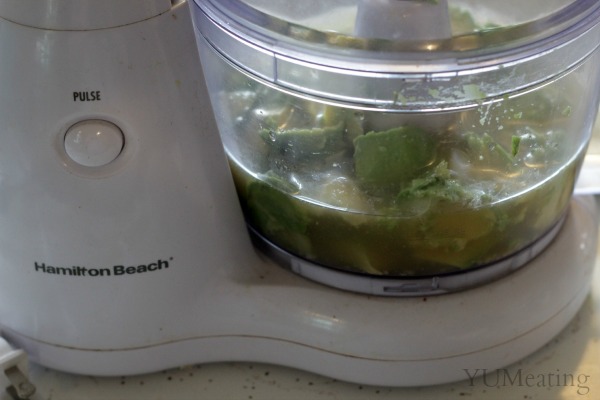 Once it comes out of the blended I stored it in a bowl with a lid and stuck it in the fridge for a few hours.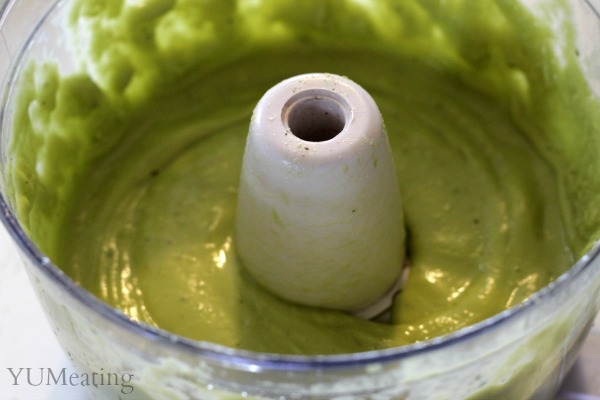 I'll be honest, for my first bowl I didn't wait for it to be chilled. I ate some the moment it was all put together. Still yum!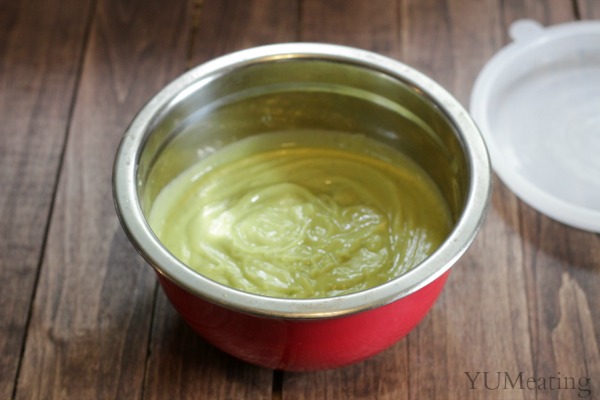 Are you an avocado fan? Is cold soup something you've tried before? Tell me all about it in the comments below.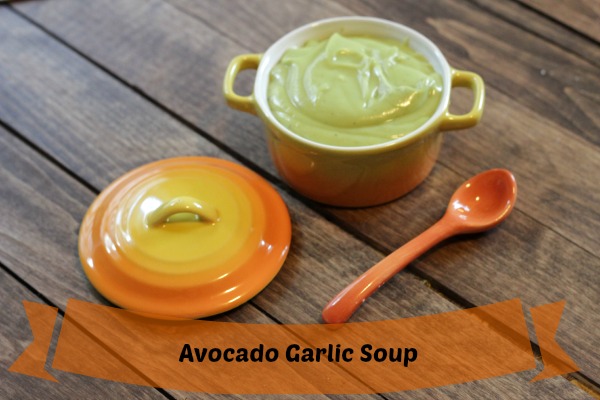 Healthy Avocado Garlic Soup
Ingredients
2

cups

chicken stock

2

avocado

peeled

1

tbs

minced garlic or 3 fresh cloves

1

tbs

lemon juice

parsley

optional
Instructions
Combine all ingredients in a food processor.

Blend well, until smooth.

Place in dish with lid.

Allow to chill 3-4 hours or overnight for optimal flavor.

Garnish with parsley (optional.)