I made this a few times in the past. In my attempt to clear the photos off my iPhone I am going to be posting those recipes here and there as I clean them off.
The recipe came out of a Rival Crockpot recipe book.
Husband loved this Thai Chicken crockpot recipe. This is a favorite in our house.
I realize it is not low-carb. I do believe that things are allowed in moderation.
I am also trying to work on a lower carb version.
The original recipe:
2.5lbs chicken pieces
1 c hot salsa
1/4 c peanut butter
2tbs lime juice
1tbs soy sauce
1tsp minced garlic
1/2c peanuts (I didnt use, I used chunky peanut butter instead)
2tbs chopped fresh cilantro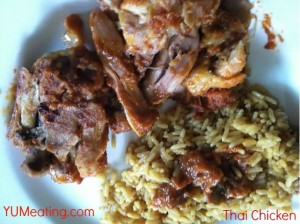 How I make mine:
I doubled the original recipe and added about 1/2c of Franks Red Hot sauce.
I cooked in the crock pot on low for about 8 hours. I paired it with a side of yellow rice.