Homemade Toasted Almond Coconut Cereal and Bulletproof Coffee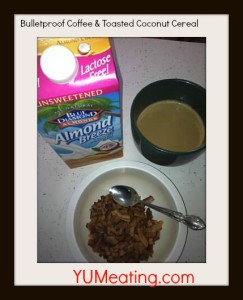 Due to being pre- diabetic thanks to PCOS I try to keep my carb reduced by eating a lot of vegetables, fruits, and good fats.
I have been trying a couple of different recipes when it comes to cereal. The other day I tried a hot cereal recipe – Hot Flax cereal.
I have had a diet of eggs for breakfast with some vegetables and/or a zero to one carb meat side since I started. It varies from week to week by what's been on sale. I really started to miss some cereal. While searching some Keto and Low Carb sites I ran across WickedStuffed and her Homemade Keto Crunchy Cereal.
I adapted her recipe by making a slight change.
Homemade Toasted Almond Coconut Cereal
I took 1/4 c unsweetened coconut flakes (I used Bob's Red Mills; about 3 net carbs) and toasted them in the oven on 350 for about five minutes. Let them cool for a minute before placing them in a bowl. I then poured 1/2c unsweetened coconut almond milk (I used Blue Diamond brand; 0 net carbs) over the coconut and added 1 pack of Splenda (0.9 net carbs); sprinkling it on top of the coconut and milk.
It had a nice sweetness but the coconut started to get really chewy before I could even finish it. I did get it all in my belly, but it left me wanting something else. I started to think about what I could add to it to give it a little something extra.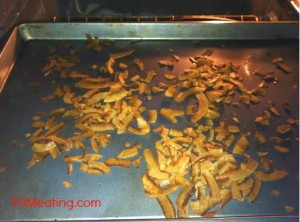 I made it again, and this time I toasted some slivered almonds and added it to the toasted coconuts. Much better.
As for the
Bulletproof Coffee
, I first found out about that on the
MyFitnessPal
website. Now, I am a firm believer that one should do the best they can with their groceries with the choices and budget they are given. Me? I personally can't afford to buy the expensive coffee the
Bulletproof Exec
recommends (it's his coffee after-all  and I don't have some of these other resourced available to me. So, I do what I can).
I made this twice. The first time was 8oz of coffee mixed with 1tbsp butter (unsalted grass fed is the best, which I didn't have; but it's on my list) and 1tbsp organic coconut oil (I use
Spectrum Naturals
)  (both were melted) and then it was all mixed in the blender. I made this drink about 7am and by 10am I was starving. Over the weekend I decided to give it another go. This time I used 16oz of coffee and had the cereal with it. I know I was defeating the purpose by I wanted to see if adding more coffee would change the taste. I sipped that coffee all morning and most of the afternoon. I didn't get hungry until 2pm.
It has a weird taste and texture that I am not sure I will get over. It is ok, but I have gotten away from coffee and back to my tea; so I am not sure I will get on the Bulletproof Coffee bandwagon. I much prefer to chew my food, but it was something worth trying for a break from eggs.
Homemade Toasted Almond Coconut Cereal
Ingredients
1/4

cup

unsweetened coconut flakes

1/8

cup

almond slivers

1/2

cup

unsweetened almond milk

1

pack Splenda
Instructions
Preheat oven to 350.

Sprinkle almonds and coconut flakes on a non stick baking sheet.

Toast them in the oven for about 1 - 2 minutes and then flip.

Toast for another 1-2 minutes.

Let the mixture cool for 1-2 minutes.

Place in bowl.

Pour 1/2 cup unsweetened coconut almond milk over the cereal.

Add 1 pack of Splenda; sprinkling it on top of the coconut, almonds and milk.
Disclosure : This page may contain some affiliates. Regardless, I only link to those that I use or I feel would benefit my readers.