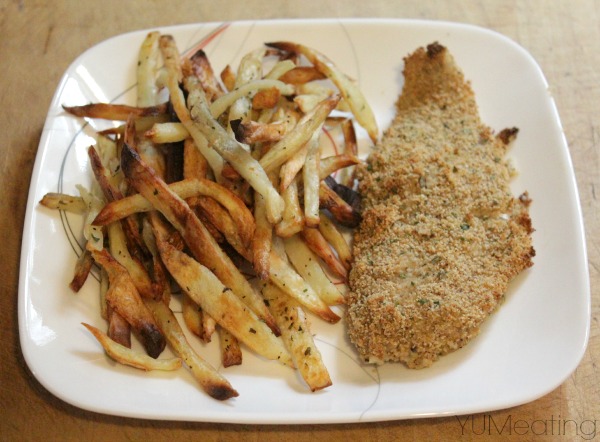 What would Irish-American Heritage Month be without Fish and Chips?? I couldn't end the month without a spin on a traditional favorite, now could it?
Of course not. But I really needed to get creative here so we could stay away from deep-frying and I wanted the fish to have a crispy coating without using prepackaged stuff like Shake n' Bake or something made from white flours. If I am going to eat potato, something has to give here.
I'm pretty excited to share this recipe with you for two reasons.
1. It's a slimmer version of the traditional Irish fish and chips.
2. The husband made this dinner!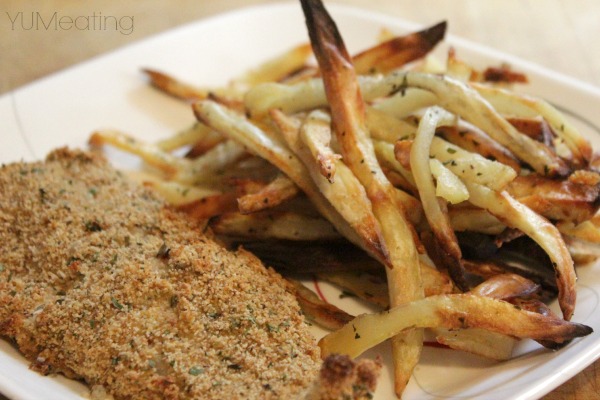 Go husband, go! I think he did a pretty good job. Husband and kiddo are very picky when it comes to their fish. They very much prefer the battered and deep-fried kind. I will fight tooth and nail NOT to make it that way in this house. I love fish and I think most times deep-frying in a ton of batter takes away from the natural flavoring of the fish.  I am no saint though, I will partake in 'Fish on Fridays' and have some good old-fashioned beer battered fish. It's rare, maybe twice a year. I must have a craving for it. Ya know?
We are thrilled that this recipe for the fish turned out so good and I have to thank Oprah.com and Marnia Delio for sharing the "Crispy Baked 'Fish and Chips'" recipe. It gave us a great starting point for the fish. I did make some minor changes here and there.
Because, that's what we do!
We always bake our homemade fries, so that part was nothing new to me. I've had failures and successes with faux fry fish. But I wanted something that was a little more Irish-authentic. I also wanted it to be clean so we made some swaps with the breadcrumbs. I used some whole grain crumbs.
Other than that, we kept the majority of the recipe the same.
Skinny Fish and Chips
Inspired by Marnia Delio's Fish and Chips featured on
Oprah.com
Ingredients
12

oz

Cod

about 4 pieces

1

large egg

2

TBSP

olive oil

1

egg

1

cup

whole grain bread crumbs

1

TBSP

parsley

sea salt

pepper

6

large potatoes

peeled and sliced
Instructions
Preheat oven to 450.

On a baking sheet brush olive oil on the bottom and arrange the sliced potatoes.

Brush some olive oil on the potatoes.

Sprinkle with sea salt.

NOTE: Not all 6 potatoes will fit on one baking sheet. You can cook on two baking sheets and rearrange the sheets every 5-10 minutes. Or just cook one at a time.

Flip the fries every 5 minutes to ensure all sides of the fry get golden.

Cook the fries for a total of 20-30 minutes or until your fries are crispy.

While your fries are cooking you can prepare the fish. You'll need another baking sheet.

Brush the baking sheet with olive oil.

In a medium size shallow bowl whisk the egg.

In another medium size shallow bowl mix together the whole wheat breadcrumbs, parsley, sea salt and pepper to your taste.

Take a piece of fish and dip it in the egg mixture and flip to coat.

Pick the fish up and let the extra egg run off back into the bowl.

Put that piece of fish in the breadcrumb mixture and then flip to cover both sides.

Let the excess fall back into the bowl when you pick the fish up.

Place on the baking sheet.

Repeat process until all of the fish are done.

Bake for 15 minutes.

Allow your fries to cool a tad while the fish cooks 😉
Congrats to the husband for making us a wonderful meal and giving me a break in the kitchen.