Recipe Review: Easy Cinnamon Apple Cake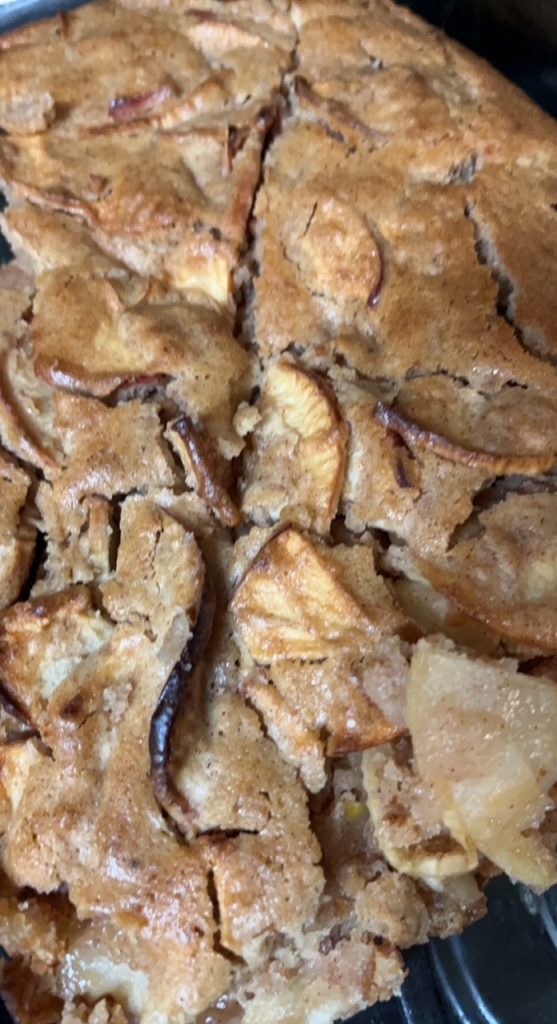 Original recipe we will review: Easy Cinnamon Apple Cake by Gaby Dalkin over at What's Gabby Cooking
Fall is the perfect time of year to cozy up with a warm, spiced treat. If you're looking for a simple yet delicious dessert to make at home, this recipe review of an Easy Cinnamon Apple Cake is just what you need. This classic combination of sweet apples and cinnamon spices makes a wonderfully moist cake sure to please any apple cake lovers.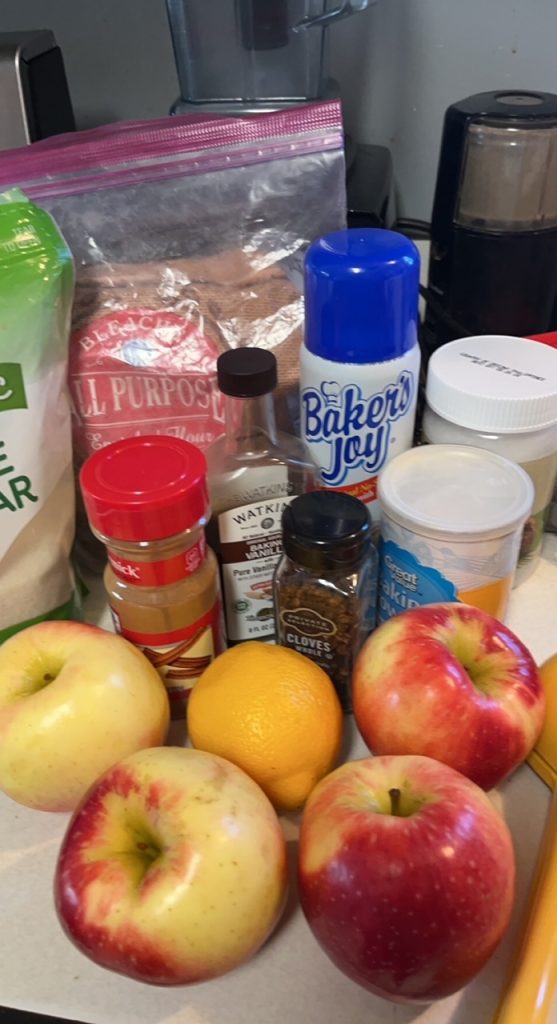 Me, Myself, and My Baking
You know something? I will come right out and say it – I am not much of a baker. I never have been and will never be. And that is okay. It does not define me as a woman or anything else. I have done a lot of baking, some hits and some misses. And while I like making the occasional cookie, cake, pie, cobbler, or two, or three – it's just never been my favorite thing to do. 
Like, you know how you meet one of those folks to bake, call themselves a baker, and they just love to freaking bake everything? Yeah. That is not me. I did a lot of baking back when all this cooking was on Detriot Examiner and my old site, YUMeating. Life was very different then. 
These days, I want to bake from time to time – I just don't. 
Until this recipe caught my eye. 
We were in prime-time apple season here in Michigan a few weeks ago. The apple orchard was overflowing with my favorite apples, and this recipe looked easy enough, so I thought – hey, why not? 
And, so we did. Well, I did. 
Easy Cinnamon Apple Cake
I had a lot of fun with this recipe. I got to test out the new peeler my partner purchased for the Kitchen Aid mixer. Let me tell you, zooming through those apples was a seriously good time. While I do not mind peeling apples and chopping them up, I was going to be making dinner while this apple cake was baking and did not want to mess with all the slicing and dicing. 
I followed this recipe to the T. Every. Little. Detail. 
But my poor apple cake missed the mark.
I won't be listing out the recipe since this is a review, not an original one. But you can find it here on Gabby's site. 
Her recipe, as you can see, turned out beautiful.
As you can see from mine, there is not so much beauty. Looking at her photos, it appears she used a smaller square (9X9) cake pan, whereas I used the regular size cake pan (9X13; it had a lid, dammit, and she said we could use this size just change the cooking time!) 
The blog post said what type of apples she used, but it also said we could use any type of firm apples. Which I did. 
The blog post also mentioned she used coconut oil, but we could use any vegetable oil. Which I did as I generally stick to good old-fashioned vegetable oil when baking cakes. 
She used parchment paper. I never bake with parchment paper.
After you peel and cut the apples, you are to soak them in a lemon juice and white sugar bath for about 30-45min. I did 40 to be right in the middle. 

There was SO MUCH liquid in my bowl. And it really started to worry me, but nowhere in the directions did she say to drain any amount of the liquid, so I left it.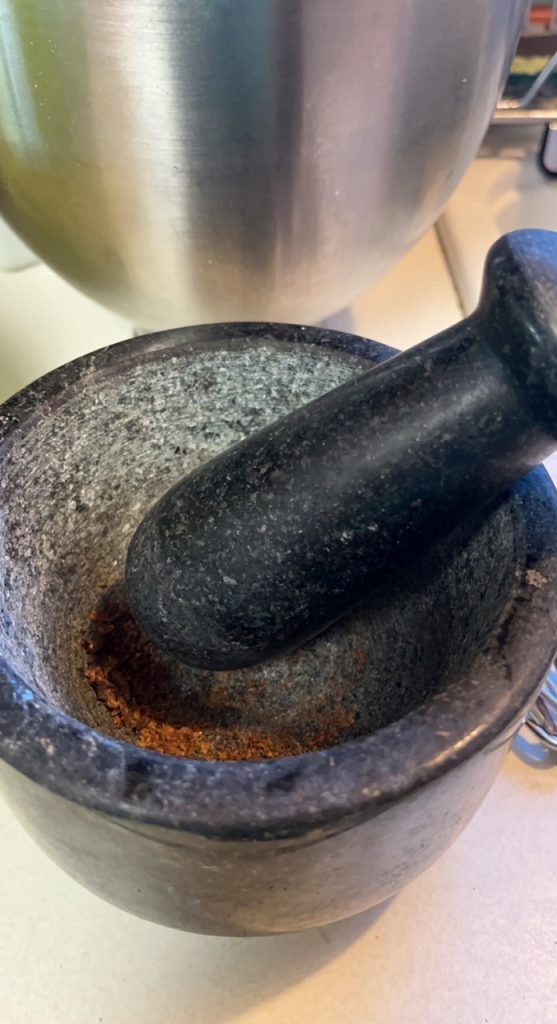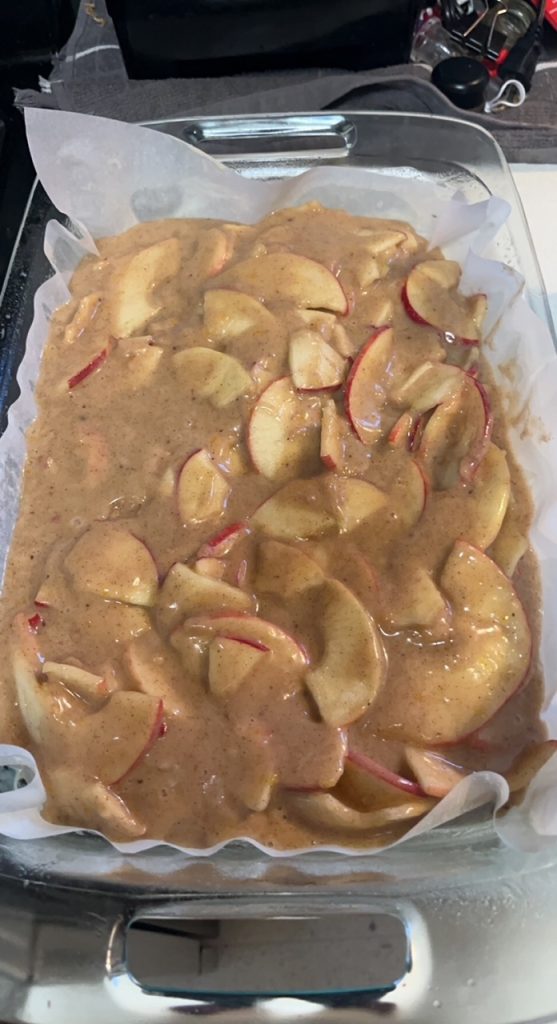 What Went Wrong, Mr. Apple Cake?
Dear Mr. Apple Cake,
Why did you do me like that?
Was there too much liquid? 
Didn't you like my fresh from the orchard apples? 
Vegetable Oil got you down? 
Not a paper fan?
If you could tell me, that would be great as I would like to try your recipe again. 
Thank you,
Ms. Nevermore Lane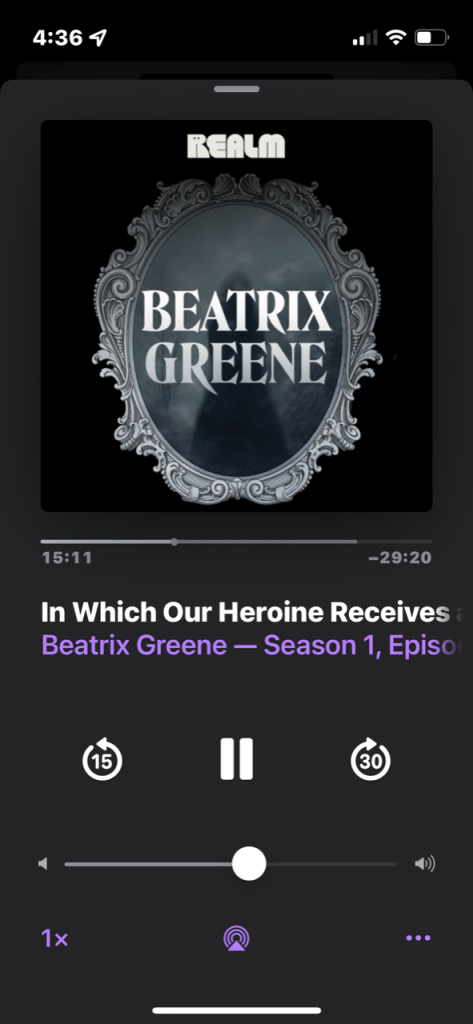 PS – Listening to this Podcast….. That was everything for the mood of making apple cake. 
Okay, in all seriousness, I WOULD make this recipe again. But the cake, and the texture was a bit off for me. I think maybe it's more about that liquid that came off my apples than anything. I had to cook it longer than the instructions said just to get it to "fluff" like a cake, even in the littlest bits – and I had to remove the parchment paper to get it to do that little bit. 
The taste, could have been better, but the texture just was meh… we did have a few bites with some ice cream. And while not horrible, not good either. 
I will make this again, and when I do, I will come back to update this post. 
If anyone has any tips for me, I would love to discuss them with you in the comments.