Happy Eat A Cranberry Day!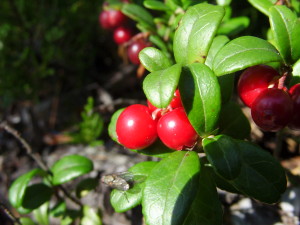 Happy Eat A Cranberry Day!
Today we are celebrating with a guest post from my friend Nicole who blogs over at 350 Preheat.
I hope you enjoy! ~ Chrystal
Cranberry is almost a staple at most thanksgiving tables, and since today is national eat a cranberry day, what better way to get started on the cooking than with some homemade cranberry sauce? Instead of buying the can of that weird jelly stuff, you can have the real deal that includes actual cranberries. Let's get started, shall we?
You Need:
1 12-oz. bag cranberries
1 cup cranberry juice
1 cup pure maple syrup (not the kind that you put on your pancakes)
3 tbs. lemon juice
Directions:
Wash cranberries under cool water, place in sauce pan.
Pour in the cranberry juice and the pure maple syrup.
Add the lemon juice. Stir until well combined and the mixture begins to boil on high heat.
Once the mixture comes to a rolling boil, turn down the heat to medium-low and continue to cook until the juices thicken, about 10 minutes. Turn off the heat.
Serve warm or allow cooling completely before putting into a container to serve later. This can be kept in the fridge fur up to five days before you should make a new batch.
Nicole Ramage blogs at 350 Preheat.  She is also the author of
5 O' Clock Somewhere Cupcakes
.