It's Grill Time! #ReadySetRibs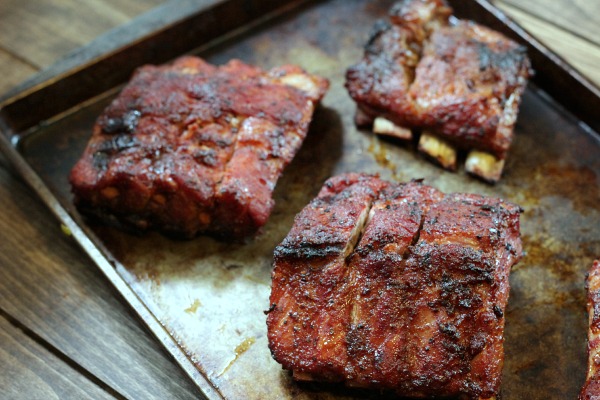 This shop is part of a social shopper marketing insight campaign with Weave Made Media® and Farmland/Smithfield, but all my opinions are my own. #weavemade #ReadySetRibshttp://my-disclosur.es/RgFrEH
Y'all knew I grew up in the south right?
Wait.
What?
Ok. So some of you are new here.
Thanks for visiting, I am so thankful you are here.
But, let me back up a minute for those who are new here.Born in Michigan. Moved to Oklahoma when I was 6. Moved back to Michigan for a year after high school and then moved right back to Oklahoma. Phew! Quite the traveler, eh?
Well, in 2007 after the death of my grandparents I filed for divorce and made the 1000+ mile trek across the states again. And, here I am. 🙂 I'll be 39 this year in case you are trying to do the math. July, in case you want to get my a snazzy present. 😉
Ok. All up to date.
One of my favorite foodie things that I miss about the south is the smokers. No, no. I don't mean any puff, puff, pass, pass. I don't mean cigarettes of any kind, silly you!
What I mean is, where I'm from, the town is known (aside from Eskimo Joes and OSU) for its phenomenal smoked meats. One of the best places was Smokey Joe's BBQ. Man, they served their meats on paper plates! That's fine dining.
I also miss my ex-inlaws cooking. I harbor no ill feelings for the family I left behind. They were wonderful people and I still love them dearly even though we do not speak. The ex and I were just going in different directions. Life happens. Anyway, they had this smoker that had what seemed like an endless supply of racks in it. My ex father-in-law would start smoking on Saturday and by Sunday we might be able to come over and eat. There would be pans of burgers, hot dogs, all the parts of a chicken, ribs, brisket and steak. Ohhhhh brisket. I was never much of a red meat-eater, but brisket would get me every time. He had the best seasonings.  My ex grandparent-in-laws had their own smoker house. Pops served up hundreds of pounds of brisket a year. My ex mother-in-law could be found in the kitchen behind giant pots of chitlins (gah, not my thing), collard green and ham hocks, and various other dishes like macaroni salad and corn breads.
Someday, I am going to recreate that recipe.  I'm mean with the collar greens. I'll forever be thankful for that recipe. I don't make them often, but man, if you like spinach dishes you'd love my collard or mustard greens. YUM!
I'm dreaming of my very own smoker. Hint, hint. I'm bound and determined to make some vegi burgers to put in there.
I've also been in the mood for some ribs.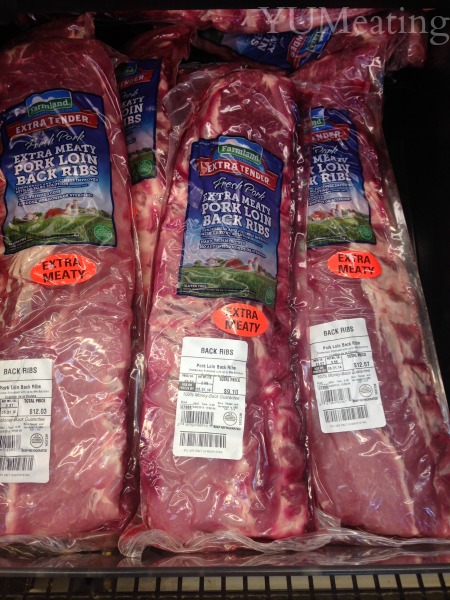 Thanks to Farmland, I'm able to share some rib grilling. Courtesy of the husband, of course. He's the grillmaster in this house.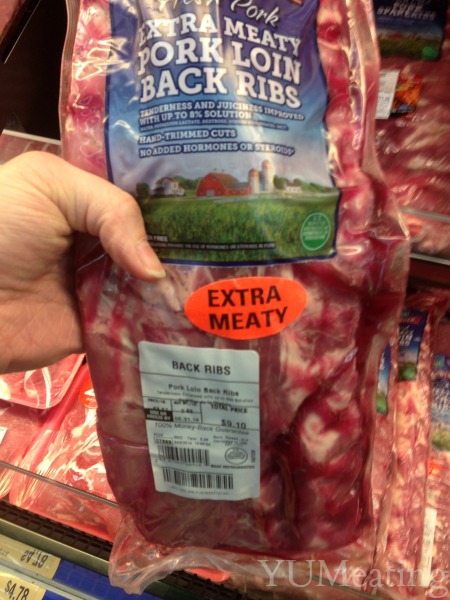 In true meat case fashion I had to dig to the bottom of the bin to find the smallest pack of ribs since it was just husband and I home having dinner. Under $10 for baby back ribs? I think so!
When I handed things over to the grill master he had no idea what to do with them. He is so used to me putting them in the crockpot or broiling them in the oven. He just had this blank look on his face. When I told him he had free range to make a new dry rub and grill them, he was like a kid in the candy store. The only condition was he had to write down everything he used and how he did it.
Shopping at Wal-Mart makes life easy. I can go in, get everything I need, and head out. No need to stop at multiple stores. They also have great prices so I don't have to worry about breaking my food budget when I go there. Sometimes there is room for a little something extra.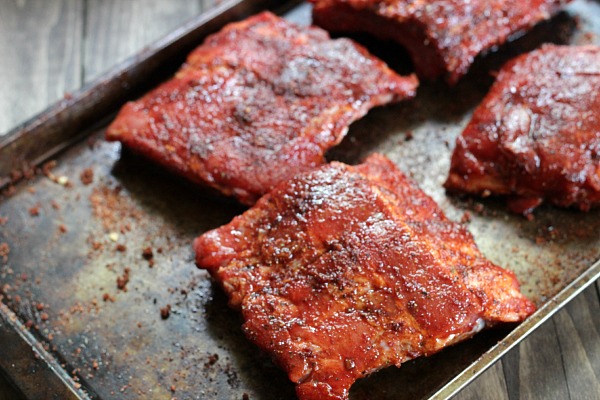 I love BBQ's. However, I much prefer a dry rub compared to the wet BBQ sauce.  I know these look a little wet and I was wondering about that myself. But, I assure you, it's completely different from how they come out. These do take a while to cook, but they are WELL worth the wait. I was the kid in the candy store when we sat down to eat. Not only were the Farmland ribs nice and juicy, but the seasoning my husband used turned out savory!
First, he went out and started the grill to get it hot and flaming.
Then, he created his super secret rub. Which, actually isn't so secret. He followed the recipe from Allrecipes – Dry Rub for Ribs. He used his hands to rub the spices into the ribs really good.
He broke the ribs up into four pieces and then made foil packs for them. Of course, I did ask him to write this down and take some pictures. *sigh*
Once the flames went out and the charcoals were safe to move, he pushed them all over to one side of the grill.
The foil packets of ribs were placed on the rack. Once they were situation he lifted the grill and placed a pan of water directly under the racks.
Grill for an hour, or until meats done to your liking.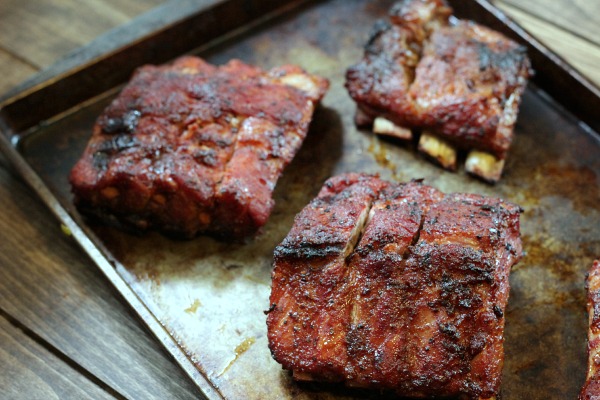 What I loved best? So simple to make and they were so juicy!
Least? It does take a bit to smoke them out when using a grill like this, but it was SO worth every bit of effort.
While they were cooking we worked on the rest of our meal. So, the timing worked out ok.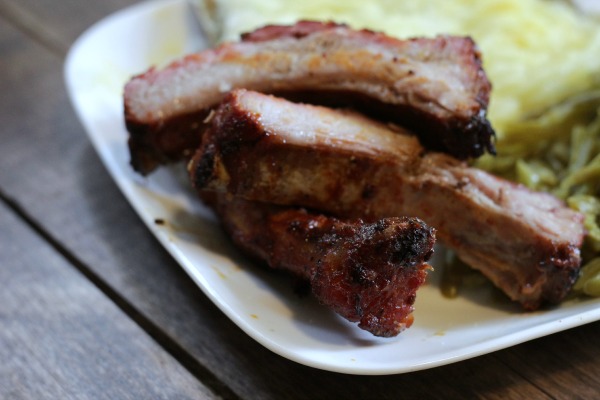 Are you ready for BBQ Season? What's your favorite?
As a special bonus to all my faithful readers, Farmland/Smithfield is offering this fabulous coupon for $1 off  (while supplies last) Baby Back or St. Louis Style ribs.
For more mouth-watering recipes, check out Ready, Set, Ribs.