Chocolate Peanut Butter Blast Green Smoothie
Welcome to Day 3 of my 30-Day Green Smoothie Challenge!
I have to say I am feeling much better today than I was the first two and I think I owe a lot of it to putting some extra protein and substance in my smoothie and reducing the fruit. Fruit has always been a problem for me. Too much of it makes me crash. Five minutes later I feel like I am starving. I feel this might have a lot to do with the PCOS/Insulin Resistance and the way my body metabolizes it.
I polished off most of my produce the first two days. I really need to get to the grocery store. So again, I am using ingredients I have on hand. I'm down to my last little bit of spinach.
This one was really good and as I type this up its 2:30 in the afternoon and I haven't had that mindless need to munch. I took my time drinking this and since it was so thick it was easy to do. For lunch I just enjoyed some soup.  Dinner will be in a few hours and I think I am going to try some chicken pot pie soup in my new pretty red cast iron porcelain pan I received for Christmas.
Day 1 – Super Green Smoothie
Day 2 – Orange Kiss Sunrise Green Smoothie
Kiddo will also be here in a few hours. I have a feeling trying to stick to a smoothie schedule on the weekends will be challenging. Husband has no interest and if he turns his nose up, kiddo will immediately follow his lead. It won't matter how much chocolate and peanut butter I dump in there.
We have a regular routine for breakfast and I hate to break from that. We just love our cooking time on the weekends. Since lunch tends to be the meal where we eat sandwiches and soups I think I can still do that by I will have a green smoothie instead. At least, that is my plan for the weekend.
Wish me luck!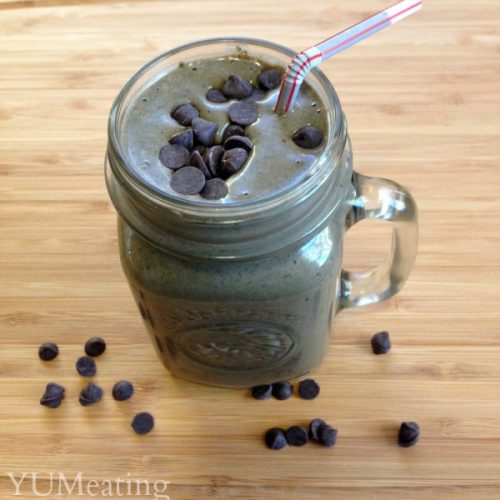 Chocolate Peanut Butter Blast Green Smoothie
Ingredients
1

cup

unsweetened original almond milk

1

scoop vanilla protein powder

2

TBSP

all natural peanut butter

1

frozen banana

2

TSBP ground flax-seed

1

cup

spinach

packed

1

TBSP

cocoa powder
Instructions
Put all ingredients in blender and blend until smooth and creamy.

Be sure to use a spatula to scrape the edged down for the bits that stick.

If this is too thick for you thin it down with a little water or some more almond milk.