Sriracha Roasted Cauliflower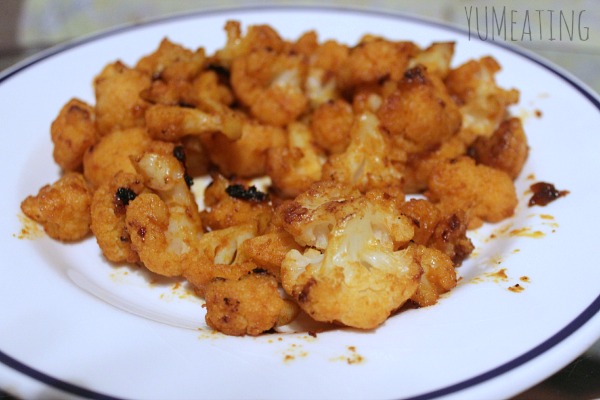 The other day hubs and I decided we wanted to make some wings for dinner. I am trying really hard to keep my calories in check and that can be really hard when eating wings. Since we make our own sauces, which contain butter, those pesky little boogers can add up fairly quickly in the calorie department. So, it got me to thinking. What could I make that would be good roasted, be filling and handle the hot sauce. 
When I can get a good price on cauliflower I like to buy a few bags of frozen and keep them on hand. I use them as a replacement for mashed potatoes (I'm the only one who eats them. Kiddo and hubs only like it raw,) as a pizza crust, as a rice replacement (I 'rice it') and sometimes just as a side item. I had seen a few recipes floating around Pinterest where folks were roasting cauliflower and making cauliflower steaks. I felt that this vegi would hold up really well. When you cook cauliflower it tends to take on the taste of the seasoning and foods you cook it with.
This night we made two sauces. The standard Franks Red Hot that we love and another made with Sriracha, which is what I put on the cauliflower.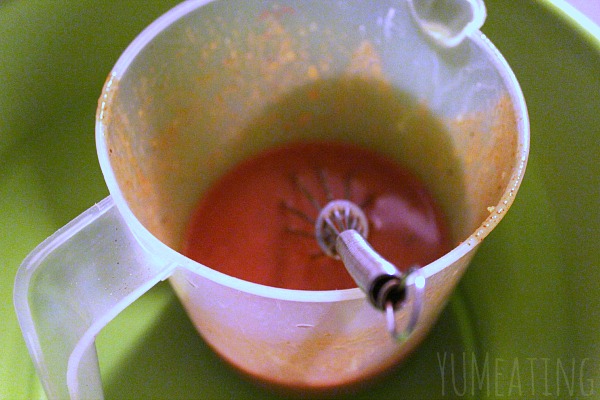 The sauce is super easy to make. It's just equal parts melted butter and Sriracha sauce.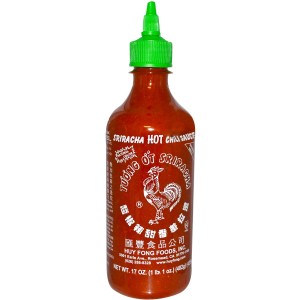 This kind is my favorite. I haven't tried any other kinds and probably never will.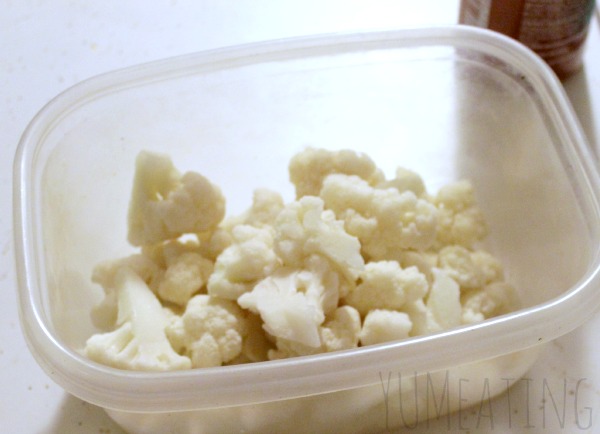 I used frozen cauliflower. There's about a cup here. For this one cup of cauliflower I used 2tbs melted butter with 2tbs Sriracha. At the time I didn't think to use coconut oil. Someone mentioned using that instead of butter. Yup, they nailed it. Coconut oil has better nutritional value despite the calories and fat.
I roasted the cauliflower on 350 for about 7-10 minutes. Then, I put them back in this container, poured the sauce in, put the lid on and shook. Then I put them back on the cookie sheet and placed them back in the oven.  They don't take really long to cook, but I wanted to make sure they had a bit of a crispy layer on the outside so I had to wait for the butter to go through its melting and soaking in process. Another 10-15 minutes.
I just kept peaking in the oven every few minutes. You can adjust the cook time to your own preferences on how you like your cauliflower.
It tasted wonderful. I even dipped them in a bit of blue cheese. It worked out for me. Instead of eating at least 10 wings, I had 6 and then ate the cauliflower. Same taste without all the calories. Let's face it, cauliflower has way fewer calories than dark meat chicken! Even if I use a little butter for the sauce. From now on I'll be using coconut oil though.
True story: The coconut oil made its way to my office where I have been experimenting with my essential oil mixtures.
It's not the most attractive dish, but it makes for a good vegetarian option.
Sriracha Roasted Cauliflower
Ingredients
1

cup

frozen or raw cauliflower

2

tbsp

butter or coconut oil

2

tbsp

Sriracha
Instructions
Preheat the oven to 350.

Arrange the cauliflower on a non stick baking sheet.

Place in oven for about 5 minutes. You are just trying to warm it up a bit and get it opened and absorbent. If you know you are going to make this ahead of time you could place the cauliflower and sauce in a bag or container and let it marinade.

After your cauliflower has warmed up, place it in a container with a lid.

Pour the sauce over it and place the lid.

Give it a good shake to make sure all of the cauliflower is covered.

Place the cauliflower back on the pan.

Put the pan back in the oven for another 10-15min depending on how you like your cauliflower cooked.
Do you like it hot? What's your favorite hot dish?
For those who aren't into the heat – tell me how you like your cauliflower prepared.