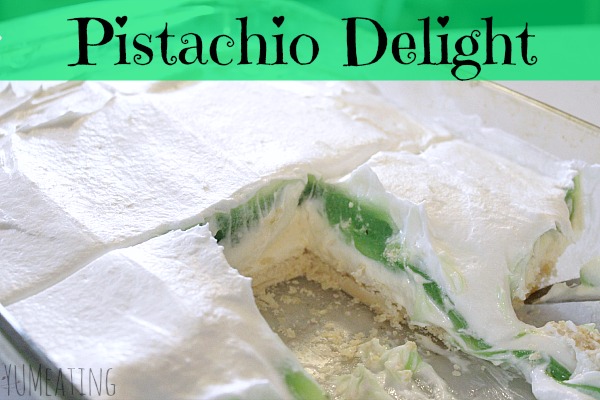 Ok. I'm gonna do it.
I'm gonna share with y'all my favorite dessert growing up. I'm not kidding. My mother made the best Pistachio Delight. This is one of those desserts I would beg for when we were celebrating things. It's one of those things that I love so much I could literally eat the whole pan. I'm sure there has been a time or two (maybe three) where I have polished off the last row or two to myself. Yup. I am THAT girl.
Since she doesn't make it very often these days, every once in a while I have to make a small pan for myself. Since Mr. Yum and I have been together I have only made it once. Until this recipe. This make two. This was the first time kiddo has experienced this dreamy creamy green nutty goodness. 
Let's just say after kiddo left for the weekend and we only had one row left for me and Mr. Yum to polish off during the week.
It was a great memory. I loved making it and I loved seeing kiddos eyes light up just as my did when I was her age and my mother would make this for me.
My mother uses full fat everything. Whole milk. Regular pudding, cream cheese and cool whip. Yah mom! 🙂 But when I make it I tend to use lower calories and lower fat alternatives just to keep things at bay since I know there's going to be a happy dance going on in my mouth. I don't want to feel as guilty as I did when I was younger eating more than one piece in a day. Plus, we are all trying to be a bit healthier here.
So, I used light cream cheese, skim milk, sugar-free pudding and fat-free cool whip.
Well.
Mine doesn't turn out as stiff as my moms so the photos took a nosedive. Once we cut into the pan I had decided I wasn't going to post the recipe. I did take a few photos and I just couldn't get the stuff to set up and look good. Poooooo.
I sat on it for a while.
Didn't stop me from eating it! It tasted soooooooooooooooo good. I'll gladly accept the reduced calorie and fat version because it's still wonderful.
But it's not very photogenic.
However, this is the perfect summer and holiday treat. Summer is almost over.
I decided to share it anyway.
It's good.
One of these days me and my camera will be besties. But, for not I just have to understand that Rome wasn't built in a day and I have a long way to go with building my camera knowledge and experience.
If I remember correctly mom had a Jello recipe book many years ago and her recipe came from there. A quick Internet search gave me a million and one ways to make this same dessert.
You could also divide this recipe in half and put it in a large pie pan for a pie version.
Try this. You won't be disappointed! 
Pistachio Delight
Ingredients
Crust:

1

cup

flour

1/2

cup

cold butter

cut into pieces

Cream Cheese Layer:

2 - 8

oz

blocks light cream cheese

2

cup

powdered sugar

2

cup

sugar -free whipped topping

Pudding Layer:

2

boxes instant sugar free pistachio pudding mix

3

cups

cold skim milk

Garnish

Additional whipped topping

Chopped pistachios

optional
Instructions
Let cream cheese sit on counter to soften.

Preheat oven to 350.

In a small bowl combine the flour and butter.

Use your hands to combine until it forms a crumbly dough.

Grease the bottom of a cake pan.

Press the dough into the bottom of the pan.

Bake until a nice and light golden brown, about 10 minutes.

Remove from oven and let cool.

In a medium bowl combine cream cheese, powdered sugar and whipped topping. If you have a stand mixer, using the whisk attachment works best. Otherwise, blend on low.

Whip fully until all ingredients are combined.

Spread over the cooled crust.

In another bowl combine the pudding mix and cold milk.

Blend according to package instructions until pudding is thick.

Spread the pudding over the cream cheese layer.

Top with additional cream cheese and chopped pistachios.

Place in refrigerator for 2-4 hours to allow it to firm.
Do you have a favorite childhood memory food that you have recreated for your children?