Clean Eating from Scratch Chicken Noodle Soup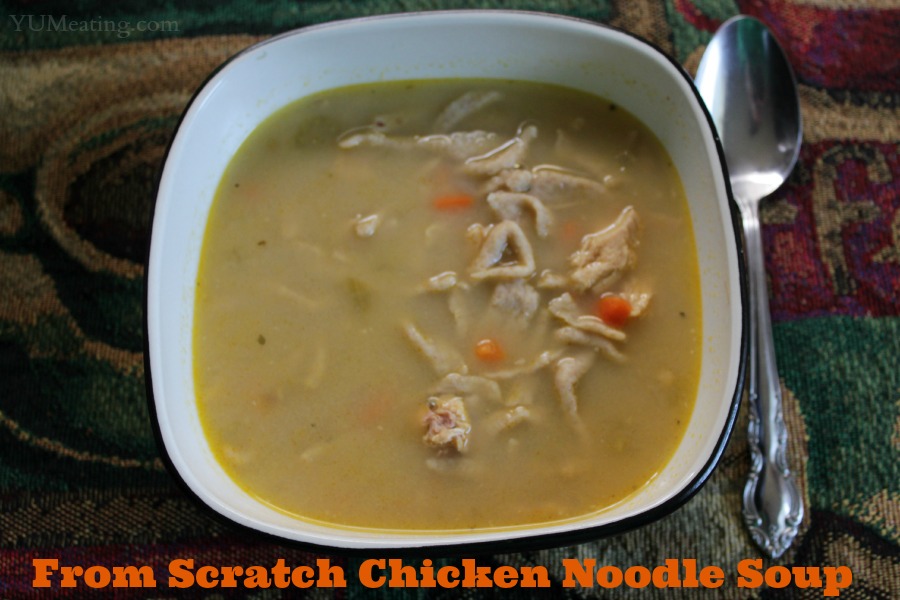 Homemade chicken noodle soup is one of my favorite things. I remember waiting patiently as a child as my mother meticulously cut her strands of noodles. Her noodles are made from white flour and are absolutely amazing and I still enjoy a bowl from time to time. We the husband and I first got married we used to make these noodles together. I seem to have passed the torch on to my husband and kiddo is quickly becoming the noodle apprentice.
Due to my PCOS and my husbands own health concerns we try to stick to a cleaner diet and one that resembles a lower glycemic index diet. We swap our white flour for wheat. My great grandmother, grandmother, and mothers recipe has gotten a makeover. My childhood comfort food has gotten a makeover, but I still enjoy the clean eating from scratch chicken noodle soup and I do hope you'll enjoy it too.
For the chicken we are using the leftover chicken from the "Paprika Oregano Roasted Chicken." Following the link will provide you will the recipe and instructional videos.
For the chicken stock we are using the leftover juices, parts and pieces and in this post we made "Homemade Chicken Stock." There you'll find the instructional video and information.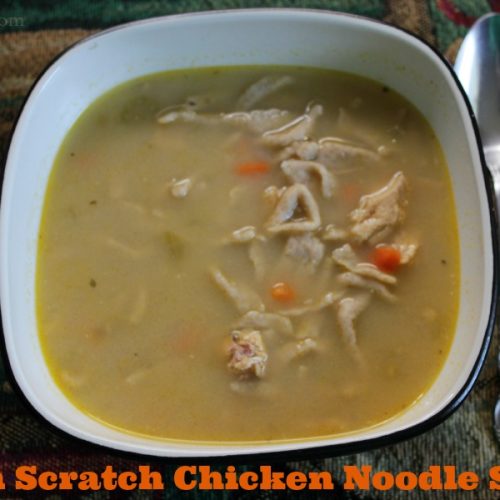 Homemade Wheat Noodles
Ingredients
2

cups

wheat flour

4

eggs

dash of salt

1

cup

water
Instructions
A 3 eggs to a large mixing bowl.

Whisk until well blended.

Add flour to your egg mixture 1 cup at a time.

Whisk mixture until well blended. It will be clumpy.

Add 1 more egg to your mixture.

Add a dash of salt to the blended mixture.

If your mixture is still crumbly, add 1 tbsp of water at a time to the mixture until you can roll it into a ball and the dough sticks together.

Sprinkle some extra flour on your counter.

Roll the dough out on your counter.

Using a pizza cutter, cut your noodles. You are free to make them as wide or as thin as you like them.

Add them to your boiling chicken stock.

Wheat noodles will need to cook for 30-45 minutes.

For chicken noodle soup we let simmer for over an hour.
Clean Eating from Scratch Chicken Noodle Soup
Author:
Ingredients
[url href="http://nevermorelane.com/paprika-oregano-roasted-chicken/" target="_blank"]Leftover roasted chicken[/url] or cooked chicken of your choice
Homemade chicken stock or chicken stock of your choice
Homemade noodles or noodles of your choice
16 oz chicken stock
1 white onion, diced
4-5 carrots, peeled and sliced or diced
3-4 stalks of celery, sliced or diced
Instructions
Add all ingredients to the pan except the homemade noodles.
Bring to a boil.
Add noodles and reduce to low.
Cook on low for 60 mins.
We even had some silly chicken noodle bloopers!