Skinny Family-Style Lasagna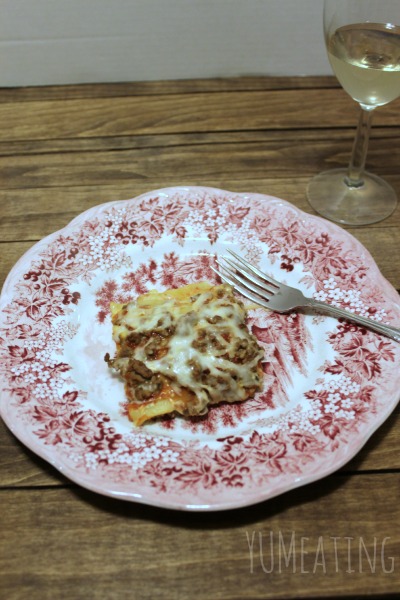 Are you noticing a trend in my foodie posts lately?
No?
S-K-I-N-N-Y 😉
I have been trying very hard to incorporate low-calorie options into my favorite recipes. I've tried every diet under the sun these last few years and even though I know for PCOS I should be eating low(ish) carb, that doesn't mean I can't have carbs. I just need to eat them in moderation. Thankfully the hubs gifted me a Veggetti for Christmas so I am able to turn vegetables into noodles and such. I just haven't used it yet 😉 If you need a low carb lasagna recipe – I've got one! 
So for this lasagna recipe we are going to skip the store-bought jarred and canned sauces. No Prego. No Hunts. No. No. Normally I use my homemade tomatoes, but hey! Guess, what?
I'm out.
So, summer needs to hurry and get here so I can grow more! But you know what is a good substitute? Tomatoes that are also grown here in Michigan (and Indiana and Ohio.)  That's where Red Gold Tomatoes comes in. I had never tried Red Gold Tomatoes before but I had seen them in the ingredient photos for plenty of bloggers so I figured they must be good. When Red Gold reached out to me I was happy to partner with me for their January promotion! Starting today, twice a week Red Gold will be giving away a Le Creuset Lasagna Pan (squeeeeee,) a simple gourmet lasagna kit, a Red Gold spatula, a Garfield toy (Whhhaaaaa?) coupons and an apron. Just check out the Red Gold Facebook site for all the details! What foodie wouldn't love that good stuff? Good luck to all of those who enter.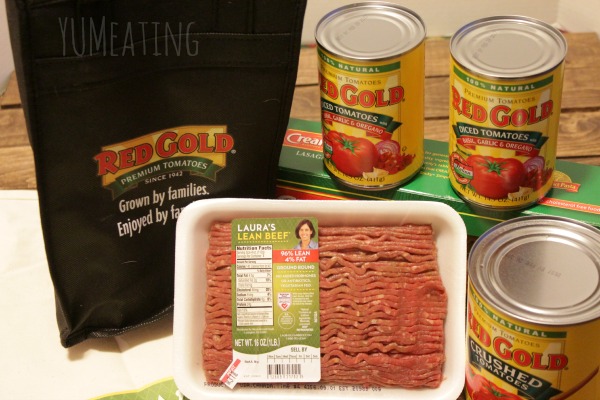 So, here is the part where I am supposed to tell you that Red Gold sent me a lasagna kit in order to facilitate my review. The kit was amazing. I received a few cans of Italian seasoned tomatoes, a large can of crushed tomatoes, a box of lasagna, a coupon for Laura's Lean Beef (I <3 this stuff,) a reusable shoppers tote and an apron! Fun!
Fun fact: Red Gold began in the 1940s growing food for the U.S. Army during WWII and is now owned by its third generation – Brian and Selita Reichart. The plan is to pass this family business on to their sons (who currently work in the business.) I think this is pretty amazing as a lot of businesses these days don't have history like that.
If you follow YUM eating on Instagram than you may have noticed the fun photo where we shared the leftover lasagna noodles. I think that is the best part!
When I was a little girl one of my favorite dishes to help my mom with was the lasagna. I always knew there would be a few noodles leftover. Her and I would give them a dab of sour cream, roll them, and enjoy our tasty treat. We would laugh and push the pan of lasagna in the oven. I looked forward to those times. As an adult, I am glad I have someone to pass some of those things to.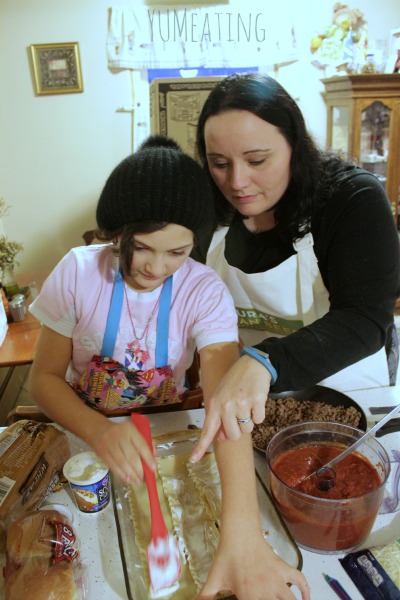 (why yes , that is a my Cabbage Patch Kid on top of my China cabinet. She's going to be 31 in July.)
Kiddo may not be biologically mine, but she's been with me since she was 3 and she's going to be 10 at the end of the month. Now that she is a little older, she gets more enjoyment over the production of lasagna.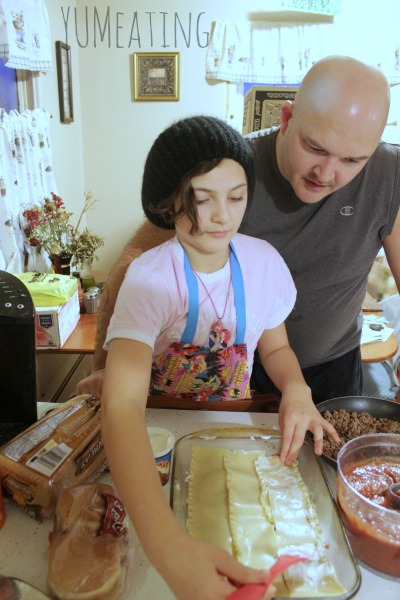 I am thrilled that it is more of a family affair now. Less work for me. I love that we each have a part in the creation.
Hubs made the sauce. He used 1 can (14.5oz) of the stewed Red Gold Italian tomatoes and 1 large can (28oz) of the crushed tomatoes and 1 (6oz) can of tomato paste. All of this was added to the food processor along with some onion powder, garlic powder, parsley, thyme, salt, pepper, oregano, chives and some cayenne pepper.
Now, because he doesn't bother to write things down for me – I can't tell you how much he used. He's very much a shake and taste kinda guy.
However, if you need a recipe, check out the Bring the Family Together Lasagna. The recipe there is pretty similar.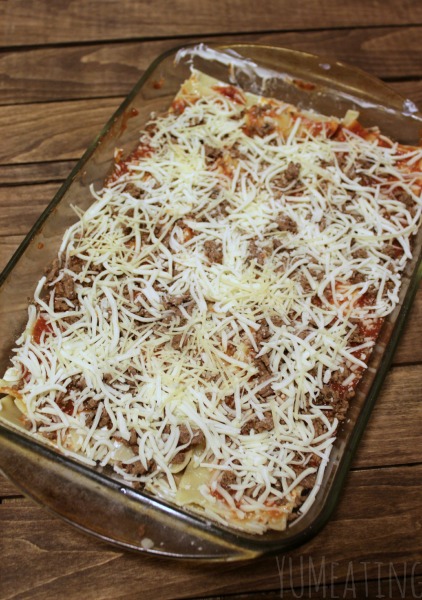 For Laura's Lean Beef I added oregano, parsley, onion powder, garlic powder and pepper to the pan as the ground beef was cooking.
Cook the lasagna according to box directions. Mozzarella cheese was skim milk, so lower in fat and calories. We swapped regular sour cream for light.
See? It's not too hard to swap your family lasagna for a skinny version.
Noodles, sour cream, beef, sauce, cheese. Rinse. Repeat. 😉
Then enjoy the extra noodles. I prefer mine with a small amount of sour cream and then roll. Kiddo and her dad like to add a little sauce.
I'd like to thank Red Gold Tomatoes for giving me the chance to taste their product. I can recommend and give two thumbs up. They had a wonderful sunshine flavor. You can tell this is a family that cares about what their packaging.
What is your favorite family meal and does the whole family chip in?
This is the recipe that Red Gold sent me for their Skinny Lasagna. Like you guys know, I don't follow recipes, but I am going to post it so that you guys can have one!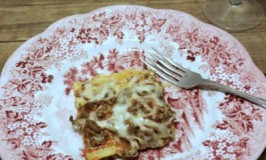 SKINNY LASAGNA
Ingredients
½

cup

water

1

28 ounce can RED GOLD® CRUSHED TOMATOES or 2 (15 ounce) cans RED GOLD® CRUSHED TOMATOES

2

14.5 ounce cans RED GOLD® DICED TOMATOES with BASIL, GARLIC & OREGANO

Ground black pepper to taste

1

teaspoon

Italian seasoning

1

pound

Laura's 96% Lean Ground Round

or ground turkey, cooked and drained

1

16 ounce box traditional whole wheat lasagna noodles, uncooked

1

15 ounce carton low fat cottage cheese

2

cups

shredded low fat mozzarella cheese

½

cup

grated low sodium Parmesan cheese
Instructions
Preheat oven to 350o F. In large mixing bowl combine water, RED GOLD® CRUSHED TOMATOES and RED GOLD® DICED TOMATOES with BASIL, GARLIC & OREGANO, black pepper, Italian seasoning and ground round, stir to combine ingredients in the sauce.

Cover the bottom of a 9x13x2 inch baking pan with 1½ cups of sauce mixture. Arrange 1/3 of noodles on top of sauce, slightly overlapped. Top with ½ of cottage cheese, ½ of mozzarella cheese and 1 cup of sauce. Repeat layers and top with last 1/3 of noodles and the remaining sauce. Sprinkle with Parmesan cheese.

Cover tightly with foil and bake for 1 to 1½ hours; until noodles are cooked. Let stand for 10 minutes before serving.
Notes
Using Laura's Lean Ground Round NUTRITIONAL FACTS PER SERVING
Calories 330, Fat 8g, Trans Fat 0g, Cholesterol 35mg, Sodium 610mg, Carbohydrate 38g, Fiber 7g, Protein 26g,
Vitamin A 25%, Vitamin C 15%, Calcium 40%, Iron 15% Using Ground Turkey NUTRITIONAL FACTS PER SERVING
Calories 350, Fat 11g, Trans Fat 0g, Cholesterol 40mg, Sodium 830mg, Carbohydrate 39g, Fiber 7g, Protein 25g,
Vitamin A 25%, Vitamin C 15%, Calcium 40%, Iron 15%