Shrimp and Cheesy Bacon Grits for One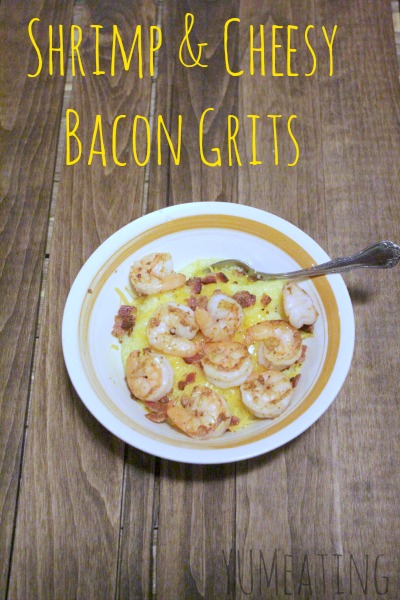 Sometimes I hate cooking. Weird, right? Sometimes I hate eating alone.
Most of the time I don't mind it. That means I get to eat the things I couldn't eat when cooking for the family. Hubs and kiddo love breakfast grits which are just simple grits with salt and butter. We'll pair it with some homemade sausage. Super yummy and filling. 
Growing up in the south there are certain flavors that I miss now that I live here in the north. At first I found it really interesting that the food was different here. I guess you get used to it.
I'll never get used to a bean burrito with gravy on it. Uh, no. When I first moved here, my mother and I went to a Mexican restaurant close to home. I ordered a bean burrito, thinking nothing of it. I had been here about a month and was really craving some spicy flavors. Well, they brought out my platter. Covered in gravy. The look on my face must have said it all because my mother started to bust out laughing.
I found nothing about my dish to be funny.
"I forgot to tell you they cover their burritos up here," she proceeds to tell me.
Thanks mom. Thanks a lot.
I did not want to send it back, so I just scraped off as much of the gravy as I could.
That was an experience, let me tell you.
I haven't found anyone up here to really take the place of my southern style foods or my Cajun cravings. The Cajun Gator comes close, but its an hour away.  I've been getting better lately about creating dishes that remind me of home and aren't going to cause my waist to expand any more than it already has since moving here.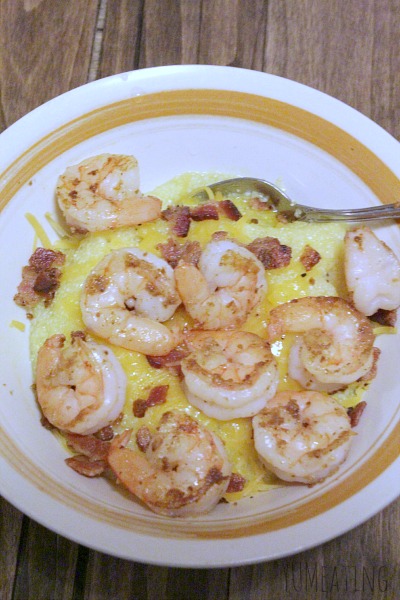 That is where the cheesy shrimp and grits come in. Grits are fairly healthy. It's just ground corn.  I use low-fat ( 2 %) cheese and of course we all  know that shrimp is low in calories and can pack a lot of flavor when prepared correctly. I like to use a little Cajun seasoning and a tiny pat of butter when they are cooking in the pan. The pan is coated with extra virgin olive oil. I also add a bit of pepper. While the shrimp are cooking I get the grits ready. The secret to good flavored grits is to cook them with some chicken stock instead of water. The dish is super easy to plate. Toss some grits into the bowl, top with a sprinkled of the shredded cheese and top with the shrimp.  For some extra goodness I add some crumbled bacon.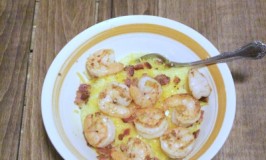 Shrimp and Cheesy Bacon Grits for One
Ingredients
1/4

cup

quick cook grits

1

cup

water OR 1 cup homemade chicken stock

4

oz

medium size shrimp

about 10pcs, peeled

2 1/2

pieces

of bacon

cooked and crumbled

1/4

c

2% shredded cheddar cheese

2

pats of butter

extra virgin olive oil

1/2

tsp

Cajun seasoning. divided
Instructions
In a frying pan over low heat, pour a little EVOO in the pan.

Make sure your shrimp have been peeled.

Place the shrimp in the frying pan.

Add a pat of butter and 1/4 tsp of Cajun seasoning

Continue cooking on low.

Shrimp are done when they are pink.

As they are cooking you can begin cooking your grits per your package instructions.

If you are replacing the water with chicken broth, there are no special cooking instructions. You are just swapping.

For example, my grits cooking instructions are 1/4c grits with 1 cup water. Boil the water and then slowly add the grits. Cook for a few minutes. So, you would just replace the water with the chicken stock. It just gives your grits a little bit of extra flavor that pairs well with the other goodies.

When your grits are done, place them in a bowl.

Sprinkle with the other 1/4 tsp of Cajun seasoning and the other pat of butter.

Sprinkled the cheddar cheese over top.

Add the shrimp.

Add the bacon bits.

Serve.

large portion or 2 small portions (makes a good side dish to a large salad)
Is there food from your "home" that you crave often?