Keto & Low Carb Friendly Fat Fast Coconut Chocolate Fat Bombs
There are a million keto, low carb, and fat bomb chocolate recipes. For every recipe I found I was missing one ingredient or didn't have enough of another. Some paleo/primal version used honey or something else that wasn't in my pantry or allowed in my belly.
I just decided to try something on my own (I do that a lot) after reading so many cookbooks and recipes.
This is my version of a chocolate cup and it fits within the keto, fat fast, Atkins, low carb plan. Or, yummy just to eat on NO plan!
Although – I recommend hiding them from yourself, and husbands!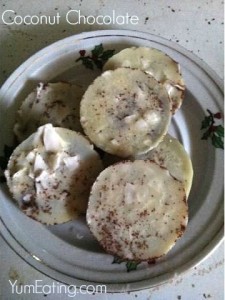 First I melted 1/2 cup of coconut oil in a pan. Then I added a stick of unsalted butter (I believe a stick is 8tbsp, but don't quote me on that). This will certainly up your calories. After making these you could certainly use none or half a stick. The choice is yours. Be sure to track your recipe macro on a website like My Fitness Pal. (It's free! Join me!)
Once that was melted I added 3/4c Splenda. It was all I had. Which sucked because I learned the hard way that using that much Splenda (not the 50/50 sugar kind) still adds carbs. Boo. Hiss. I need to invest in some liquid stevia everyone raves about. You can also change the amount of Splenda to suit your tastes.
Next I added 2tsp Vanilla, although I am not sure this was necessary with the Splenda.
3 tbsp. cocoa powder.
Set aside 3/4 cup unsweetened coconut flakes.
Once everything was melted I used muffin tins. I put about a tbsp. in each tin. It made 16. Then I sprinkled a pinch of coconut flakes on the top of each one. Cooled in fridge. Stored in freezer.
They end up being 2 net carbs each.
My  husband isn't much of a sweet eater. But he gobbled these up in a nanosecond. They were amazing.
I am going to experiment with the recipe a bit.
Keto & Low Carb Friendly Fat Fast Coconut Chocolate Fat Bombs
Ingredients
1/2

cup

coconut oil

1

stick unsalted butter

3/4

c

stevia powder

2

tsp

vanilla

3

tbs

cocoa powder

3/4

cup

unsweetened coconut flakes
Instructions
Melt the coconut oil in a pan.

Add the stick of butter.

Once the two are melted and mixed, add the stevia powder.

Then add the vanilla and the cocoa powder. Mix well.

Using a non stick muffin tin add about 1 tbsp of the mixture to each tin.

Sprinkle with a pinch of coconut flakes.

Put in refrigerator and allow to harden.

Once hard they should just pop out when you turn the pan upside down.

Repeat the process with remaining mixture.

Store in the fridge, they do melt quickly.
Nutrition Facts Calculated with the Recipe Calculator on MyFitnessPal

Servings

16.0

Amount Per Serving
calories

146

% Daily Value *
Total Fat

15

g

23

%

Saturated Fat

12

g

58

%

Monounsaturated Fat

2

g

Polyunsaturated Fat

0

g

Trans Fat

0

g

Cholesterol

15

mg

5

%

Sodium

1

mg

0

%

Potassium

17

mg

0

%

Total Carbohydrate

3

g

1

%

Dietary Fiber

1

g

4

%

Sugars

1

g

Protein

1

g

1

%

Vitamin A

4

%

Vitamin C

0

%

Calcium

0

%

Iron

1

%

* The Percent Daily Values are based on a 2,000 calorie diet, so your values may change depending on your calorie needs. The values here may not be 100% accurate because the recipes have not been professionally evaluated nor have they been evaluated by the U.S. FDA.