Bring the Family Together Lasagna
Lasagna was a staple in my house growing up. I remember getting excited because there would always be leftover noodles. Those noodles were the highlight of lasagna creation for me. I would patiently watch my mother make her sauce, cook the noodles and cook the beef followed by the process of going layer by layer in the cake pan. I would watch her hand grab noodle after noodle as I secretly hoped there would be pieces and extras.
My mother never failed me. No matter how big or small of a pan she made, we always had leftover pieces and a few broken strands. 
Once the lasagna had hit the oven, I hit the noodle bowl. Mom knew it would take a little bit for the cheese to melt and all the ingredients to warm since they had ample cooling time in production. We would sit together and grab those remaining noodles and put a little dab of sour cream on them, roll them up and enjoy our snack.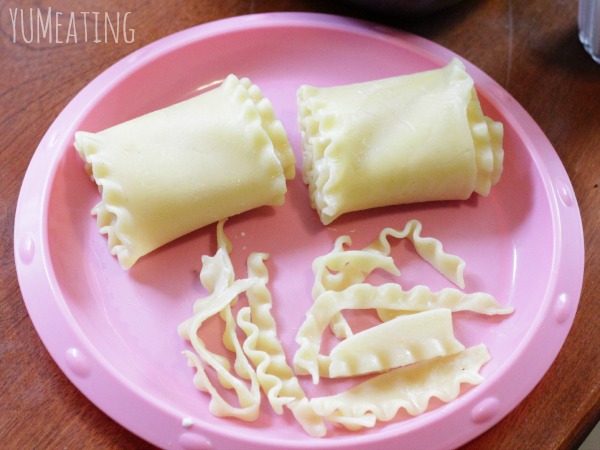 Now, I've got my family doing the same thing.
But sometimes things get a little silly and this happens.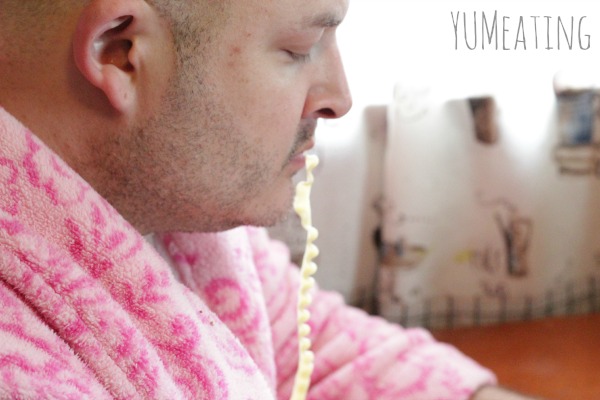 Lasagna day is something Mr. Yum and kiddo look forward to. I enjoy it because it is a meal we can all take part in creating.
I start with some of my canned tomato to make homemade sauce.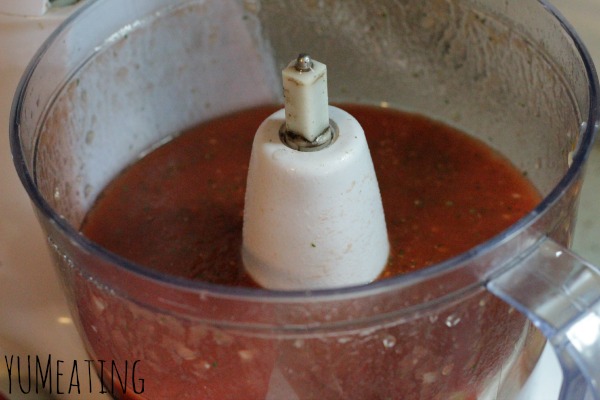 Followed by some ground hamburger with added spices and seasonings. Sometimes I use ground pork and sometimes I use Italian sausage. It just depends on what I find on sale.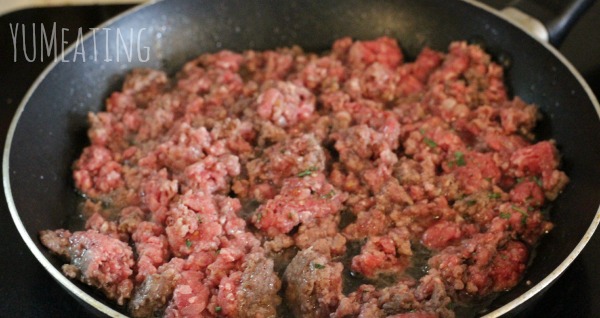 While the meat is cooking I boil the noodles.
Once both are complete we start the process of taking our turns building the lasagna. Normally I use a cake pan, but end up leftovers. We can only eat so many leftovers. So, usually the whole last row or a few pieces go to the trash. I hate to put food in the trash. So, this time I used a smaller pan.  I've tried freezing leftover lasagna, which does work, but if you don't thaw/prepare it just right you will end up with mush for noodles. Not fun.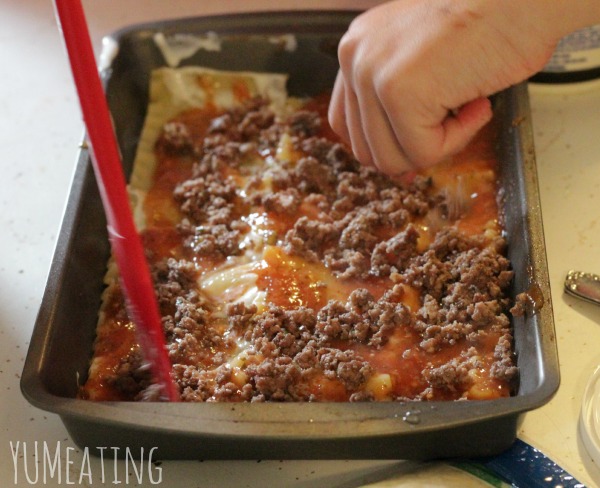 For this recipe I used reduced fat sour cream and mozzarella cheese.  I have used Italian blend cheese and it tastes just as good. I have also swapped sour cream for cottage cheese or ricotta and I prefer the flavor of sour cream. I think it is because that is how my mom made it. I love cottage cheese but not a fan of the curds in my pasta. I also like ricotta but it has a different texture and I feel it takes away from the overall flavor of the dish. But, that's just me. The beauty about family lasagna is that you create it to suit your family!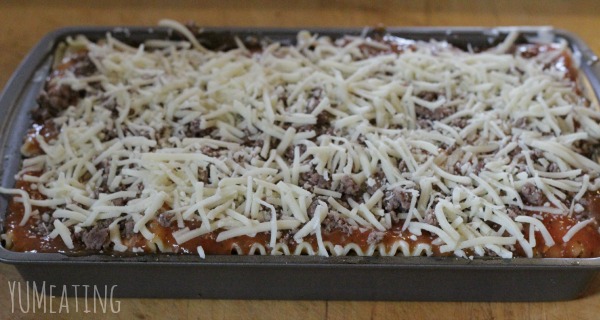 Since the ingredients are precooked, all I do is warm my oven to about 350-400 (for larger pans) and just wait for the cheese to melt and the middle to warm.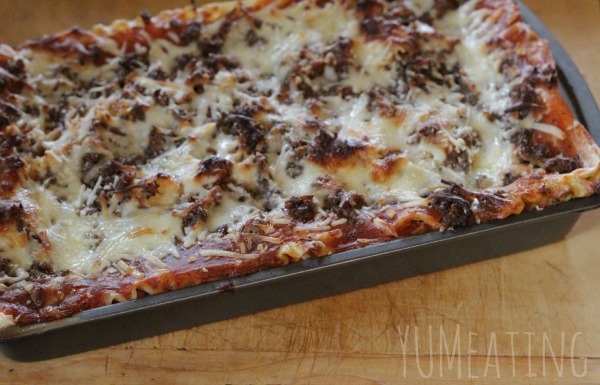 With the smaller pan we have some leftovers for the next days lunch and that's it! Everyone gets to enjoy our wonderful meal without worrying about getting sick of leftovers or mushy noodles.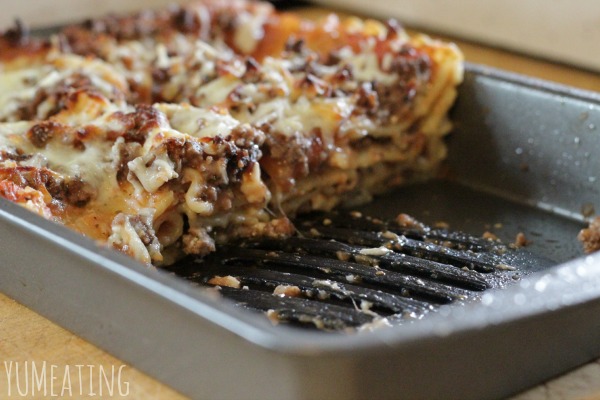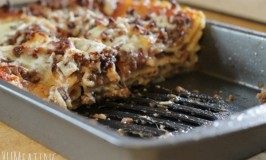 Bring the Family Together Lasagna
Ingredients
1

box lasagna noodles

1

lb

ground beef

Oregano

1

tbsp

garlic powder

1

tbsp

onion powder

2

tbsp

parsley

1

quart

jar homemade canned tomatoes or your preferred jarred sauce

1

cup

water

boiled

1

tbsp

cornstarch

1

bag shredded mozzarella

1

container reduced fat sour cream
Instructions
Preheat oven to 350.

If you are making homemade sauce using canned tomatoes I had 1 quart jar to a food processor. I add some Italian seasoning like oregano, onion powder, garlic powder, and parsley to the mix. I blend and add to a medium size sauce pan.

Bring to a boil.

Boil one cup of water and add the cornstarch. Use a fork to mix. Add to the boiling sauce and whisk. The cornstarch will thicken the sauce.

In a large stock pot, fill almost to the top with water and bring to a boil.

While you are waiting for the water to boil, in a skillet add your ground beef and seasonings.

Continue stirring the beef so that it is minced into small pieces.

Once your water boils, turn down the heat a little and add your noodles.

Cook according to directions.

Once beef is done, set aside.

Once noodles are done, drain and set aside.

Using your preferred baking dish, be sure to grease it if its not stick.

Starting with the bottom layer add noodles.

Then sour cream.

Then sauce.

Meat.

Cheese.

Repeat.
Do you have a favorite meal that the whole family contributes to?