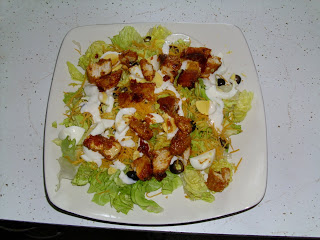 In my quest to make restaurant-style favorites at home, this is one of my many attempts, but the first in my new journey.
First, I used 5 pieces of diced buffalo-style chicken that were leftover from our Homemade Applebee's Style Boneless Buffalo Wings.
 We had quite a bit leftover so I put them in a Ziploc freezer bag and put them in the freezer for another time.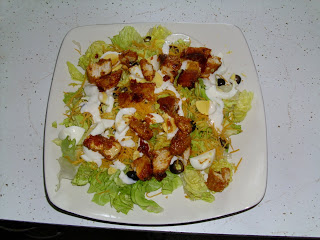 Homemade Buffalo Style Baked Chicken Salad 'like' Applebees
Ingredients
'Applebee's' Style Boneless Buffalo Wings

4- 6

chicken breasts

Light margarine

Red Hot

or your favorite hot sauce

1

packet of hot and spicy shake N bake

Homemade Buffalo Style Baked Chicken Salad

5

pcs of diced buffalo style baked chicken

2

cups

shredded lettuce

1

boiled egg

sliced or diced

1/3

c

2% Reduced Fat Shredded Cheese

8

black olives

sliced

2

TBSP

Fat Free Ranch dressing
Instructions
Cut up the chicken into cubes. Each breast should yield about 6 pieces.

Take the chicken pieces and put them in the bag with the shake n bake mixture. Shake, and bake according to the box instructions.

While they are cooking, in a skillet mix 1 cup hot sauce with ¼ c of light margarine.

You can adjust this according to your own tastes and depending on how wet or dry you like your wings.

Melt the butter and mix with the hot sauce.

Once the chicken pieces are done baking put them in the skillet to coat them with the sauce. That's all there is to it.

This was the first time I made this, and I did not get it from a recipe book so you can modify it to your tastes.